Sailing in Seychelles
Written by Editor on 31st May 2022

Sailing in Seychelles
What better way to enjoy and experience it all than under sail, with the wind behind you and the azure blue Indian Ocean in front of you while cruising the inner islands of Seychelles. 
Most of the islands are less than 30 nautical miles apart, making it comfortable to sail from one to another during the day. The archipelago has some fantastic scenery. Brilliant white beaches, fringed with palm trees lead to clear waters. There are idyllic coves and secluded lagoons, reefs, and coral islands.  
The sailing infrastructure in Seychelles is underdeveloped and the charter area is limited to the Inner Islands. The Outer Islands can only be reached with a local guide or specially trained skipper. The best marinas can be found in Victoria on Mahé.  
Praslin, 25 nautical miles from Victoria, has a charter base – the Marina Baie St. Anne. The best starting point for a sailing trip is Mahé, here there are better care options, a wide choice of charter yachts and the airport is nearby. Outside the main island, there are very few places to shop or find facilities. 
When is the best time?
Two opposing trade winds influence the climate conditions in Seychelles. The northwest trade winds blow from after November to mid-March with wind speeds varying from 15 to 22 km per hour. Despite the rainy periods, sunshine remains. 
The southeast trade winds can bring dry and cooler weather to the islands from May/mid-May to mid-September. The winds can vary from around 19 to 37 km per hour during this period.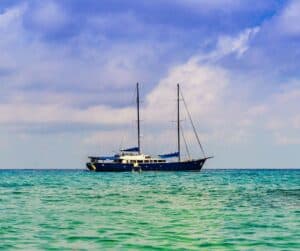 Check for more Things to do in Seychelles
Seychelles Travel Information
---
Reader's opinions
---