Water Sports Activities in Seychelles
Written by Editor on 31st May 2022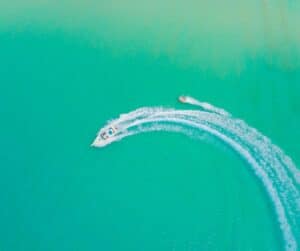 Water Sports Activities in Seychelles
With over a million square kilometres of water, it's no surprise that there are various water activities to try in Seychelles. This island nation has plenty of Water Sports activities for both locals and tourists. All over the islands of Seychelles, most hotels and water sports companies based on certain beaches offer different types of water activities for the whole family. Here are some examples of what Water Sports Seychelles has to offer. 
Parasailing in Seychelles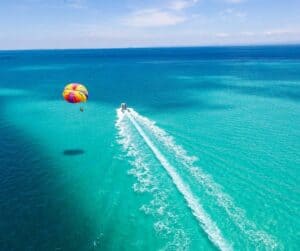 Parasailing is a recreational kiting activity where a person is towed behind a boat while attached to a specially designed canopy wing that reminds one of a parachute, known as a parasail wing. Parasailing is nothing like the fast-paced roller coasters of amusement parks. Most of the time people come back down to say that it was surprisingly peaceful and quiet. You'll glide up into the air at a gradual pace and the experience feels like floating while having an amazing view over the bay. 
Boat – Water skiing in Seychelles
Water skiing is a surface water sport in which an individual is pulled behind a boat or a cable ski installation over a body of water, skimming the surface on two skis or one ski. It is all about the adrenaline rush! It's such an amazing feeling. It's hard to fully describe unless you experience it, but it's a combination of excitement, loss of control, exhilaration, and a sense of freedom all wrapped up in one. There's also an element of danger, which is indeed the fun part. 
 Is there Skiing lessons available in Seychelles? Yes – most places that offer the activity will provide lessons for new individuals. 
Banana and Donut boat Ride in Seychelles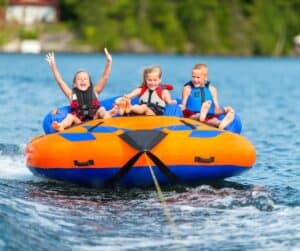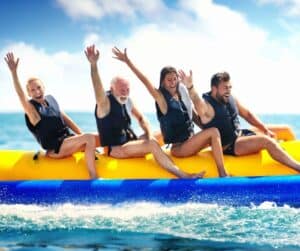 FUN FOR THE WHOLE FAMILY! It is an inflatable boat that is shaped just like a Banana or Donut, connected to a speedboat, which pulls it along the water at high to low speeds. Riding a banana or donut boat feels like riding on waves at full speed. You will bounce up and down and get sprayed with seawater. There will be sudden turns. These turns will test your grip strength, so hold on tight on your boat ride and have a lot of fun.  
Jet skiing in Seychelles
There are many great locations where you can get a great introduction to jet skiing. Of all the water sports, jet skiing is probably the easiest to pick up. Jump the waves or go Jet Ski fishing which is becoming popular as you can reach more places than you can with a boat. Race your buddies and explore other close by islands. Jet Skiing in Seychelles is surely a fun way to get around and explore the island. 
Other Water Activities
Canoes, Kayaks, Paddleboards, and many more activities are available to rent at hotels and on beaches across Seychelles, and many hotels offer these for free. Paddle around, find hidden beaches, and spot all kinds of marine life like beautiful- and bright-tropical fish and endangered turtles. 
Check for more Things to do in Seychelles
Seychelles Travel Information
---
Reader's opinions
---