Diving in Seychelles
Written by Editor on 15th March 2023
Diving in Seychelles
The islands of Seychelles are known for their crystal-clear waters and beautiful coral reefs. This region is ideal for scuba and free diving enthusiasts as it offers them a variety of underwater attractions. The vibrant underwater scenery of Seychelles makes it one of the best places to scuba and free dive in the world.
Take in the sights of this island's coral reefs and the colorful fish that live there. Aside from sharks and fish, the island also has a variety of marine life that can be seen underwater. One of the highlights of a trip to Seychelles is seeing sea turtles up close. Hawksbill and green sea turtles are known to lay their eggs on the beach. However, it's important to keep away from these animals to avoid disturbing their natural behavior.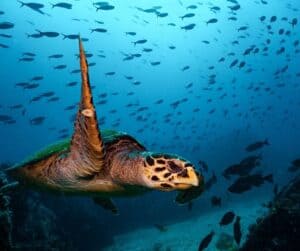 The unique characteristics of the islands make them ideal for divers. They allow visitors to see different parts of the ocean without being disturbed. This ensures that they'll be able to enjoy their diving experience without feeling threatened.
For those who are looking for something a bit more adventurous, there are numerous shipwrecks and night dives in Seychelles that you can book. Aside from these, some of the outer islands also offer some of the most stunning coral reefs in the world.
Best times for diving in Seychelles
Diving is possible in the Seychelles islands all year round. However, the best time to go on a scuba or free diving holiday is between March and May, and from September to November. The ocean is very still in these times due to the lack of wind, so you can enjoy visibility of up to 30 meters.
If it is marine megafauna you are wishing to scuba dive with, then the best season to visit is Whaleshark season in the Seychelles which is between August and November, with sightings peaking in October.
Level of experience needed to dive in Seychelles
Seychelles is a great place to scuba dive for experienced divers and novices. There are numerous reefs and great locations to explore, such as the Coral Atoll.
If you are planning on exploring wrecks and drop-offs, it is important that you complete the Advanced Diver course. This will allow you to get the most out of your diving experience. Aside from wrecks, Whale sharks feed in the top ocean layer, therefore both novice and experienced divers can enjoy the experience of scuba diving with these beautiful fish.
Dive Courses
For those who would like to learn to dive in Seychelles, there are a number of diving courses available from one-day scuba diving experiences right through to PADI's internationally recognized diving certifications. For already qualified divers the island provides the full range of PADI courses from Advanced Open Water right through to Instructor level. All learn to dive courses are available by arrangement 7 days a week.

Diving Conditions
Water Temperature: Averages from a low of 28° C/83° F to a high of 30° C/86° F
Visibility: Excellent, often over 30 meters/100 feet
Depth Range: 8m to 30m (26 to 98 feet)
Popular Dive Sites
Dredger Wreck – A short distance from Mahe Island. The wreck lies on its side at the depth of around 25 m. It is covered by different species of corals and a plethora of fish including large shoals of yellow Snapper, pepper and snowflake morays, stone, and scorpionfish.
One Tree Island –This is especially for divers focused on finding fish. The shallow site with generally good visibility sits on a granite substrate, which is popular with moray eels and stingrays. Myriad reef fish and huge hump-head parrotfish are also a common sight. If you're observant, you might find the elusive ghost pipefish hanging upside down.
Trois Bancs –When divers reach these three granite-based reefs, they drift over steep drop-offs, along vertical walls, under massive ledges, and through small caves. The currents here can be strong, and they attract big pelagics, turtles, and reef sharks. Whale sharks can also be found when they're in season.
North Island –It's known for its fantastic coral reefs. Multiple pinnacles reach the surface from a sandy bottom. The full cast of reef fish is fond of the site too, and divers regularly encounter whitetip reef sharks, stingrays, and nurse sharks.
Napoleon –This is one of the best dives off Alphonse Island. It is covered in beautiful soft corals and an incredible amount of fish life. You can also find great macro and manta rays here.


Seychelles Travel Information
---
Reader's opinions
---