Airlines flying to Seychelles
Air Travel / Airlines – Updated Feb 2023
Which Airlines are flying to Seychelles?
See below all the airlines flying to Seychelles.
The main airport is on Mahe with connecting flights and helicopter flights to Praslin, La Digue, and other islands.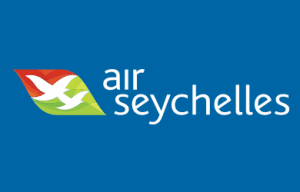 Air Seychelles
A boutique island carrier Air Seychelles, the national airline of the Republic of Seychelles, was established in 1978 and began long-haul service in 1983.
The airline offers direct flights to and from the following countries.
India. Mumbai BOM.
Israel. Tel Aviv TLV.
Kazakhstan. Almaty ALA.
Maldives. Malé MLE.
Mauritius. Mauritius MRU.
South Africa. Johannesburg JNB.
Air Seychelles also operates daily domestic flights and charter services throughout the archipelago.
Address: PO Box 386, Mahé, Seychelles
Email: info@airseychelles.com
Phone: +248 4 39 10 00
Fax: +248 4 39 10 05
Website: www.airseychelles.com
Emirates Airline
Emirates started flying to Seychelles in 2005 with three weekly flights and since October 2014 operates twice-daily flights direct from its hub in Dubai to Mahe. The route is currently serviced by Boeing 777s  offering Economy, Business, and First Class travel. Emirates connects the archipelago to more than 150 destinations around the globe.
Schedule:
Twice Daily (AM and PM)
EK 705 departs Dubai at 02:30 and arrives in Seychelles at 07:05.
EK 706 leaves Seychelles at 08:35 and arrives in Dubai at 13:10.
EK 707 departs Dubai at 09:55 and arrives in Seychelles at 14:30.
EK 708 departs Seychelles at 23:50 and arrives in Dubai at 04:20 the next day.
Address: Al-Nahyan Complex, Francis Rachel Street, PO Box 152, Victoria, Mahé, Seychelles
Email: ekseychelles@emirates.com
Phone: +248 4 29 76 76
Fax: +248 4 29 27 05
Website: www.emirates.com
Etihad Airways
Etihad Airways operates six weekly flights to Seychelles from Abu Dhabi to Mahe.
 Address: Mahé, Seychelles
Email: callcenter@airseychelles.com
Phone: +248 4391000
Website: www.etihadairways.com
Opening Hours: 0800-1800 Monday-Sunday
Qatar Airways
Qatar Airways flies daily to Seychelles and operate as follows:
QR678 departs Doha at 2.40 am and arrives in Seychelles at 8.50 am, and QR679 departs Seychelles at 7.25 pm and arrives in Doha at 11.30 pm.
The airline is one of three middle eastern carriers, including Air Seychelles' strategic partner, UAE-based Etihad Airways, and the Dubai-based Emirates Airline, on which Seychelles was relying at the time to bring in passengers from its main market, Europe. 
Address: Room 103, 1st Floor, Capital City, Independence Ave. Victoria, Seychelles
Email: sezkzqr@sc.qatarairways.com
Phone: +248 4303600
Website: www.qatarairways.com
Turkish Airline
Turkish Airlines is the second star Alliance member to start services to Seychelles.
Email: sezops@thy.com
Phone: (+248) 437 6555
Website: https://w1.turkishairlines.com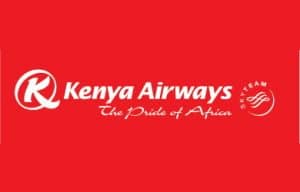 Kenya Airways
Kenya Airways has been operating flights to Seychelles for the past 38 years and is the only international airline that has served the longest amount of years of flight operations in Seychelles and is constantly looking into new ways to enhance its ability to bring more tourists to Seychelles.
The airline currently operates Four-weekly direct flights from Nairobi to Mahe, which is the largest of the exotic islands of Seychelles departing on Tuesday, Thursday, Saturday, and Sunday.
Address: PO Box 288, Kingsgate Travel Centre, Independence Avenue, Victoria
Email: sez.sales@kenya-airways.com / kenneth.mutinda@kenya-airways.com
Phone: +248 4322989
Website: www.kenya-airways.com
Condor Airways
Condor operates a weekly direct flight from Frankfurt, Germany to Mahé, Seychelles.
The Route is serviced by a Boeing 767 with 270 seats arriving early morning every Saturday morning.
The airline's general sales agent in Seychelles is Mason's Travel.
Address: Victoria, Mahé, Seychelles
Email: info@masonstravel.com
Phone: +248 4288907
Website: www.condor.com 
Edelweiss Air
Edelweiss Air is a Swiss leisure airline owned by the Lufthansa Group. It operates two weekly direct flights to Seychelles from its base in Zurich.
Address: Mason's Travel – Victoria, Mahé Island
Email Reservations: webreservations@masonstravel.com
Email Reservations: webenquiry@masonstravel.com
Phone: (+248) 428 88 88
Fax: (+248) 422 52 73 / 432 41 73
Ethiopian Airlines
Ethiopian Airlines is the largest airline in Africa.
There are flights between Addis Ababa and Seychelles weekly
Address: Michel Building, Revolution Avenue, Victoria, Mahe
Email: meront@ethiopianairlines.com
Phone: +248 4288807/8/9
Website: www.ethiopianairlines.com
Seychelles Travel Information
---
Reader's opinions
---