Transport around Seychelles Islands
Get all the information about local transfers around Seychelles Islands. Seychelles consist of three main islands, Mahé, La Digue, Praslin. Most people who visit Seychelles arrive by plane, landing at Mahé International Airport. The three main islands are connected by ferry and there is also a flight connection between Mahé and Praslin.
One of the smaller islands is usually a single accommodation that can be arranged for private transfers. Some examples are Bird Island, Denis Island, and Silhouette.
Seychelles Public Transport Company (SPTC)
SPTC operates an integrated public bus network, with over 1600 bus journeys daily, covering over 106 bus routes on Mahe and Praslin, supported by four (4) bus depots located across Mahe and one (1) in Praslin and three Bus Terminals. SPTC has a fleet of 250 buses and 240 bus drivers.

Car Hire Services on Mahe and Praslin Islands
Seychelles offers you a large range of Car Hires across Mahe and Praslin Island.
It is perfect to get around the island to all the little stops where the public busses can't take you.
Taxi Services on Mahe and Praslin
Don't feel like driving on your holiday? Seychelles has reliable taxi services all around the island. How much does a taxi cost in Seychelles? Plus-minus a 20min ride can cost you around 20Euros. If the taxi is not metered, you need to discuss the price in advance.

Bicycle Hire on La Digue Island
Beautiful La Digue offers a unique experience by the only way to get around the island is with a bicycle – there is plenty little bicycle hire companies to be found on the small island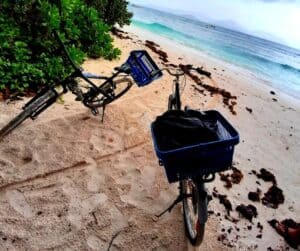 How do you travel between the Islands?
There are two main ways to travel between islands: ferry and airplane
The Cat Coco ferry links Mahe, Praslin, and La Digue. It takes less than an hour to travel to Praslin and another 15 min to La Digue
Cat Cocos Schedule
Seychelles also offers private services to travel between the islands
Seychelles Travel Information
---