Where to go for Easter Mass in Seychelles
Want to attend Easter Service in Seychelles this weekend? We have all the information you need to celebrate Easter this upcoming weekend. Wherever you might be, there's always a church nearby and we're here to make sure you're able to celebrate Easter.  
For Easter Lunch and Events – CLICK HERE
During Holy Week, a total of 4 different services will be taking place for Catholics, starting with Good Friday.  
In Seychellois culture, worshippers like to go on hikes with friends or church-led pilgrimages on Good Friday. During the pilgrimage, which is usually done on the main road, believers go through the 14 stations of the cross. This is accompanied by hymns and prayers along the way.  
Later the same day, most churches have a Passion of Jesus Christ Mass at 3 pm in remembrance of the hour of Jesus' death.  
On Holy Saturday, Easter Vigil Mass is celebrated in all churches from 7 pm onward. Be sure to bring a candle along for an immersive experience. The lighting of the candle is said to represent Christ's power over death.  
And for the main event, Easter Sunday. Worshipers will be spoiled for choice when it comes to where to attend mass. All churches on the island, including La Digue and Praslin churches, will be celebrating the resurrection of Christ, with some services starting at 7 am and others starting at 9 am.  
To note, Good Shepherd Church in Mont Fleuri is one of the only churches which offers an English-only mass which is widely popular amongst foreigners living in the country.  
Below you'll find the timings for each service by region/church:
Service Schedule for Holy Week 2023 – Catholic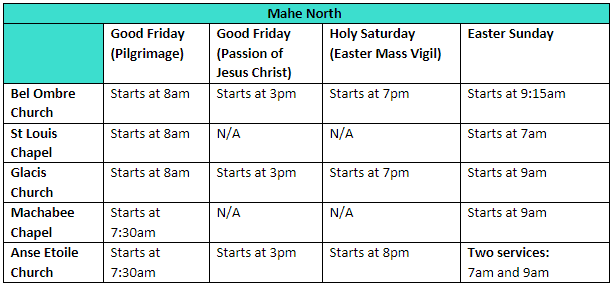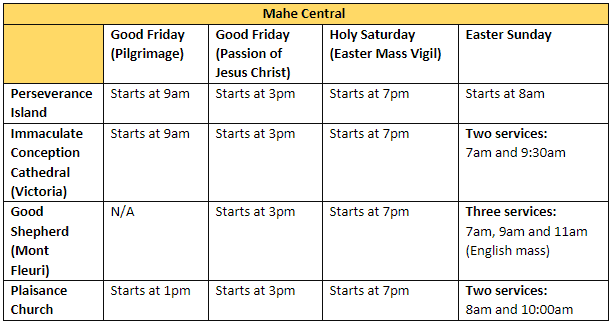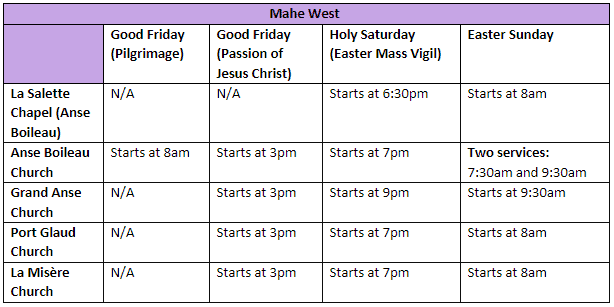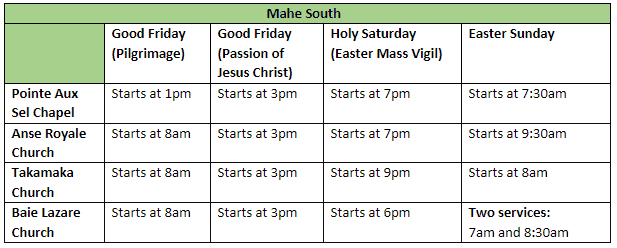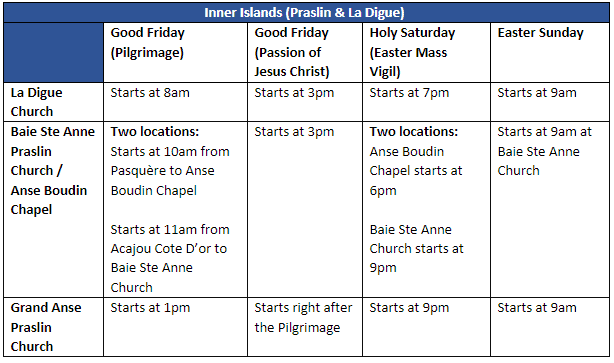 Service Schedule for Holy Week 2023 – Anglican





For Easter Lunch and Events – CLICK HERE
---
Reader's opinions
---