What To Do This Weekend In Seychelles
22nd – 24th September 2023
What's on this weekend in Seychelles??
Penultimate weekend of September 2023. Here's the latest on what's happening this weekend.  Inside Seychelles is your guide to what's on, where to go, and what to do this weekend in Seychelles. Below are all the upcoming events and things to do this weekend, so take a look, and let's start planning!!!
We also have the Rugby World Cup 2023 going on – CLICK HERE to view where you can watch the game live with your friends.
HAVE YOU CLICKED ON THE WRONG DATE? – CLICK HERE FOR ALL UPDATED EVENTS.
BE SURE TO VISIT REGULARLY AS WE UPDATE OUR EVENTS ON A DAILY BASIS.
Friday 22nd September – Where to Go & What to Do
Start your Friday at Beach Shak
Start of your Friday by enjoying an ice cold drink right next to the beach for sundowners at Beach Shak Bar & Grill in Beau Vallon – Mahe 

Takamaka Cocktail and Grill Fridays
Enjoy drinks from the rum shack and grills from the food truck every Friday at La Plaine St. Andre – Home of Takamaka Rum. From 5 pm to 10 pm, Takamaka Rum Distillery transforms into a vibrant atmosphere where you can savour delicious cocktails, and mouthwatering delights and dance to the latest songs under the stars. Head over to Takamaka Rum Distillery's Cocktail and Grill on Fridays for a perfect start to the weekend.
CLICK HERE –  for more details on La Plane St Andre
Indian Dinner Buffet at The Maharajas
This Friday the 22nd of September you can enjoy a all you can eat from the best Indian Restaurant in Seychelles at The Maharajas where you can experience the best Indian Flavours in Seychelles. Eden Plaza, Eden Island
Saturday 23rd September 2023 – Events in Seychelles
Beach clean up on Praslin Island
You can do your part in joining The Trash Traveler on Saturday the 23rd of September to represent Seychelles in the Beach Clean up happening opposite Praslin Island Airport.
Beach clean up on Baie Lazare – Mahe Island
Or if you are on Mahe you can join the Beach Clean up happing at Roche Copras Beach – Baie Lazare Mahe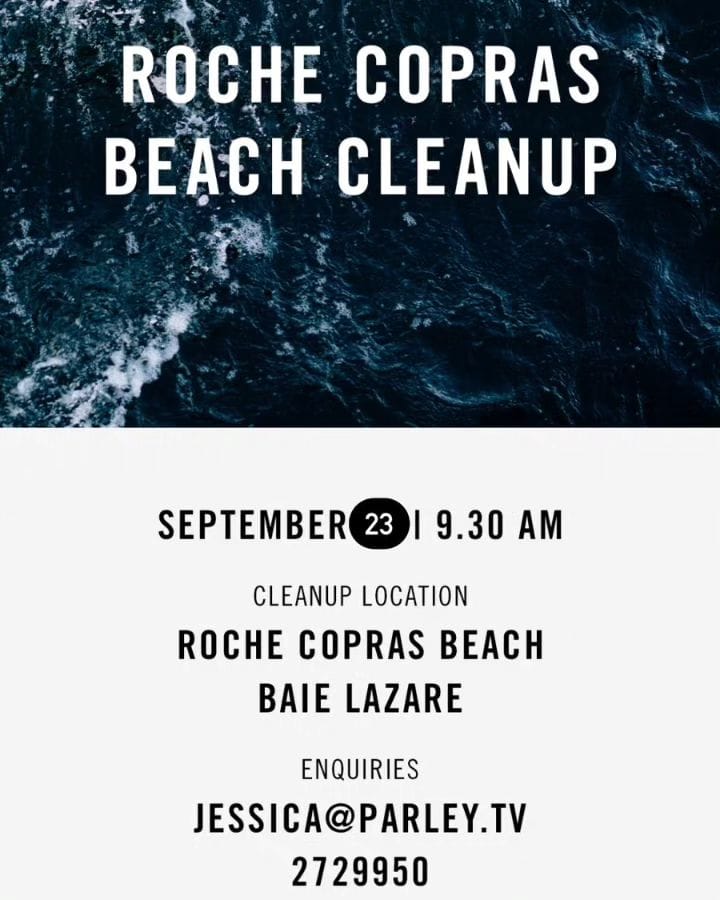 BBQ Party at Ochan
Every Saturday you can enjoy a fun filled day at Ochan Bistro – for a BBQ Party with Live DJ for only SCR 500/- per person from 7 – 10 p.m. Eden Plaza, Eden Island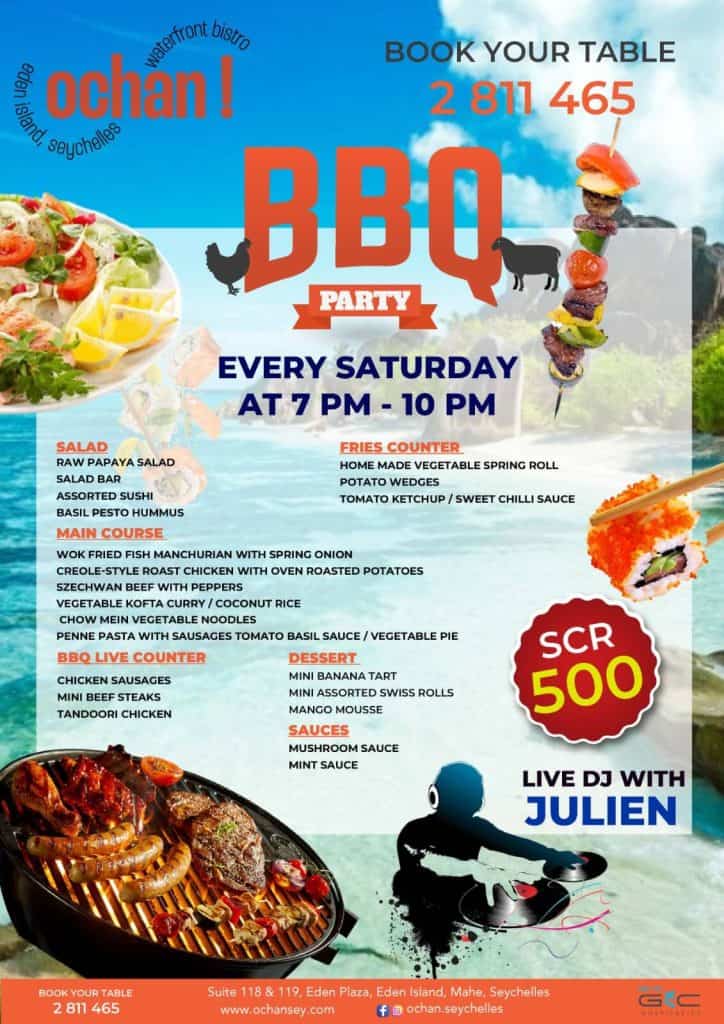 Barrel Saturday
Saturday Party with Jakim and other local artist at Barrel Bar & Nightclub this Saturday.
Early Bird tickets are available at SCR 150/- and tickets at the door will be SCR 200/-. There are special VIP Ticktes available at SCR 400/- per person.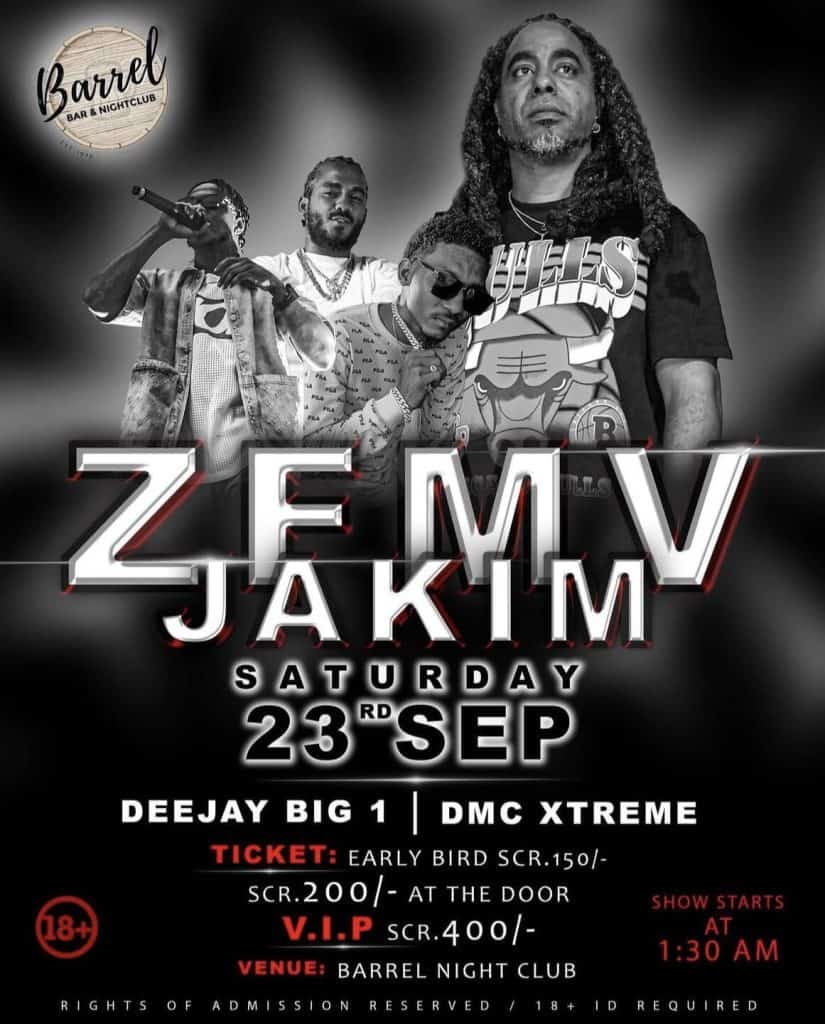 President's Cup Rugby
One for the Rugby Club – Kick off for the President's Cup at Stad Linite at 4 p.m. on Saturday the 24th of September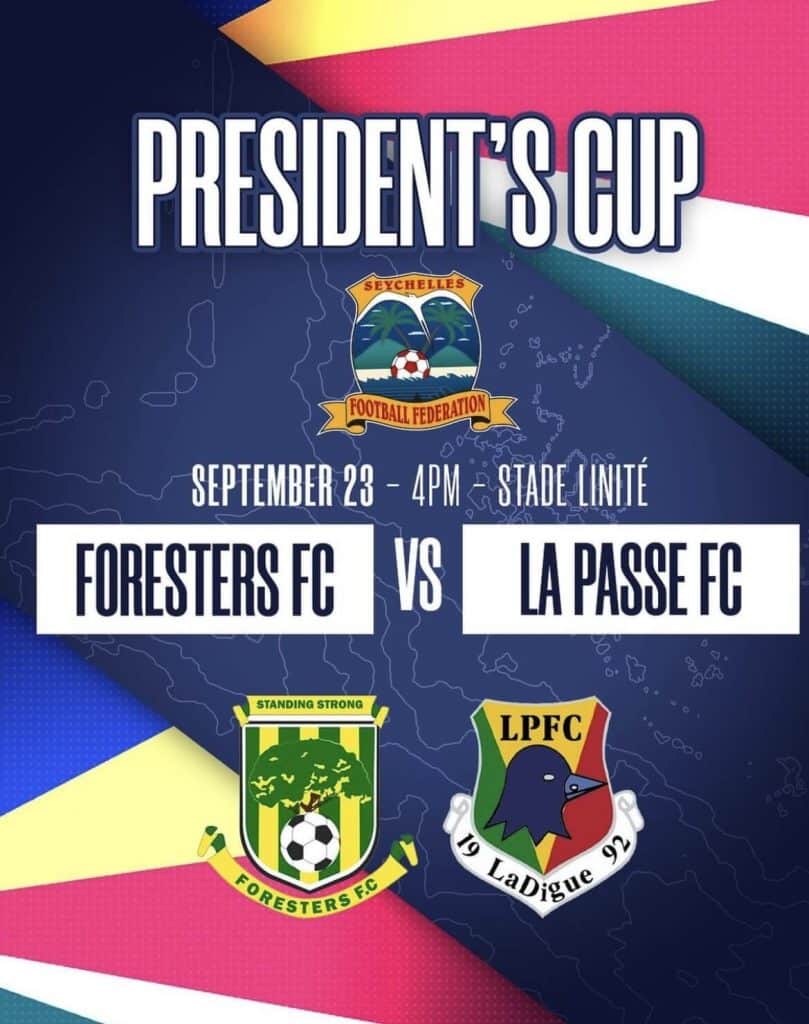 Be sure to visit regularly as we update our Events on a daily basis.
Sunday 24th September 2023 – Find out more of What's on this weekend in Seychelles
Food Festival Sunday
For the public, the tourism festival will start on Sunday the 24th of September 2023 with the great Local Food Fest at Domaine de Val Des Pres – Au Cap from 11 a.m. to 6 p.m. It features an array of delicious dishes that make use of fresh seafood, tropical fruits, and aromatic spices. There will be Live Entertainment from 3 p.m. with Local DJs and Live Bands with some Creole performances/dances. 
Read More about the Tourism Festival – CLICK HERE 
Emmanuel Marie Sunday
Emmanuel Marie will be Live with his Creole Dance & Music this Sunday at Boat House Restaurant from 7-9:30 p.m. Beau Vallon – North Mahe 
Sunday Roast at Bravo!
Not in the mood to cook this Sunday? Why not head down to Bravo! for an amazing slow cooked Roast Leg of lamb with a complimentary drink for only SCR 495/- per person (Take Away are available)

Sunday Creole Buffet & BBQ at Maison Marengo
Enjoy an authentic Creole BBQ Buffet this Sunday at Maison Marengo.  The irresistible taste of Creole cuisine, cocktails and a great atmosphere from 12:30 pm to 5 pm.  Savour the vibrant flavours and immerse yourself in the rhythmic beats of traditional live music. SCR500 for Adults and SCR250 for children. Secure your authentic Creole dining experience by reserving a table.
What's on this Sunday? – CLICK HERE to see things to do in Seychelles on Sundays
The ultimate guide to What's on this weekend in Seychelles
There are plenty of Happy Hours across Seychelles Bars and restaurants to take advantage of.  Check them out here
Be sure to visit regularly as we update our Events on a daily basis.
To view all future events please click here
Inside Seychelles is your guide to

what's

on in Seychelles, where to go in Seychelles, and what to do in Seychelles
---
Reader's opinions
---