Tourism Festival Seychelles 2023
Written by Joey Roestof on 18th September 2023
Tourism Festival Seychelles 23
rd
– 30
th
September 2023
The launch of the 6th Edition of the Tourism Festival Seychelles will be on the 23rd of September 2023 with the chosen theme " Bridging the Past and Future". The festival is designed to celebrate and promote the importance of tourism in the country. The festival hosts various activities and events to promote tourism and showcase Seychelles and its unique attractions. 
Public Events for the Tourism Festival 2023
For the public, the tourism festival will start on Sunday the 24th of September 2023 with the great Local Food Fest at Domaine de Val Des Pres – Au Cap from 11 a.m. to 6 p.m. It features an array of delicious dishes that make use of fresh seafood, tropical fruits, and aromatic spices. There will be Live Entertainment from 3 p.m. with Local DJs and Live Bands with some Creole performances/dances.  
Wednesday the 27th of September is World Tourism Day. There will be Meet and Greet Events at Seychelles International Airport from 6:45 a.m. 'Ero' Passenger terminal at Praslin from 9-11 a.m. Island Quay Jetty on Mahe from 9:30-10:30 a.m. Where they will have a Traditional Music Entertainment Show for the tourists and locals passing by.  
The Digital Tourism Fair will be held at the ICCS (International Conference Centre Seychelles) Building on Thursday the 28th of September from 12-6 p.m. This will be a day full of innovation and inspiration as the industry is moving towards digitalization in many aspects.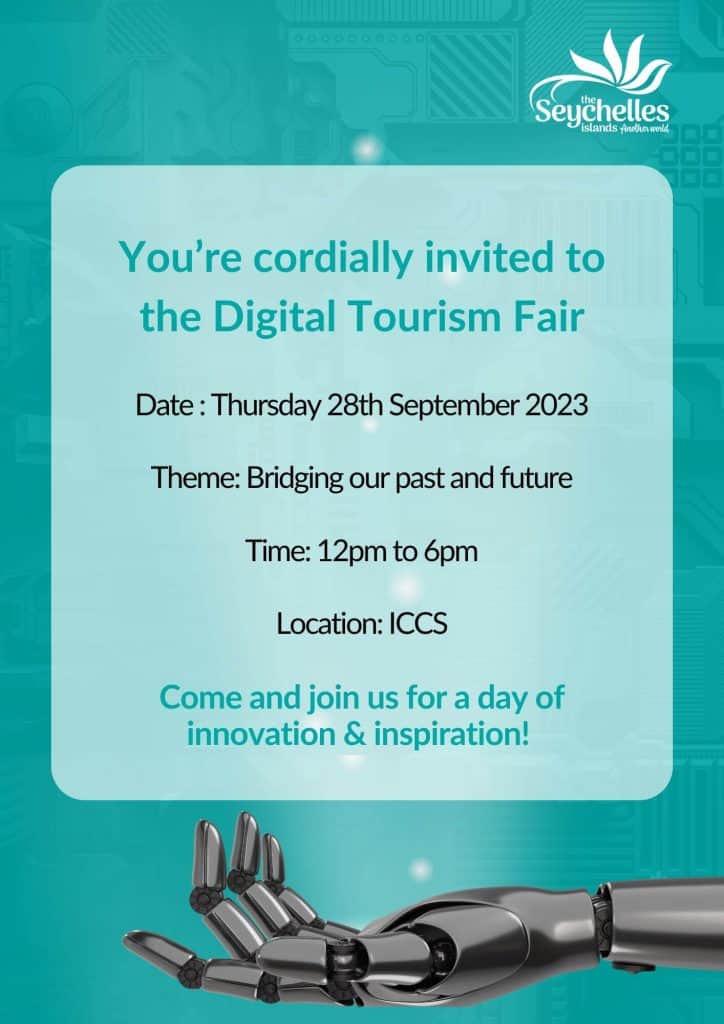 Saturday the 30th of September you can join the "Rendezvous Diguois." On La Digue Island. This event celebrates La Digue's local artisans, showcasing their unique creations in arts, culture, food, and drinks. This is where you can discover and buy local products from very talented local artisans. Interact with the friendly islanders and learn from their culture and traditions. There will be music all day with local DJs and Live bands.  
There will be daily Heritage Tours at Trios Freres Distillery – La Plaine Ste Andre  
Inside Seychelles Events  click here
Inside Seychelles is your guide to

what's

on in Seychelles, where to go in Seychelles, and what to do in Seychelles
---
Reader's opinions
---