Shopping in Seychelles
Written by Editor on 9th March 2023
Shopping in Seychelles
Where do you shop in Seychelles?
There are small local convenience stores at almost every corner of the three main islands, Mahé, Praslin and La Digue. All of them have various opening and closing times depending on the day and district you are in. They open between 7-9 am and close between 8-11 pm. They sell anything you would need when on the go.  
There are local butcheries and butcheries that import meats from over the world located in different districts around the islands that sell fresh or frozen meats and seafood. 
Markets in Seychelles
Seychelles is known for its vibrant and colourful markets. There are a few notable markets in Seychelles that are popular with both locals and tourists. The Sir Selwyn Clarke Market, located in the capital city of Victoria on the island of Mahé, is one of the largest and most popular markets in Seychelles. Here, you can find a wide range of fresh produce, seafood, spices, and handmade crafts.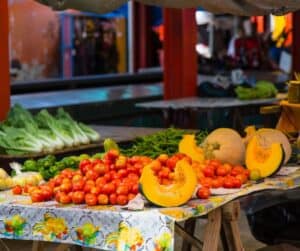 Another popular market in Seychelles is the Beau Vallon Market, located on the island of Mahé. This market is known for its fresh seafood and local crafts and is a great place to try some traditional Seychellois cuisine. 
Other markets in Seychelles include the Anse Royale Market on the island of Mahé and the Baie Lazare Market on the island of Praslin. These markets offer a similar range of goods and are popular with tourists looking to experience local culture and cuisine. 
La Plaine St Andre hosts a market every Saturday with amazing little stalls that you will only find at the home of Takamaka Rum.  
Small stands on the side of the streets around the islands can be found selling various local fruits and vegetables. Each district has a small Fishermans Market, selling freshly-caught fish and seafood of the day with local fruit & vegetables. 
Boutiques & Souvenir Shops in Seychelles
There are many local boutiques and souvenir shops in Seychelles that offer unique clothing and accessories. Shopping in Seychelles can be a great way to support local artisans and take home unique and authentic souvenirs. 
Seychelles is home to a number of local artists and art galleries. The Michael Adams Studio is a popular art gallery located in Anse aux Poules Bleues, Mahé, Seychelles. There, you can find beautiful paintings, sculptures, and other unique art pieces.  
Whether you are looking for a unique piece of artwork or a taste of the local flavours, there is something for everyone in Seychelles. 
There are larger shopping centres available on Mahe Island.
*Bois de Rose Shopping Complex, Bois de Rose Ave, Victoria, Mahé 
Inside the complex, there are STC Hypermarket, Pharmacy and a food court upstairs, with little shops around…Approximately 4 minutes away from the complex is the STC Duty-Free (Gift Shop)  
*Eden Plaza at Eden Island, Mahé
Inside and around the shopping centre, there are Spar Supermarket, Euro Medical Center and Pharmacy, Mamma Mia Deli and Various Restaurants. Watersports/fishing shops, souvenir and Jewellery shops. 
Exploring the town
Victoria the capital of Mahé, you are guaranteed to find so much more, from local spices, souvenirs, traditional wear and many basic necessities, Victoria is undoubtedly worth exploring a little more closely, and here are a few spots that offer exciting cultural and historical information to the Seychelles holidaymaker. 
Seychelles Travel Information
---
Reader's opinions
---