What's On this Weekend In Seychelles
10th – 12th of November 2023
Get Ready for the Weekend Ahead! There are plenty of exciting activities and events to make the most of your weekend. Inside Seychelles is your ultimate guide to what's on, where to go, and what to do in Seychelles. Here are some fantastic options to consider for your weekend in Seychelles:
HAVE YOU CLICKED ON THE WRONG DATE? – CLICK HERE FOR ALL UPDATED EVENTS.
BE SURE TO VISIT REGULARLY AS WE UPDATE OUR EVENTS ON A DAILY BASIS.
Friday the 10th of November 2023 – Let us start the weekend.
Be sure to visit regularly as we update our Events on a daily basis.
Prophecy Friday at Barrel
Prophecy Takes the Stage Live This Friday at Barrel Bar – Don't Miss Out!
Where? Barrel Bar & Nightclub; Victoria; Mahe; Seychelles
What time? 11pm

Friday Night Party at Aloha Restaurant & Bar
Get ready for a fantastic Friday Party night as DJ Ease takes command of the decks at the newly opened Aloha Restaurant & Bar. Don't miss out on the beats and good times!
Where? 1st Floor at Docklands at New Port; Victoria
What time? 7pm onwards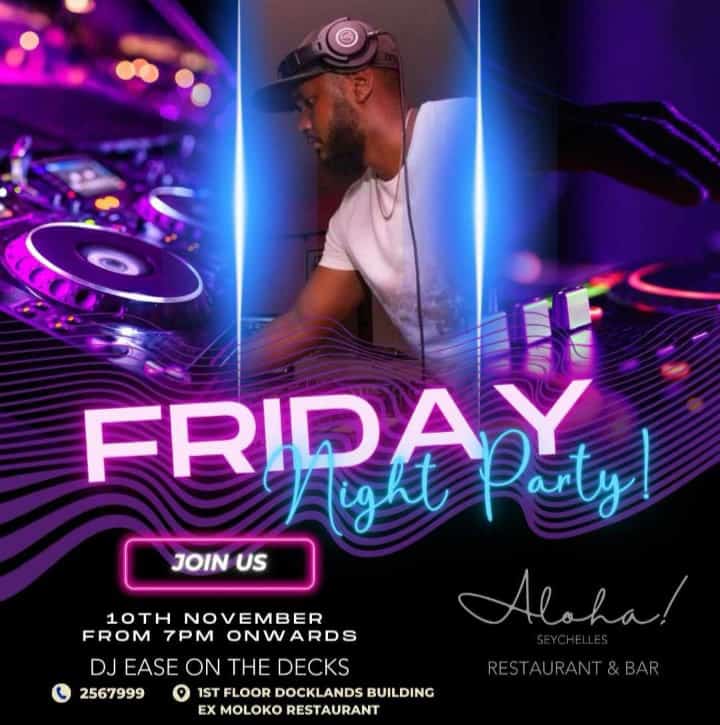 Beach Shak Friday
Great way to start your weekend this Friday at Beach Shak Bar & Grill. With cocktails or an ice-cold beer in your hand, right next to the beach with the best Sunsets you can imagine!
Where? Beau Vallon Beach – North Mahe
What time? 6 pm – 12 am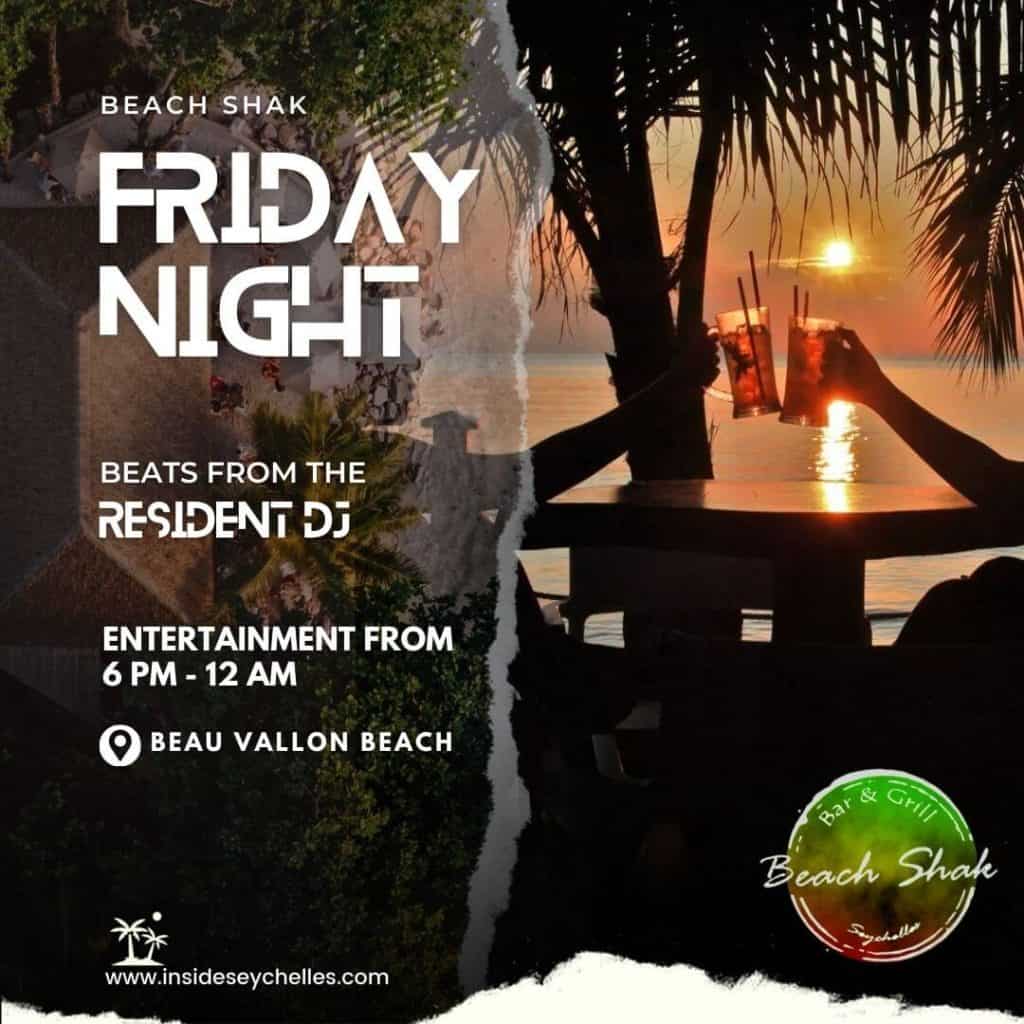 Cocktail and Grill Fridays at La Plaine St. Andre
On Fridays, Takamaka Rum Distillery transforms into a vibrant atmosphere where you can savour delicious cocktails, and mouthwatering delights and dance to the latest songs under the stars. Head over to Takamaka Rum Distillery's Cocktail and Grill on Fridays for a perfect night out! 
Where? La Plaine St Andre – Au Cap
What time?  5:00 PM – 10:00 PM
Saturday the 11th of November 2023 – What to do this Weekend in Seychelles?
Be sure to visit regularly as we update our Events on a daily basis.
Saturday Night with Emmanuel Marie
Saturday Night Vibes with Emmanuel Marie at the Boat House Restaurant with Creole Music and Dance from 7 pm – 9:30 pm
Where? Boat House Beau Vallon – North Mahe
What time? 7 pm – 9:30 pm

SATURDAY BBQ NIGHTS AT OCHAN!
Saturdays are sizzling at Ochan! BBQ extravaganza! Dive into mouthwatering main courses, fresh salads, a live BBQ counter, crispy fries, an array of sauces, and heavenly desserts.
Groove to the beats of DJ Julien while you relish the flavours and embrace the lively atmosphere, all for just SCR 500!
Where? Eden Plaza at Eden Island
What time? 7 pm – 10 pm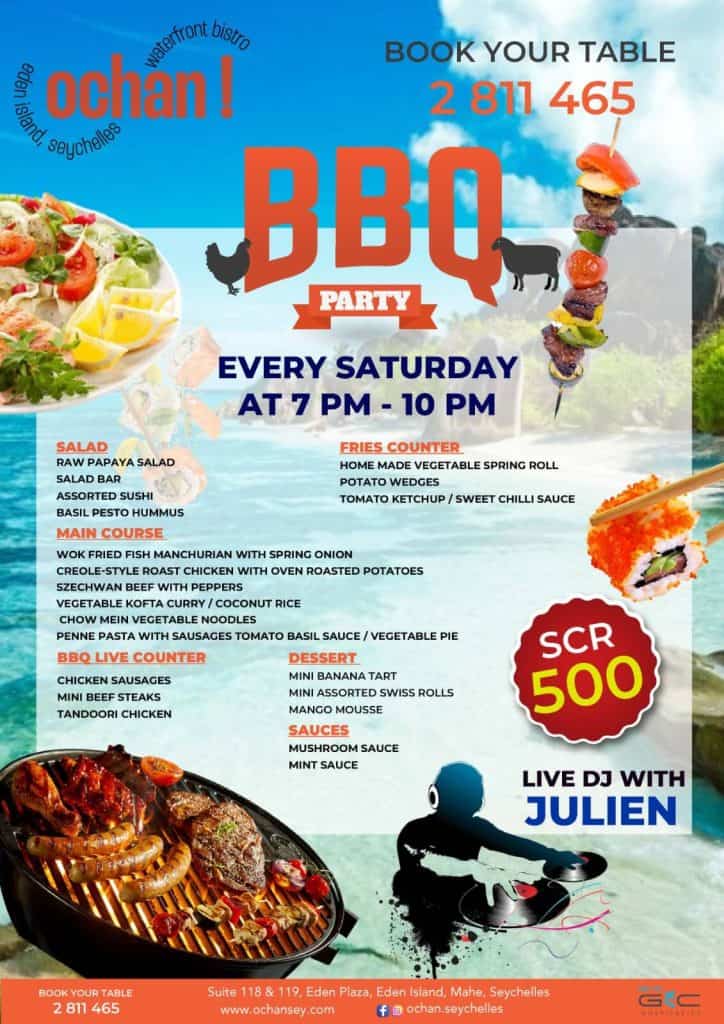 Stitch & Sip with Tanqueray
Get ready for a creative and relaxing Saturday on the 11th of November! Join Tanqueray for 'Stitch and Sip' and craft your very own stitched hat to take home. As you work on your masterpiece, enjoy a complimentary welcome drink to set the mood. Let your creativity flow, and sip your way to a fantastic Saturday.
Where? Marie Antoinette Restaurant – Victoria St Louis
What time? 3 pm – 6 pm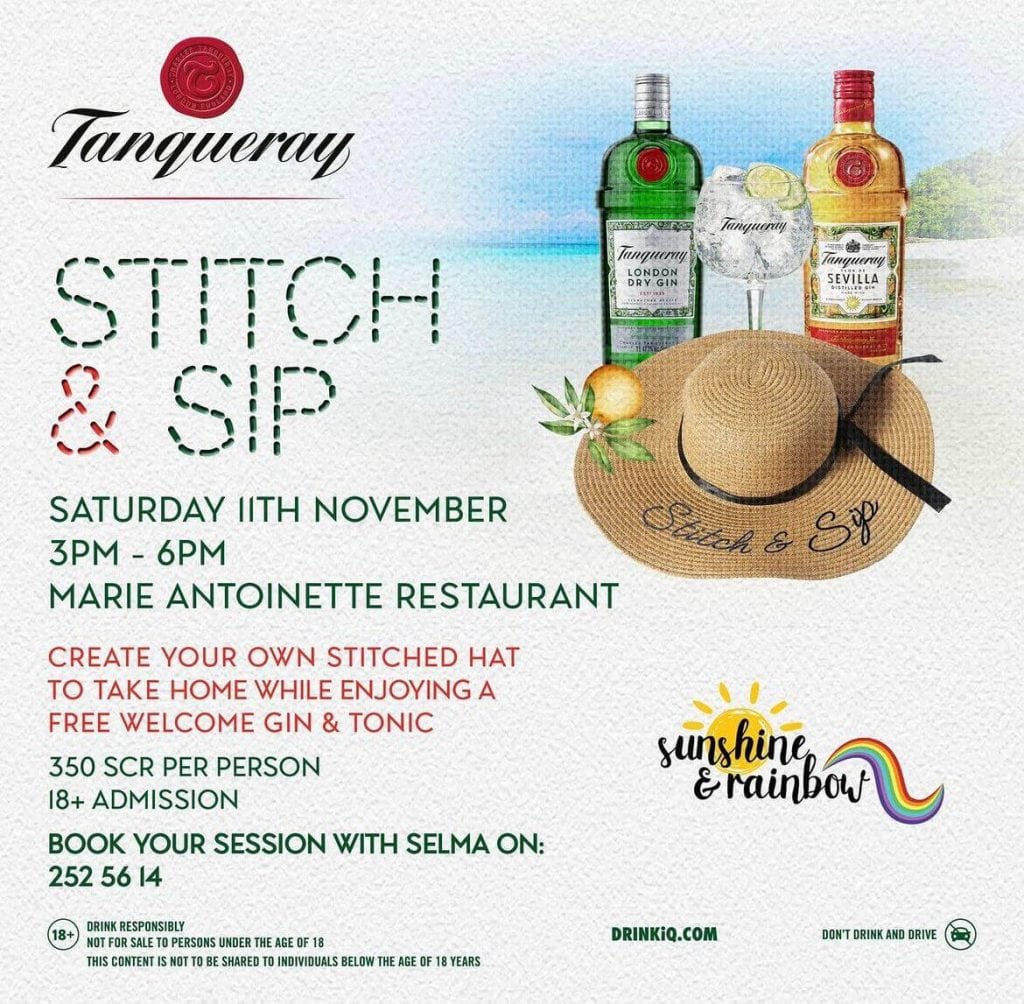 Soulful Saturdays at Kayman Kafe
Gather your friends and family for a soulful Saturday filled with the most feastable foods on the island! Kayman Kafe's relaxed atmosphere beside a playground makes it the perfect venue for all the family.
Where?  Located in Paradise Des Enfants – Victoria
What time? Opening hours on Saturday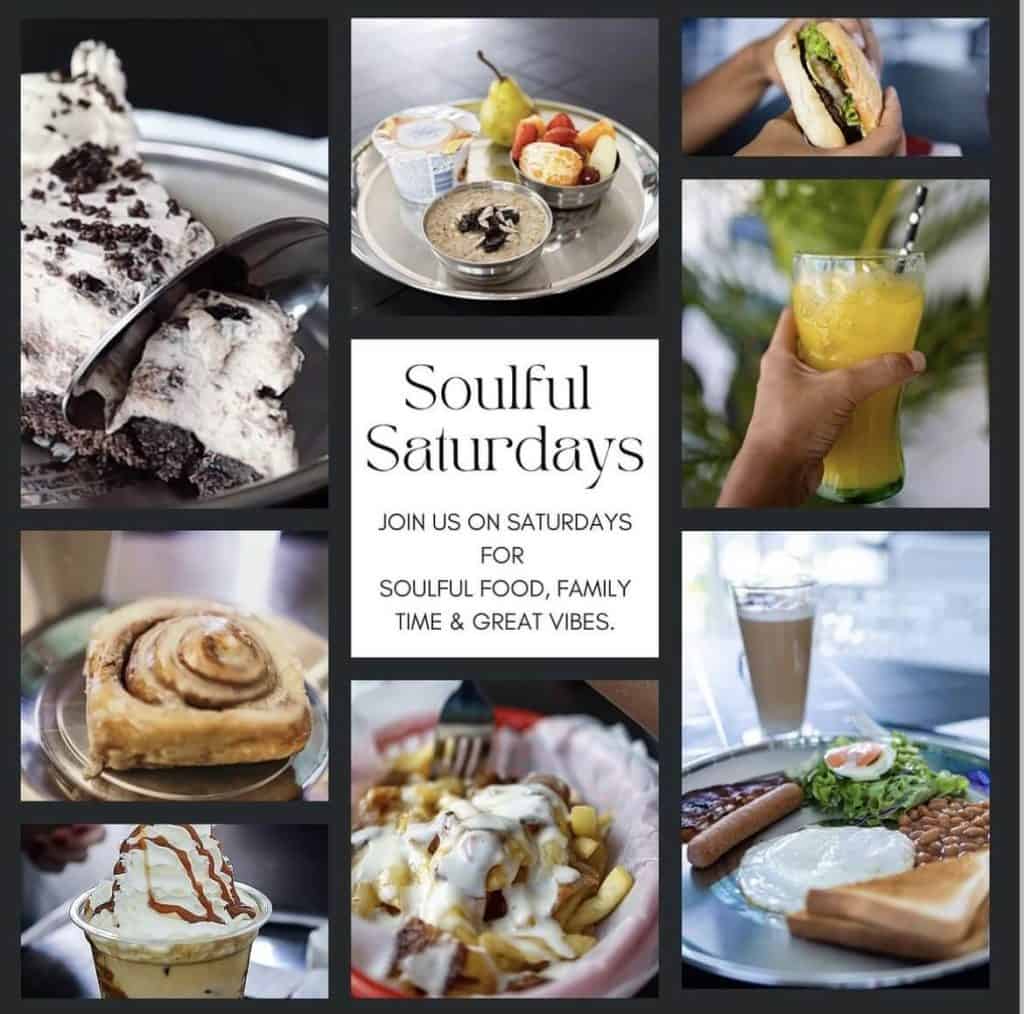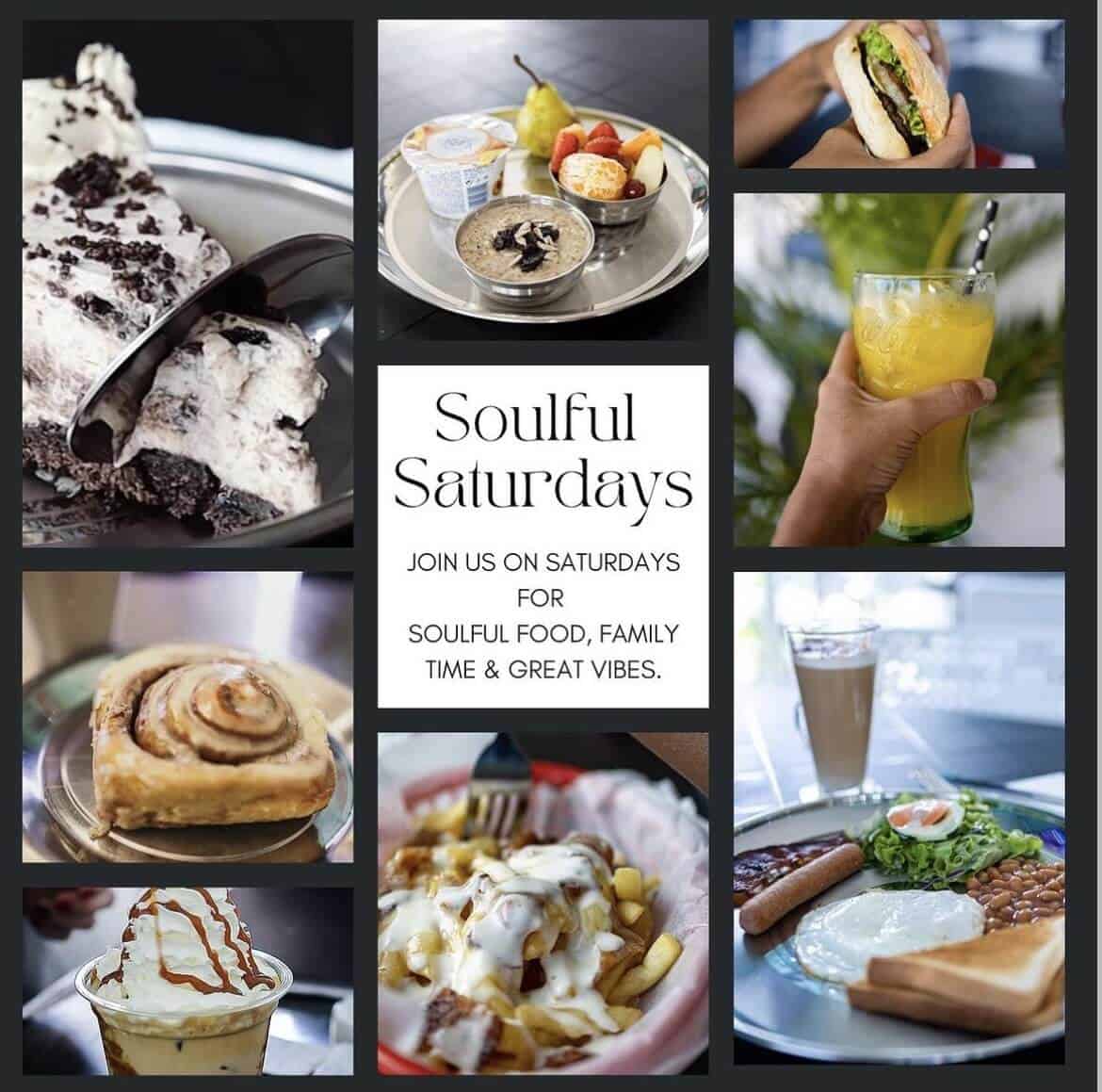 Saturday Night at the New Aloha Restaurant & Bar
Experience live entertainment at the recently opened Aloha Seychelles Restaurant & Bar in Seychelles, featuring the electrifying beats of DMX Extreme.
Join Aloha for a night of excitement and great vibes!
Where? 1st Floor at Docklands at New Port; Victoria
What time? 7pm onwards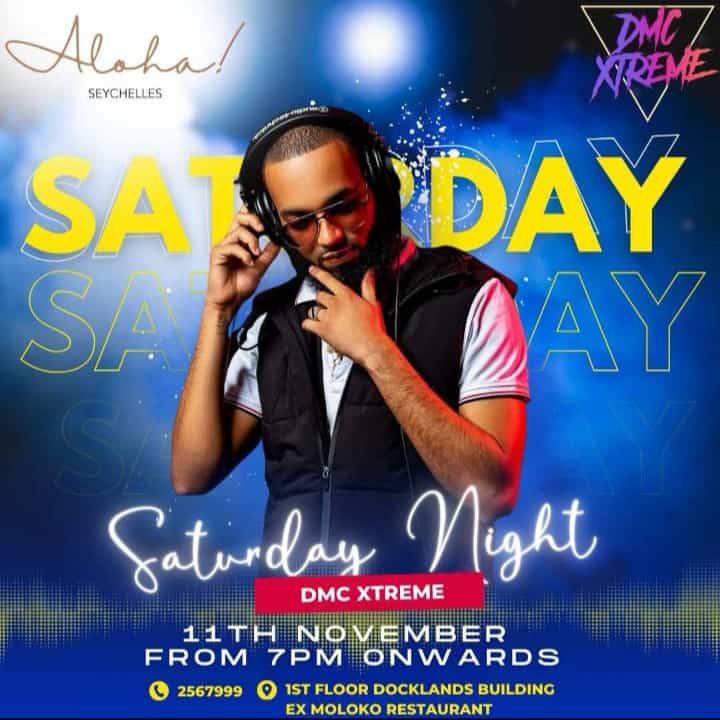 Taniah Entertainment proudly presents – The Evolution of Taniah!
LIVE with Chromatix Band featuring Emergency Crew. Special Guest Artists: ELIJAH, JAHKIM, CUSMAN, ION KID, SWAGTUNES, ALX
Normal tickets: SCR300.00 / VIP Tickets: SCR500.00 (inc free drinks and heavy snacks) Tickets can be delivered at your doorstep! Call +248 2 643 276/ +248 2 633 644 / +248 2 506 212
Sunday the 12th of November 2023 – What to do this Sunday in Seychelles?
Be sure to visit regularly as we update our Events on a daily basis.
Celebrate the festival of Lights
a Dazzling Diwali celebration at STORY Seychelles! Immerse yourself in the Festival of Lights with exquisite cuisine and a truly unforgettable experience.
Let's light up the night together at STORY Seychelles this Diwali! Discount rate for adults, children 50% (5 – 12 years), under 5 free. Call +248 2 605 308 to reserve.
Where? STORY Hotel in Bel Ombre – North Mahe
What time? 7 pm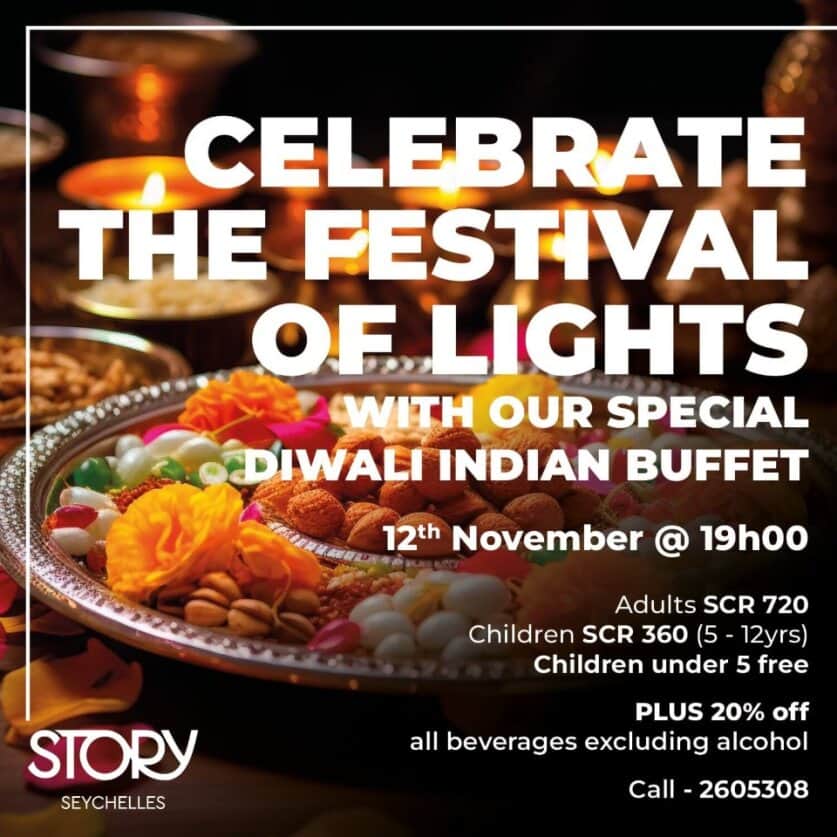 SUNDAY CREOLE BUFFET & BBQ AT MAISON MARENGO
If you are on the South Side of Mahe you can enjoy an authentic Creole BBQ Buffet this Sunday at Maison Marengo.  The irresistible taste of Creole cuisine, cocktails and a great atmosphere.  Savour the vibrant flavours and immerse yourself in the rhythmic beats of traditional live music. SCR500 for Adults and SCR250 for Children. Secure your authentic Creole dining experience by reserving a table.
Where? Au Cap South Mahe
What time? 12:30 pm to 5 pm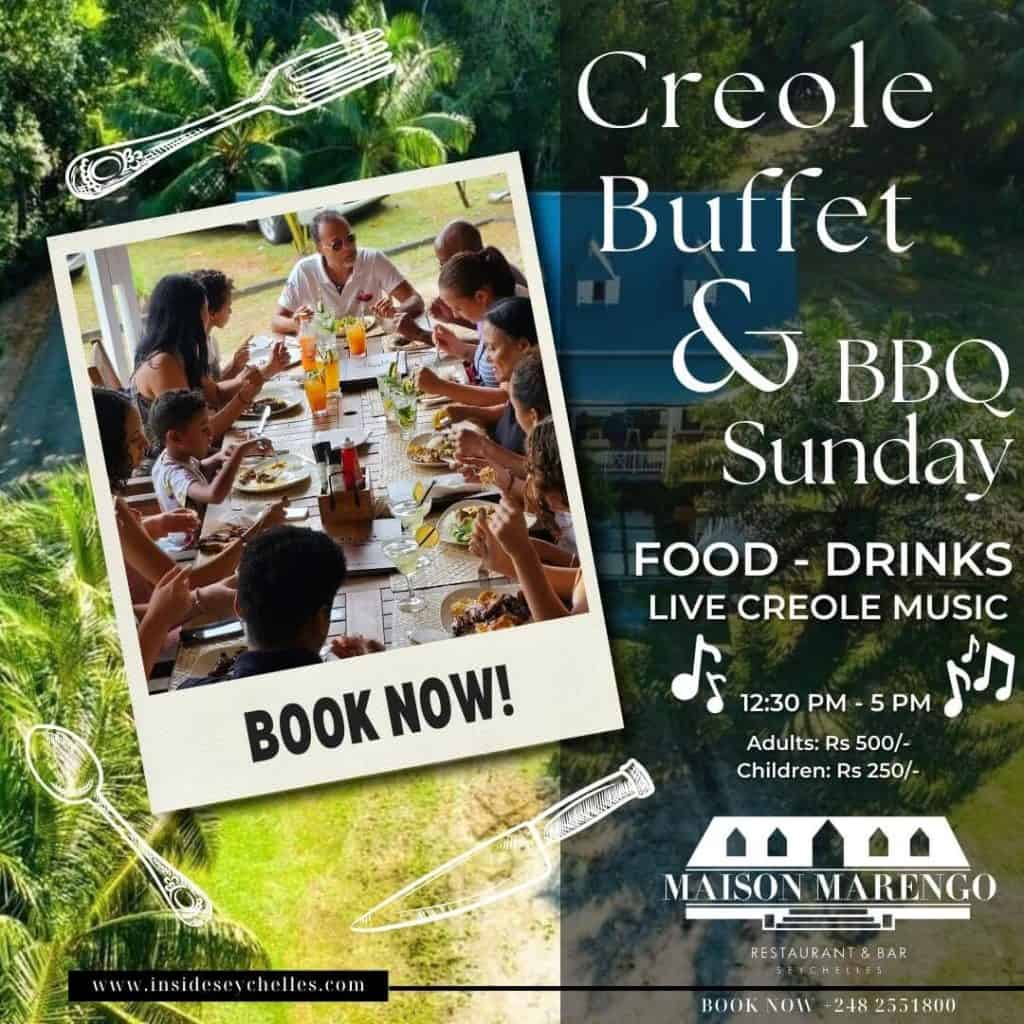 Beach Shak Sunday with the Kodnwanr Band
End off your weekend with the perfect sunset and drinks with the Kodnwanr Band at Beach Shak this Sunday
Where? Beau Vallon Beach – North Mahe.
What time? The band starts from 6pm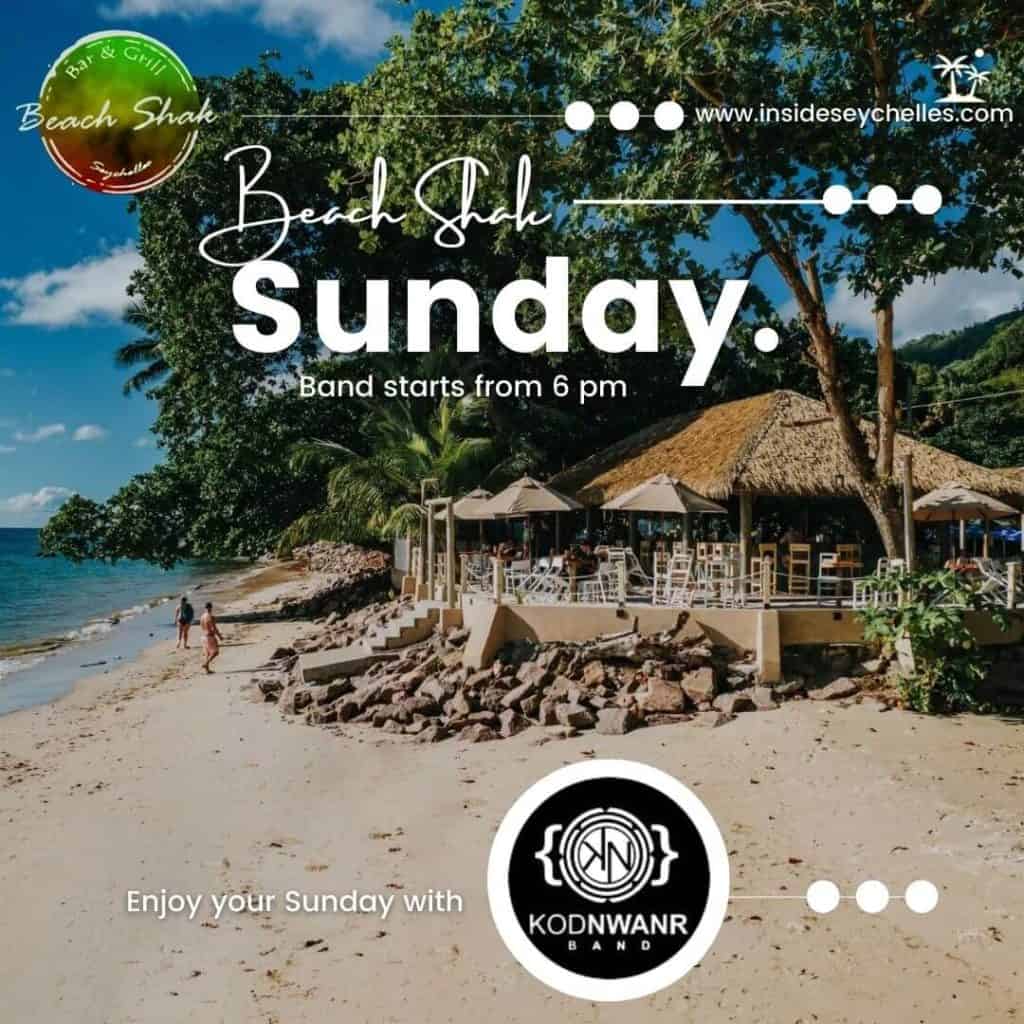 What's on this Sunday? – CLICK HERE to see things to do in Seychelles on Sundays
Find out more of What's on this weekend in Seychelles – Whole Weekend Events
Paradise Chalets weekly Yoga Sessions in Seychelles
Are you ready to unwind and embrace a weekend of relaxation, mindfulness, and self-care? It's time to dig out your comfiest yoga pants and join them for a rejuvenating weekend event that will help you reconnect with your inner self and find your Zen. CLICK HERE for more details on this schedule and how to sign up today!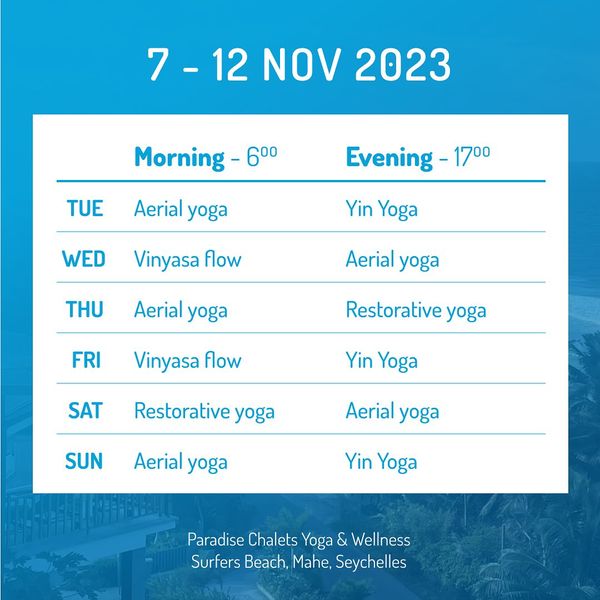 Creole Buffet at Boat House Whole Weekend
If you are in the North Side of Mahe you must try the famous Creole Buffet at Boat House Restaurant – For anyone wanting to have the ultimate Seychelles culinary experience. With the most idyllic beach backdrop, the vibey open-aired Boat House Restaurant located in Beau Vallon Bay is the ideal setting. From 7:00 p.m. – 9:00 p.m., there is an all-you-can-eat Creole-style buffet boasting over twenty aromatic and flavourful traditional Creole dishes to choose from!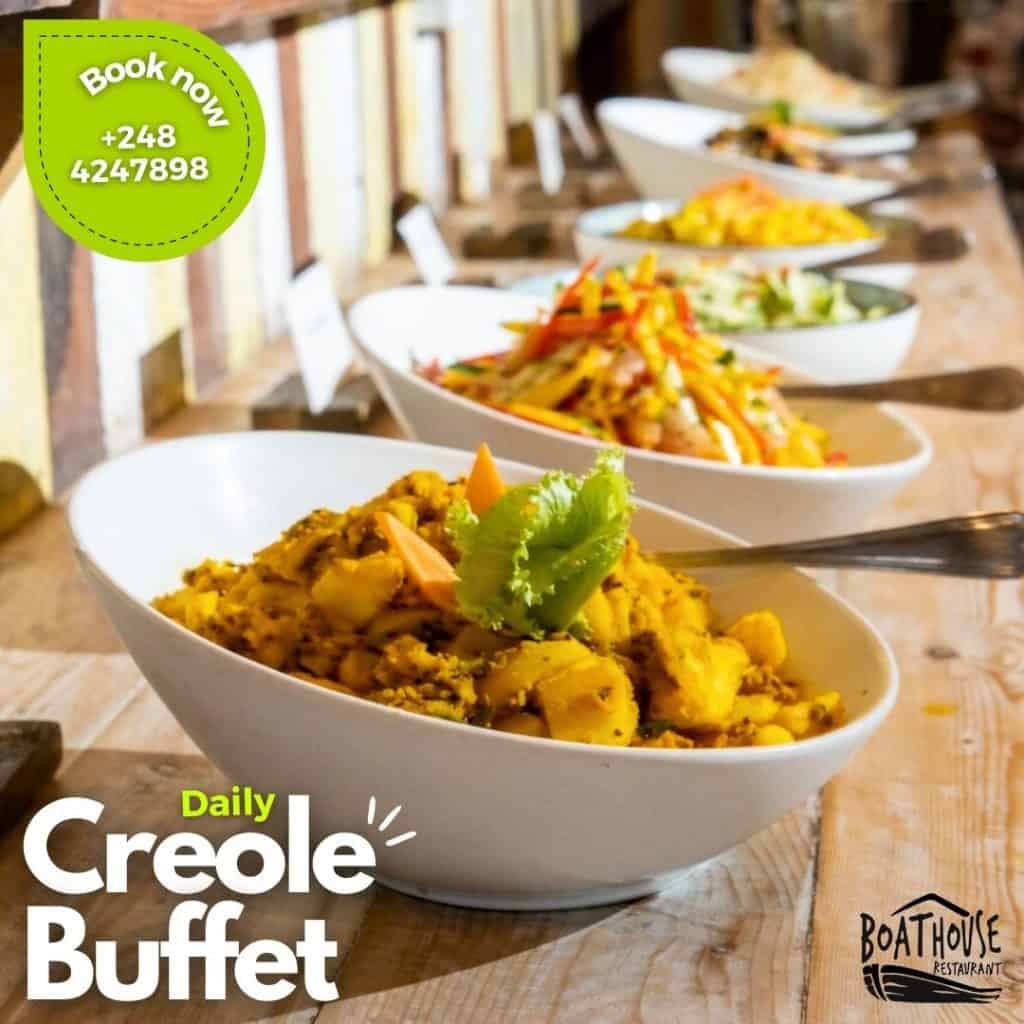 Here are some Happy Hours around the Island so you can enjoy your favourite drinks for less
So, let's embark on this exciting weekend ahead with excitement, ready to create memories!  Have a fantastic weekend!

Inside Seychelles is your guide to

what's

on in Seychelles, where to go in Seychelles, and what to do in Seychelles
---
Reader's opinions
---