What's On this Regatta weekend around Seychelles – 25th – 27th August 2023
We are Excited it's Regatta weekend. Let's have a look at What's On this Regatta weekend around Seychelles. Inside Seychelles is your guide to what's on, where to go and what to do this Regatta weekend in Seychelles. This weekend is going to be buzzing, so take a look and let's start planning!!!
To view the Regatta50 Weekend Sports and Entertainment Schedule – CLICK HERE
HAVE YOU CLICKED ON THE WRONG DATE? – CLICK HERE FOR ALL UPDATED EVENTS.
BE SURE TO VISIT REGULARLY AS WE UPDATE OUR EVENTS ON A DAILY BASIS.
Let us start off the Regatta weekend – Friday 25th August
Get ready to get the Regatta weekend started with some sick beats and a CRAZY HAPPY HOUR. The Boardwalk is bringing a whole new energy to the party so let's turn this setback into a smashing night of epic memories. The Boardwalk Regatta Pre-Party at Eden Island with a DJ lineup playing their set from 4- 9 pm this Friday the 25th of August where you can dance the night away.
Regatta Afro Dancehall Party at Regatta Site with Mongy Bouncy Bar and Entertainment. Get your tickets now – Whatsapp 2504510 or call 2562626/2572632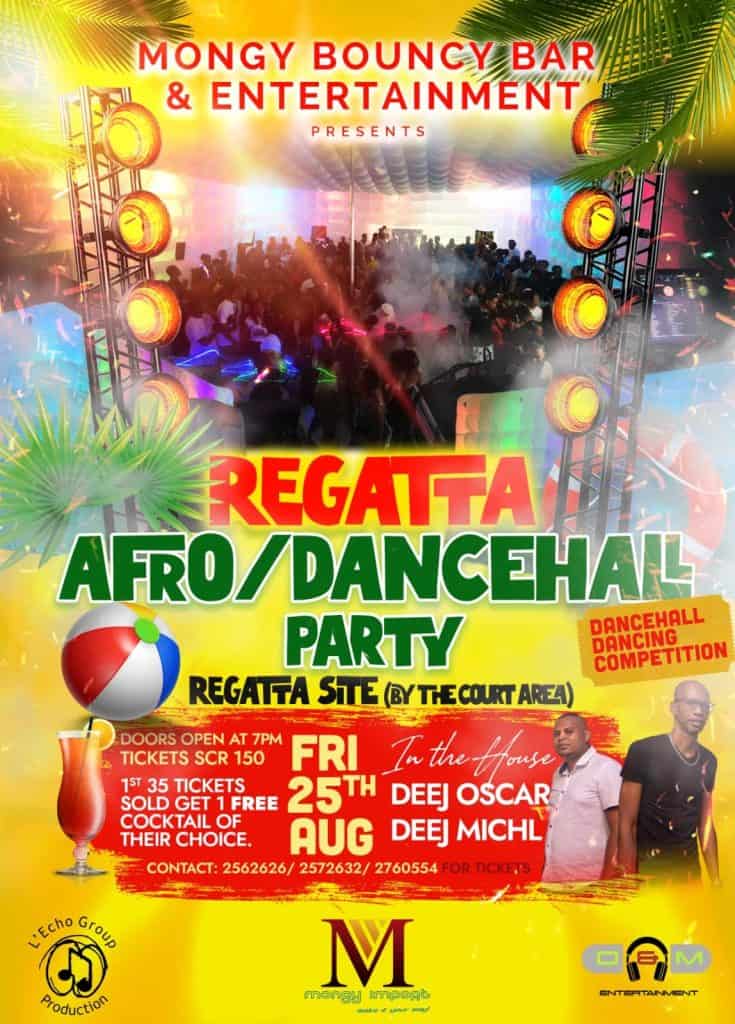 Looking for a spot to watch the Rugby this Friday in Seychelles – Semi-Sub will be showing the game live Springboks vs. All Blacks at 10:30 pm with excellent beer promotions and selected cocktails.

Regatta Saturday the 26th of August – What to do?
Want to get away from the crowds? Spend your Regatta Saturday 26th August 2023 with Club Liberte. Starting with happy hour from 2-4 pm, DJ from 4-8 pm and then Mervin Camille and Band Kolaz from 8 pm to midnight.

Head down to Barrel Bar & Nightclub this Saturday 26th August 2023 from 11 pm for live entertainment and a good time with Xtra Big, Champion & Pusso! Regular tickets for SCR 200 and VIP tickets for SCR 400 only, to make your purchase, contact +248 2800727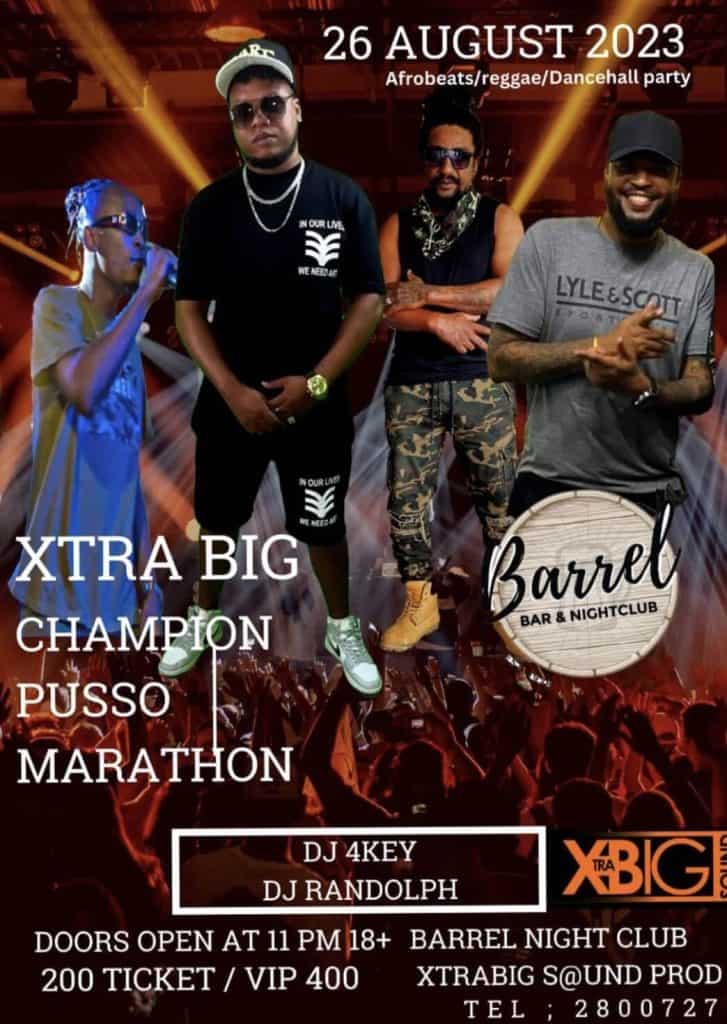 Tapas Lounge Bar, Praslin is hosting a FREE Night Beach Party from 5 pm with live entertainment and drinks this Saturday 26th August 2023. Including an Exclusive After-party from 10 pm onwards with local artists GUNZ & JAKIM for only SCR 200 per person! To purchase your ticket, please contact Le Duc Reception at +248 4294800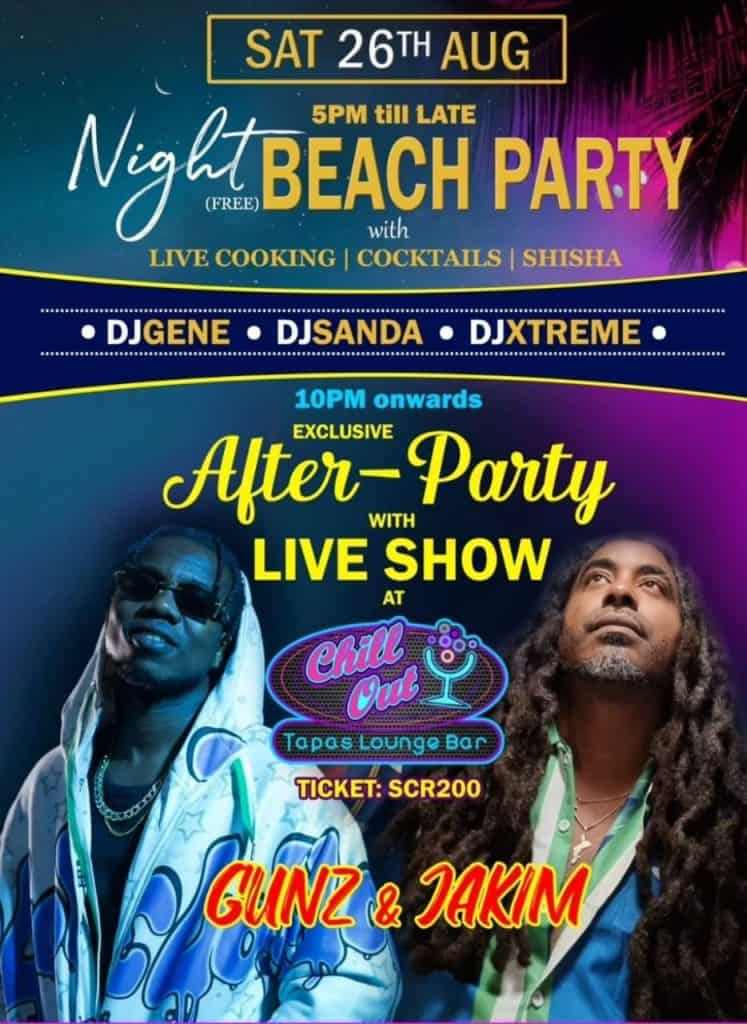 The party you have all been waiting for is docking this Saturday, 26 August!
Join Boat House Restaurant at the beachside for an evening of entertainment from some of your favourite local artists and DJs! Don't miss out on their amazing Seybrew promo for only SCR50 a bottle.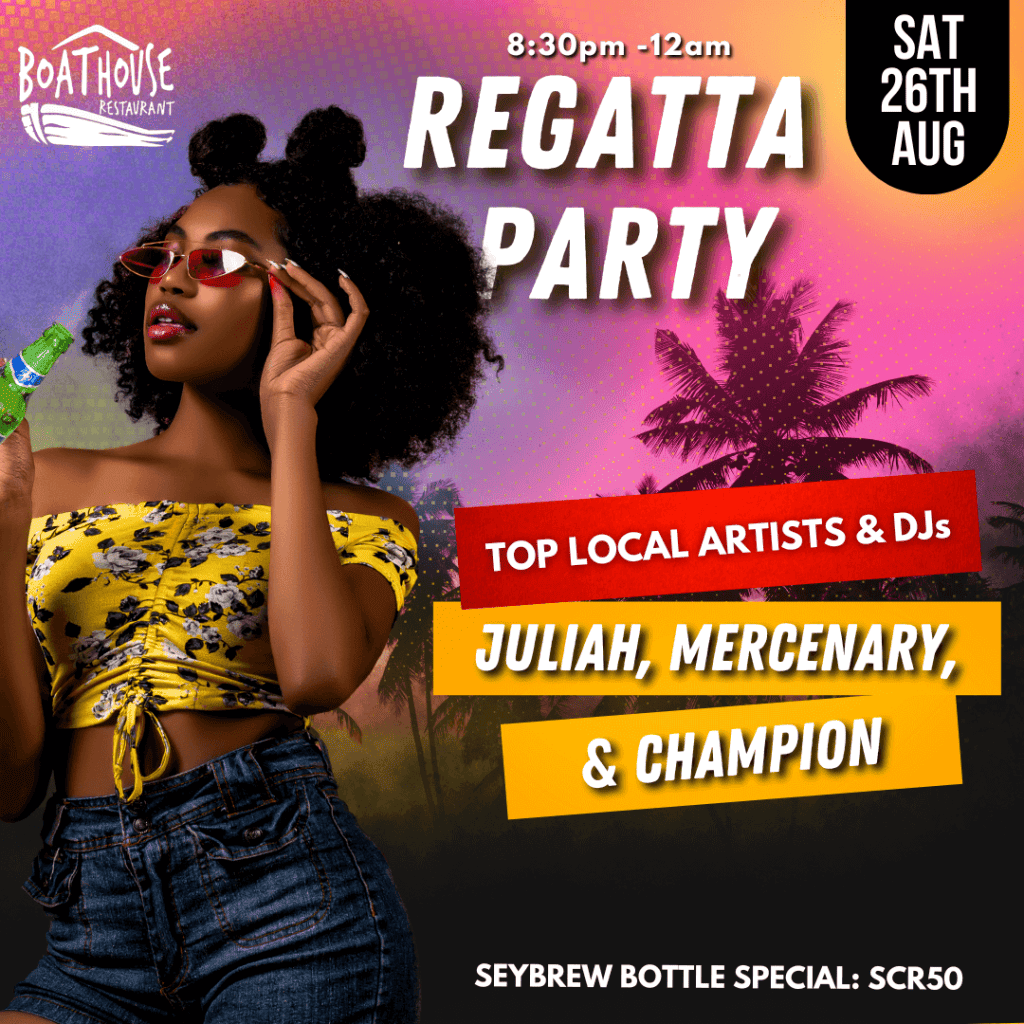 To find out more about Boathouse –Click Here
Regatta Bubble Party Featuring artist Julia, Auspitious & Champion (Special Appearance Miss Regatta 2023 Winners) with Mongy Bouncy Bar and Entertainment. Get your tickets now – Whatsapp 2504510 or call 2562626/2572632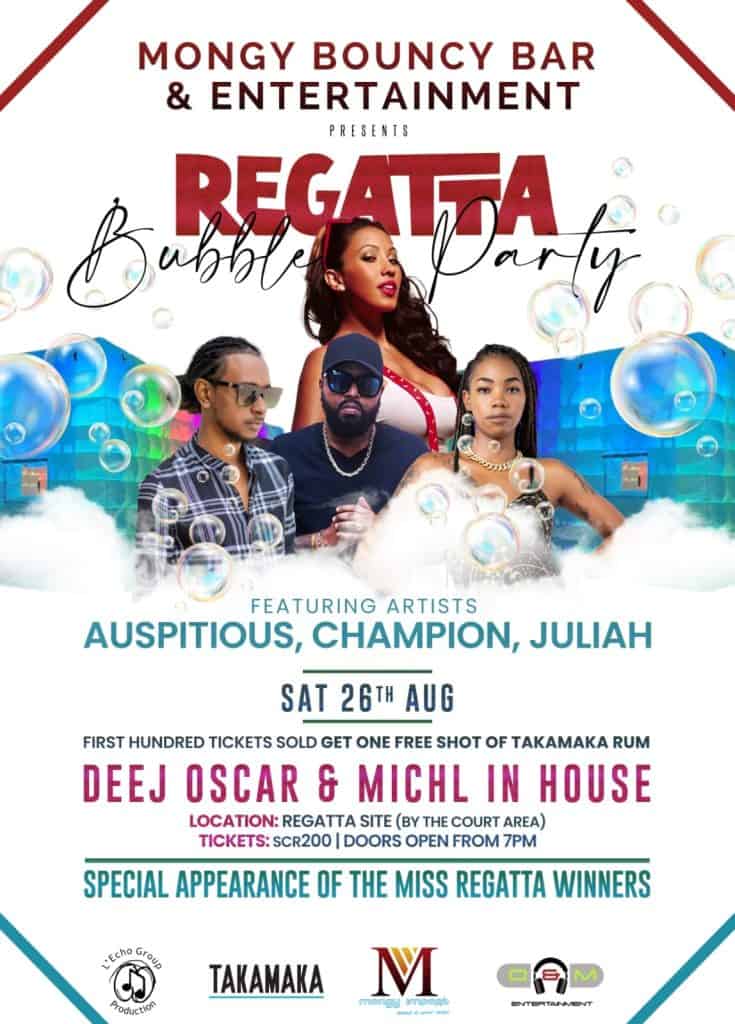 It's time to step back to the 80s with a great 80s night of music and nostalgia at Trader Vic's. Get into the groove as Madonna or be a Thriller with your inner Michael Jackson. Not only can you enjoy the hits of the 80s but enjoy the atmosphere, food and drinks Trader Vic's has to offer. with a cocktail menu with over 50 cocktails to choose from.  It's guaranteed to be an 80s fun-filled night. Prizes for best dressed and entrance fee Scr 150, includes a welcome drink – limited capacity
Be sure to visit regularly as we update our Events on a daily basis.
Heineken Beach Club at La Plage Restaurant at Beau Vallon will be having a great lineup of DJs playing. They will be setting nice beach vibes right next to the regatta site.

Looking for a spot to watch the Premier League live around Eden Island? Semi-Sub will be streaming the Premier League live with great beer promotions

Sunday 27th August 2023 – The ultimate guide to What's on this weekend in Seychelles
Creole Travel Services Regatta Party Boat Cruise on Sunday the 27th of August for some fun in the sun on the water at Regatta! From 10 am to 4:30 pm, there will be welcoming drinks with a BBQ on board with a live DJ. There will also be snorkelling available and a two-hour party anchored at Beau Vallon Beach at Regatta50
Over 20 Boats and Jet Skis are available with round trips and departures every 10 min with Seychelles Powerboats and Jetskis – Tickets are available at the Round Table Stall for SCR 300 per adult and SCR 200 for kids under 12
Sunday Regatta BIKINI EXTRAVAGANZA (Cash prize offer for best bikini) with Mongy Bouncy Bar and Entertainment. Get your tickets now – Whatsapp 2504510 or call 2562626/2572632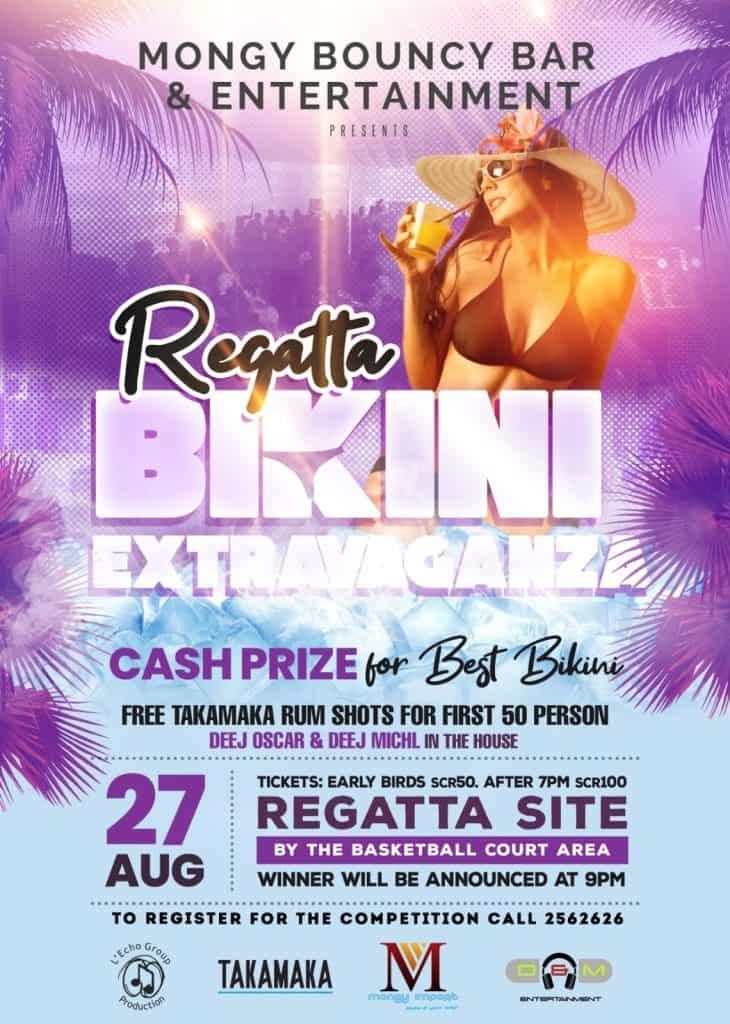 Inside Seychelles powered by Airtel at Regatta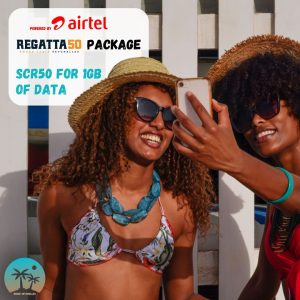 T&C APPLY
*OFFER FOR SAME-DAY USE ONLY
*NO REFUNDS
*UNUSED DATA WILL EXPIRE AT 10 PM EACH DAY
Enjoy an authentic Creole BBQ Buffet this Sunday at Maison Marengo.  The irresistible taste of Creole cuisine, cocktails and a great atmosphere from 12:30 pm to 5 pm.  Savour the vibrant flavours and immerse yourself in the rhythmic beats of traditional live music.
SCR500 for Adults and SCR250 for children. Secure your authentic Creole dining experience by reserving a table.
Ice Cream!!! enjoy a Sunday Special for Ice Cream lovers… who doesn't love Ice Cream??? 15% discount at only SCR50 per scoop
Make the most of your family time on Sundays at Cafe Eden. From a late breakfast/brunch to catching up with family and friends in the afternoon, this is the perfect venue with an extensive menu, there's something to suit everyone.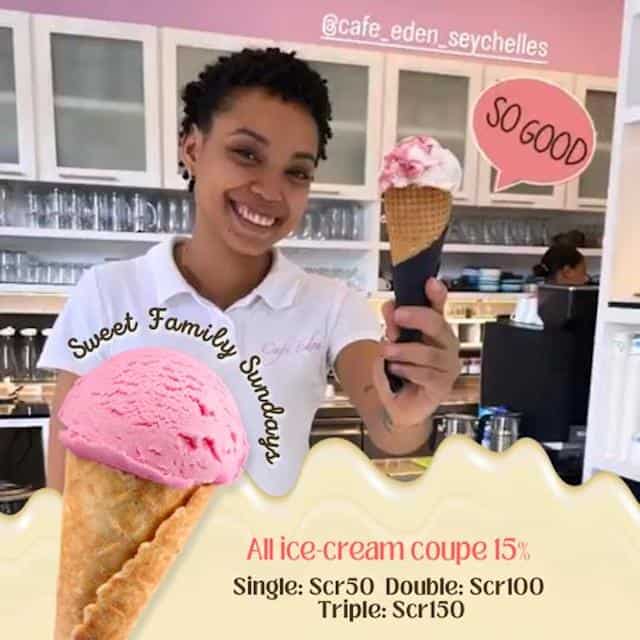 Sunday's are made for chilling and Sunday Brunch at Laila is the one best brunches in Mahe. Get the family together and experience a culinary experience not to be missed.  Every Sunday,  11.30 – 3 pm, live DJ. SCR750 per person.
Find out more of What's on this Regatta weekend in Seychelles
Don't miss this opportunity to create cherished memories with your loved one amidst the beauty of Seychelles' marine wonders with Creole's Regatta Boat Cruise! Choose between this Saturday 26th August 2023 and Sunday 27th August 2023 SCR 400 for adults and SCR 300 for kids only, to book Please contact +248 2633312 or info@creoletravelservices.com  
Calling all fashionistas! Eden Blue is hosting Katiti Seychelles' 2nd Edition Fashion Week on the 25th of August 2023 and 26th of August 2023 from 8 pm. Grab your tickets now for only SCR 500 per person by reaching out to Katiti's social media.  
Be sure to visit regularly as we update our Events on a daily basis.
To view all future events please click here
---
Reader's opinions
---