Find out What's On around Assumption Day on 15th August 2023
The Assumption of Mary is a public holiday in Seychelles on 15th August 2023.
The Assumption of Mary is celebrated with reverence and joy in many cultures.  Worshipers will gather for special church services, processions, and prayers to honour Mary's ascent into heaven.  There will be services held across Seychelles.
Floral offerings, liturgical hymns, and communal feasting are common elements, fostering a deep spiritual connection and a sense of heavenly hope.
The Assumption Festival on La Digue
La Digue, hosts a festival across the island and is a vibrant celebration of culture and heritage. With its captivating music, traditional dances, and local cuisine.
The festival honors the island's history and fosters a sense of unity among residents and visitors alike. A joyful event that captures the essence of Seychellois life.  It definately makes La Digue the place to be on the 15th.
Cat Cocos has a special ferry service direct from Mahe to La Digue
As Tuesday is a day off work for many,  there are several events and celebrations taking place on Monday night
Monday 14th August 2023 – What's on
Semi Sub Pub & Cafe have a cocktail special starting on Monday from 6pm onwards.  Enjoy your favourite cocktails from only scr100.   Located on Eden Island with great views across the marina, this is great spot to enjoy of few cocktails and snacks.
Club Liberte & 5 Spices Restaurant
If you're feeling lucky then Club Liberte is the place for you on Monday night with Match Play Monday.  With DJ Biggy on hand to keep you entertained.
HAVE YOU CLICKED ON THE WRONG DATE? – CLICK HERE FOR ALL UPDATED EVENTS.
BE SURE TO VISIT REGULARLY AS WE UPDATE OUR EVENTS ON A DAILY BASIS.
Reggae Night
It's strictly reggae music at Buckinarms Palace on Monday night with Free entrance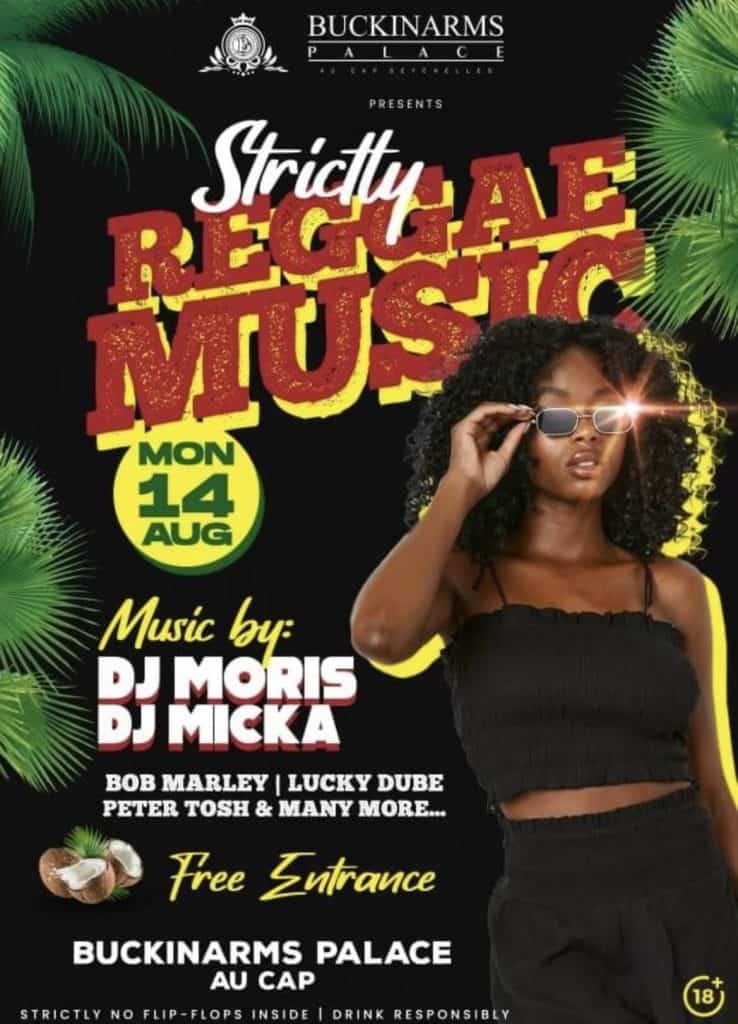 Tropical Vibez
Catch the Tropical Vibez at Barrel Bar & nightclub.  The first 50 guests get free entry and tickets before midnight scr100, then scr150.
Next Level Insomnia Party

The ultimate guide to What's on in Seychelles
Coming up all week
There are plenty of Happy Hours across Seychelles Bars & Restaurants to take advantage of
check them out here
Be sure to visit regularly as we update our Events on a daily basis.
To view all future events please click here
---
Reader's opinions
---