What To Do This Weekend In Seychelles
11th – 13th August 2023
What's on this weekend in Seychelles??
Here's the latests on what is happening this weekend.  Inside Seychelles is your guide to what's on, where to go and what to do this weekend in Seychelles. Below are all the upcoming events and things to do this weekend, so take a look and let's start planning!!!
HAVE YOU CLICKED ON THE WRONG DATE? – CLICK HERE FOR ALL UPDATED EVENTS.
BE SURE TO VISIT REGULARLY AS WE UPDATE OUR EVENTS ON A DAILY BASIS.
Friday 11th August – Where to Go & What to Do
Floating Book Fair
Calling all book worms!!! From 11th till 16th August, the world's largest floating book fair, Logos Hope, is in Seychelles and invites you to a unique experience aboard.
Explore not only the boat's extensive collection of books but also enjoy an array of cultural performances, diverse events and interact with over 60 nationalities on board, creating a unique and enriching experience.
Tickets to these events can be purchased onboard during opening hours. Come and embark on an incredible cultural journey and celebrate the grand return of Logos Hope to Seychelles.  
DJ at BoatHouse
The weekend is here!!!  There's no better way to start it than drinks, dinner and DJ at Boat House, Beau Vallon
Happy Hour's is from 5pm – 7pm and DJ Yves' kicks off the evening's entertainment from 6pm.  With a great crowd of locals and tourists you can dance the night away to the ultimate beachside vibes.  From local music to your favourite hits, something to keep everyone happy.  
Book your table now at +248 424 78 98
.
Semi Sub Afrobeat & Amapiano Night
Semi Sub Pub & Cafe present Afrobeat & Amapiano night this Friday, with happy hour drinks.
Heineken promotion
DJ Dynamo and DJ Ed will be on hand to keep the beats going throughout the night
Live music from 7pm till late and free entry.
The Comeback with Gatto
Head to Buckinarms Palace this Friday for an unforgettable evening. The return of Gatto takes centre stage, also featuring live performances from KS and Ras Ricky.
As the night unfolds, Buckinarms Palace will be filled with the rhythmic tunes spun by DJ Moris and DJ Micka.
Tickets available at the door from 10pm onward.  18+ only.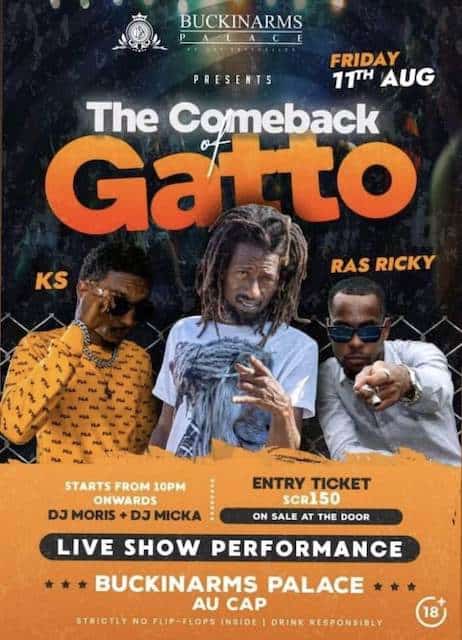 GINerosity at Lower Deck
Experience an evening of sheer delight at The Lower Deck,  from 6pm to 10pm.   GINerosity will be savoured amidst the captivating tunes of DJ Nemesis.  Relish in your favourite gin as the most beautiful sunset serves as the perfect backdrop, creating the perfect start to your weekend.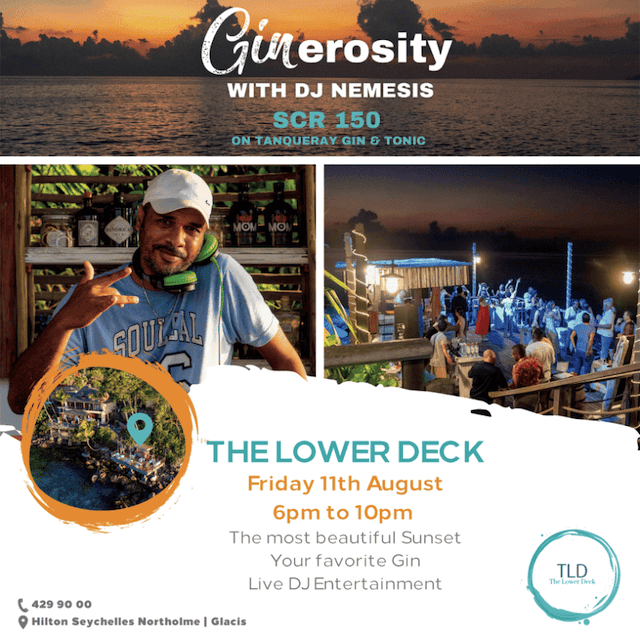 Barbie Party Part 2
This Saturday it's time to get in the Pink again with Barbie Party Part 2 at Katiolo.
Barbie's Dreamclub is ready for all Seychelle's Barbies and Kens
look your best in Barbie's Photo box and enjoy Beach please Shot and Malibu Barbie Cocktails
Free Entrance from Ladies wearing pink before 12:30am
Prizes for Best Dressed Barbie and Barbie with the Best Hair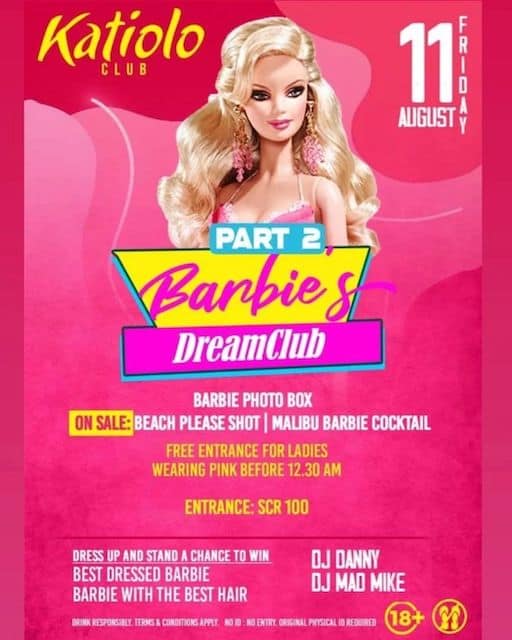 Takamaka Cocktail and Grill Fridays
Enjoy drinks from the rum shack and grills from the food truck every Friday at La Plaine St Andre – Home of Takamaka Rum.
On Fridays, from 5pm to 10pm, Takamaka Rum Distillery transforms into a vibrant atmosphere where you can savour delicious cocktails, mouthwatering delights and dance to the latest songs under the stars.
Head over to Takamaka Rum Distillery's Cocktail and Grill Fridays for a perfect start to the weekend.
Saturday 12th July 2023 Events in Seychelles
Soulful Saturdays At Kayman Kafe
Feed your soul and fill your tummy with great food with Soulful Saturdays at Kayman Kafe.   The perfect location for a family get together, from young to old the menu will find something to satisfy everyone.   From breakfast favourites to classic burgers, creole favourites & salads to amazing desserts and milk shakes.  Open from 8am till 2pm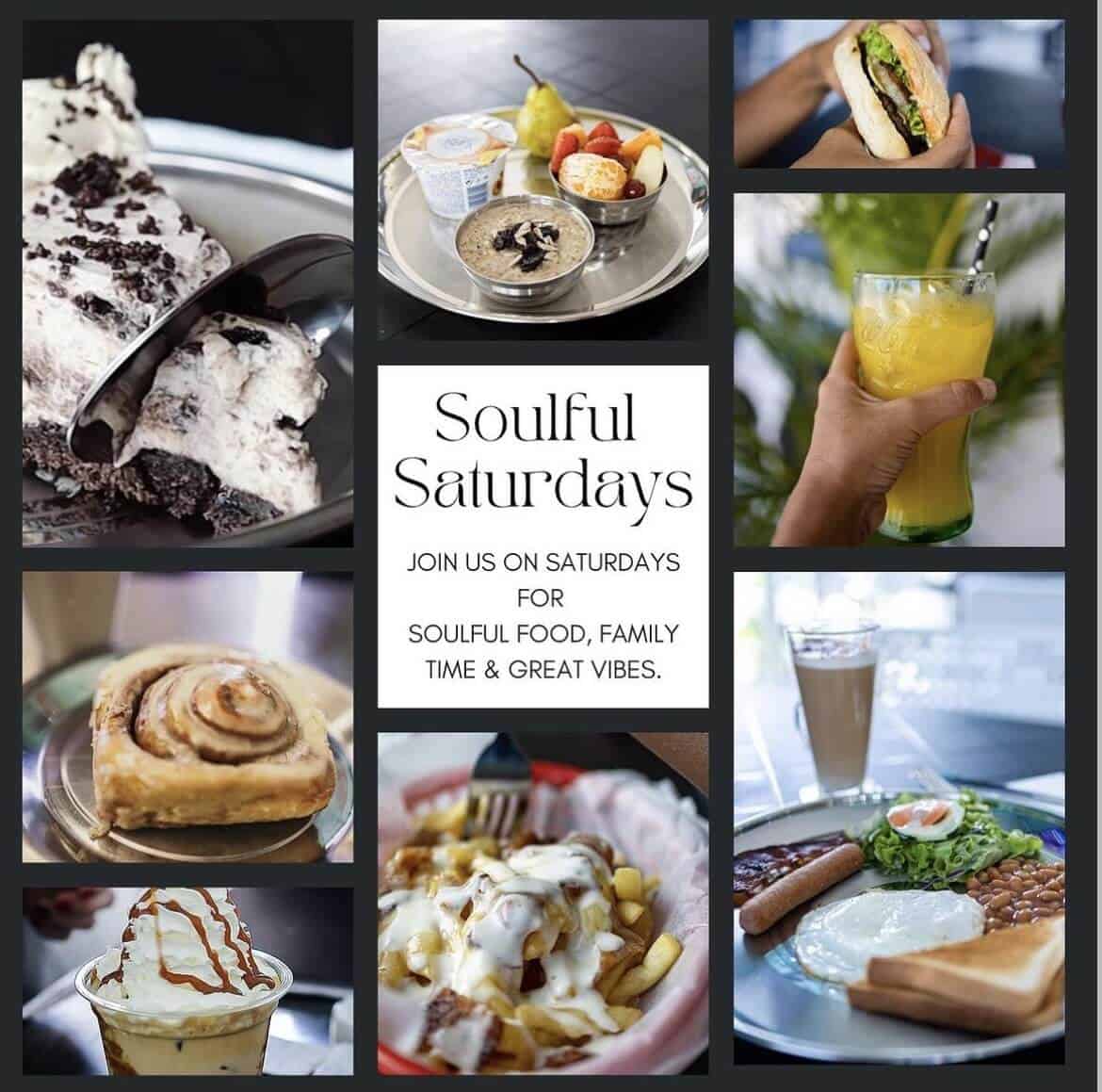 The ultimate guide to What's on this weekend in Seychelles
DIY Helpers Required At Seychelles Rugby
Another chance to do a good deed and Help the guys at Seychelles Rugby.  They're looking for volunteers, so if you're handy with bit of painting and decorating then lend a hand as they get their clubhouse ready.
Every Saturday in August, head to the Seychelles Rugby Club, there's BBQ lunch for those pitching in.
CraySey Golf At Grankaz
Prepare to be immersed in an afternoon of limitless excitement at Grankaz Beau Vallon.   With a captivating Mini Golf event presented by Craysey Golf will be hosted on Saturday, August 12th, starting from 12pm onwards.  Gather a group of four and embark on an adventure to conquer nine exhilarating holes designed to thrill all ages.  
Paint & Sip
Unwind and indulge in a relaxing artistic experience at the upcoming Paint and Sip event this Saturday from 4:30 pm to 7 pm. 
Hosted at the serene Lower Deck of the Hilton Northolme. A complimentary gin and tonic will warmly welcome you as you craft your very own sunset canvas amidst the inspiring sunset view of The Lower Deck at Hilton. 
Live Music At Club Liberte
This Saturday night, a thrilling evening awaits you at Club Liberte Casino and Restaurant.
The evening will kick off with the rhythmic tunes of DJ Barabas starting at 6pm, while you delight in Club Liberte's exquisite array of cocktails, sushi, and à la carte dining, as well as slots and casino tables. As the clock strikes 10pm the anticipated live performance of Daniel and Ruben will mesmerise you until the stroke of midnight.
T&Cs apply. 
Bar Takeover at Boardwalk
Experience an unforgettable evening of exquisite cocktail craftsmanship as The Boardwalk Bar and Grill joins forces with Takamaka for a captivating Bar Takeover. On Saturday, 12th of August, from 7pm to 10pm, world-class bartenders Jimmy Barrat and Francesco Immorlano, will showcase their award-winning talents as they unveil a gallery of phenomenal cocktail creations that will truly delight your senses. 
Beach Party Taroza
Immerse yourself in the upcoming Beach Party Taroza on Saturday, 12th August at the idyllic La Digue Island.
From 10 pm, the night will come alive with live performances featuring Ion Kid Cus Mun, Queen Juliah, and Damasy.  Complemented by the pulsating rhythms of DJ Slam and DJ Moris.  Guaranteeing a vibrant night of celebration  

At Sea Karaoke Saturday
At Sea Karaoke night is the perfect venue for a great singalong. Pick your favourite song, favourite cocktail and get ready to sing the night away. DJ and Happy hour from 4pm, Karaoke fun starts from 8pm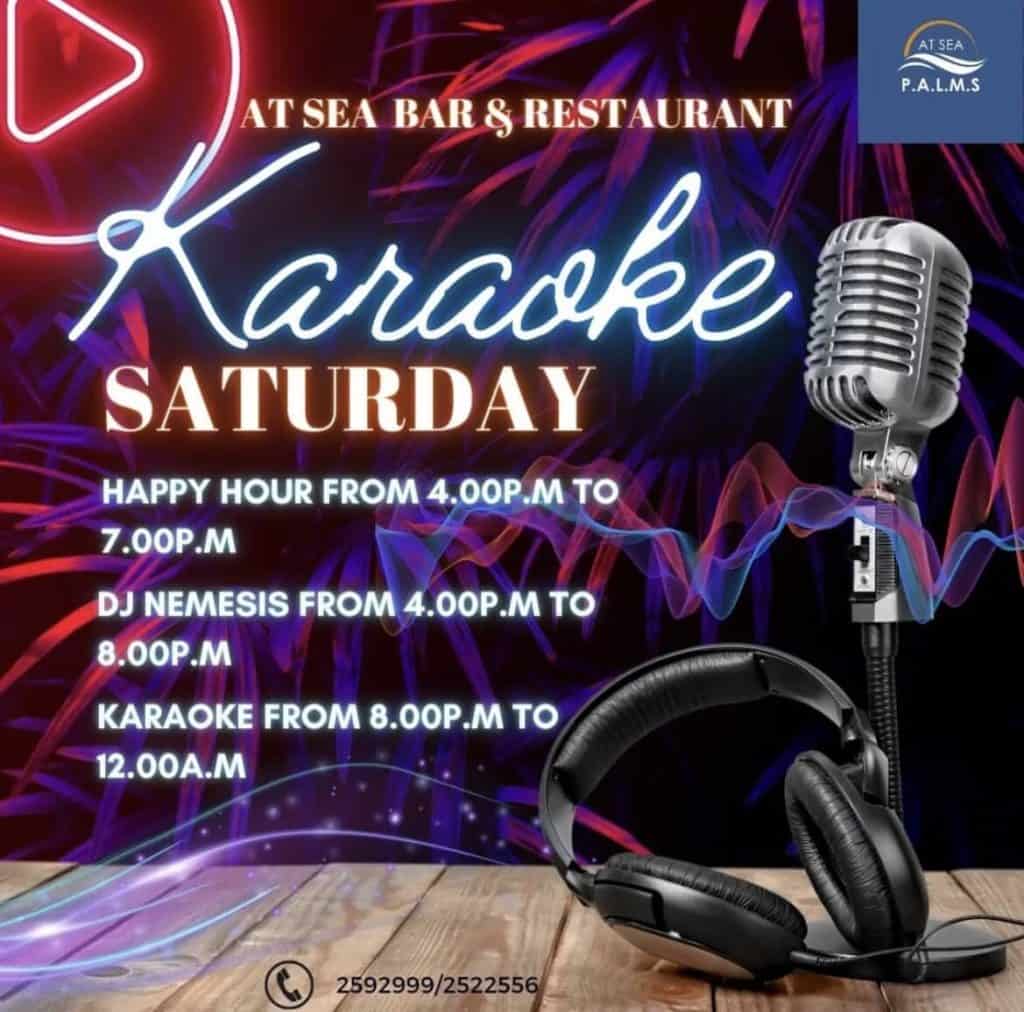 Be sure to visit regularly as we update our Events on a daily basis.
Sunday 13th August 2023 – Find out more of What's on this weekend in Seychelles
What's on this Sunday?
Sunday Brunch At Tea House
Delightful treats await you at The Tea House's this Sunday 13th of Aug for a relaxing Sunday brunch experience on the picturesque Morne Blanc.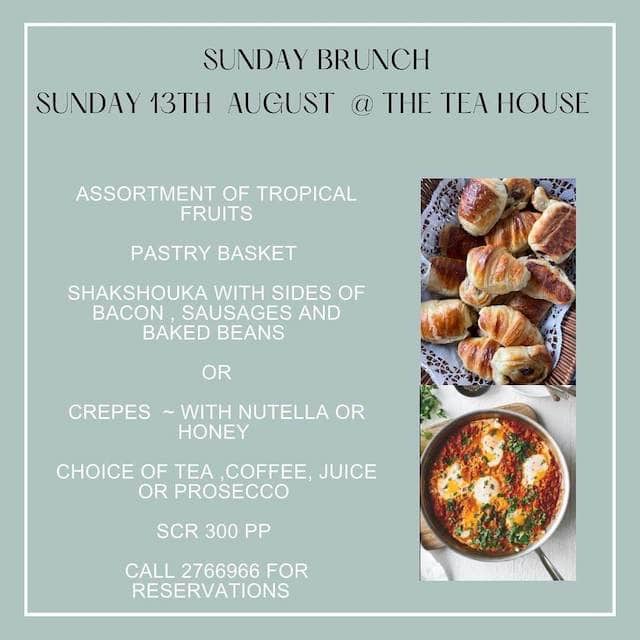 Sunday Creole Buffet & BBQ at Maison Marengo
Enjoy an authentic Creole BBQ Buffet this Sunday at Maison Marengo.  The irresistible taste of Creole cuisine, cocktails and a great atmosphere from 12:30pm to 5pm.  Savour the vibrant flavours and immerse yourself in the rhythmic beats of traditional live music.
SCR500 for Adults and SCR250 for children. Secure your authentic Creole dining experience by reserving a table.
Sunday Funday
Sunday is Funday At Sea. with happy hour from 4 -7pm.  Classic tune from 2pm with DJ Basile and live performance by Chapter 3 Band from 5-7pm.   Fun for all the family.
Family Sunday at Cafe Eden
Ice Cream!!!   enjoy a Sunday Special for Ice Cream lovers.  who doesn't love Ice Cream???   15% discount at only SCR50 per scoop
Make the most of your family time on Sundays at Cafe Eden.  From a late breakfast/brunch to catching with family and friends in the afternoon, this is perfect venue with an extensive menu, there's something to suit everyone.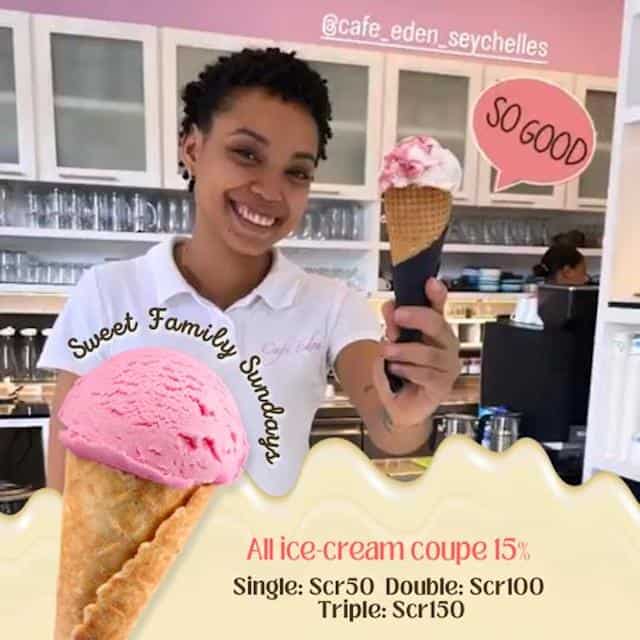 Emmanuel Marie Live at Boathouse
Make the most of the weekend at Boat House Restaurant & Bar on Saturday and enjoy the soulful Creole melodies of Emmanuel Marie.
Grab a cocktail or enjoy the traditional Creole buffet and enjoy the picturesque sunset Beau Vallon has to offer. 
 Emmanuel Marie's plays live this Sunday  from 7pm to 9:30pm.   
Find out more about Boathouse –Click Here
Laila Brunch
Sunday's are made for chillin and Sunday Brunch at Laila is the one best brunches in Mahe.
Get the family together and experience a culinary experience not to be missed.  Every Sunday,  11.30 – 3pm, live DJ.
scr750 per person.
Coming up next week
There are plenty of Happy Hours across Seychelles Bars & Restaurants to take advantage of
check them out here
Be sure to visit regularly as we update our Events on a daily basis.
To view all future events please click here
---
Reader's opinions
---