What To Do This Weekend In Seychelles
29th September 2023 – 1st October 2023
What's on this weekend in Seychelles??
It is the ultimate weekend of September 2023 and it is going to be a busy weekend. Here's the latest on what's happening this weekend.  Inside Seychelles is your guide to what's on, where to go, and what to do this weekend in Seychelles. Below are all the upcoming events and things to do this weekend, so take a look, and let's start planning!!!
We also have the Rugby World Cup 2023 going on – CLICK HERE to view where you can watch the game live with your friends.
HAVE YOU CLICKED ON THE WRONG DATE? – CLICK HERE FOR ALL UPDATED EVENTS.
BE SURE TO VISIT REGULARLY AS WE UPDATE OUR EVENTS ON A DAILY BASIS.
Friday the 29th of September 2023 – Where to Go & What to Do
Start your Friday at Boat House with Aldubra Sound
Best way to start the final weekend of September is with Reggae, Roots, & Dubwise at Boat House in Beau Vallon. Join Aldubra Sound for the perfect night and beats right next to Beau Vallon Beach! Friday the 29th Of September from 8 pm till midnight.

Semi-Sub Pub & Cafe Friday Special
Dance the night away with DJ Dynamo – Friday special…but any 2 drinks and get 1 free – Eden Island 

Auspitious Live at ICCS
Auspitious is inviting all his fans to witness "The Journey So Far" concert live at ICCS on the 29th September 2023. Live with Metis Band.
This is a spectacle not to be missed. Tickets are on sale at SCR 300/- including the After Party at Backstage. ICCS Building in Town – Victoria – Mahe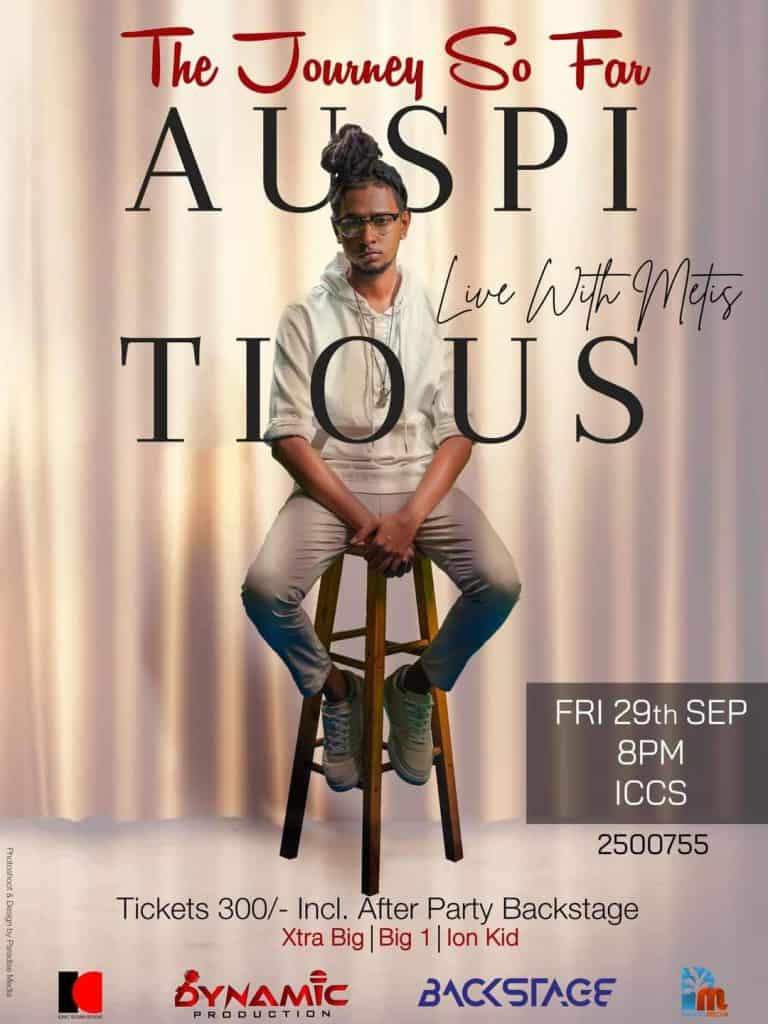 Full Moon Party on Praslin
Full Moon Party on Anse Lazio Beach this Friday the 29th of September 2023 – Get ready Praslin Island for a night to remember! Entry will be SCR 350/- per person which will include 2 Free Drinks – For Extra they will include transport for the night @ SCR 425/- per person
Saturday the 30th of September 2023 – Events in Seychelles
Dread Locks Night in Seychelles
If Reggae and dancehall is your thing, then get ready for a great night of entertainment with DreadLocks Night. With over 10 artists on the bill… Auspicious, Julia, Mercenary, Jahkim, Raspyek, Jahrimba, Joennise, Pusso, Golty Farabeau, Marathan Man and feat Blackkayo from Mauritius. This is a night that will not disappoint. Tickets are SCR 300/- with early bird tickets for SCR 250/-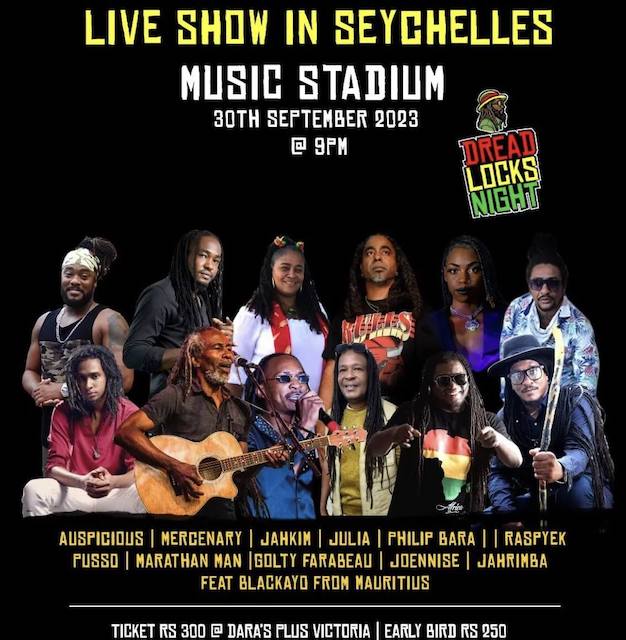 King Pusso Concert Live – Praslin Island 30th September 2023
Are you ready for an unforgettable performance? King Pusso will be Live at Baie St Anne, Praslin Island celebrating a DECADE of music alongside XBand, Champion, Molo, and Extra Big with DJ Luigi & DJ Lenny. You can't miss this!  – Read more here 
Oktoberfest celebration
The ultimate Oktoberfest celebration is here! Join
Ochan
on September 30th, 2023, from 7 PM to 10 PM for an unforgettable evening of beer, mouthwatering food, and live music. Grab your lederhosen, raise your beer stein, and make memories together with family and friends. Book your table now at +248 2 811 465 – Address: Suite 118 & 119, Eden Plaza, Eden Island, Mahe, Seychelles.


Be sure to visit regularly as we update our Events on a daily basis.
Rendezvous Diguois – La Digue Island
Saturday the 30th of September you can join the "Rendezvous Diguois." On La Digue Island. This event celebrates La Digue's local artisans, showcasing their unique creations in arts, culture, food, and drinks. This is where you can discover and buy local products from very talented local artisans. Interact with the friendly islanders and learn from their culture and traditions. There will be music all day with local DJs and Live bands.  

Read More about the Tourism Festival – CLICK HERE 
Fusion Themed Buffet with Wine Tasting
Set off on a gastronomic adventure at Eden Bleu's Fusion Themed Buffet, happening on Saturday September 30th from 7pm-10pm.
Enjoy a scrumptious dinner at SCR850 per person or elevate your dining affair with a wine tasting at SCR1100 in partnership with Mamma Mia.
Throughout your meal, let the soulful melodies of the Metis Band serenade your evening.
Sunday 1st of October 2023 – Find out more of What's on this weekend in Seychelles
Sunday Creole Buffet & BBQ at Maison Marengo
Enjoy an authentic Creole BBQ Buffet this Sunday at Maison Marengo.  The irresistible taste of Creole cuisine, cocktails and a great atmosphere from 12:30 pm to 5 pm.  Savour the vibrant flavours and immerse yourself in the rhythmic beats of traditional live music. SCR500 for Adults and SCR250 for children. Secure your authentic Creole dining experience by reserving a table.
What's on this Sunday? – CLICK HERE to see things to do in Seychelles on Sundays
Creole Buffet at Boat House Whole Weekend
The famous Creole Buffet at Boat House Restaurant – For anyone wanting to have the ultimate Seychelles culinary experience. With the most idyllic beach backdrop, the vibey open-aired Boat House Restaurant located in Beau Vallon Bay is the ideal setting. From 7:00 pm – 9:00 pm, there is an all-you-can-eat Creole-style buffet boasting over twenty aromatic and flavourful traditional Creole dishes to choose from!  
The ultimate guide to What's on this weekend in Seychelles
There are plenty of Happy Hours across Seychelles Bars and restaurants to take advantage of.  Check them out here
Be sure to visit regularly as we update our Events on a daily basis.
To view all future events please click here
Inside Seychelles is your guide to

what's

on in Seychelles, where to go in Seychelles, and what to do in Seychelles
---
Reader's opinions
---