What To Do This Weekend In Seychelles
15th – 17th September 2023
What's on this weekend in Seychelles??
We have a mid-month -weekend coming up. Here's the latest on what's happening this weekend.  Inside Seychelles is your guide to what's on, where to go, and what to do this weekend in Seychelles. Below are all the upcoming events and things to do this weekend, so take a look, and let's start planning!!!
We also have the Rugby World Cup 2023 starting – CLICK HERE to view where you can watch the game live with your friends.
HAVE YOU CLICKED ON THE WRONG DATE? – CLICK HERE FOR ALL UPDATED EVENTS.
BE SURE TO VISIT REGULARLY AS WE UPDATE OUR EVENTS ON A DAILY BASIS.
Entertainment at The Coffee Club this weekend
Live Music this weekend at The Coffee Club at the International Airport. Starting this Friday and Saturday at 6:30-9pm and Sunday from 12:30-3pm. Please note there will be free parking for all Coffee Club Customers.
Friday 15th September – Where to Go & What to Do
Friday Promo at Semi-Sub
Enjoy DJ Dynamo from 7 pm and take advantage of the promotion of buy any 2 drinks and get one free from 3pm onwards. Semi-Sub Eden Island.
Latino Sensation
Salsa Competition with Best Dress Wins! Exceptional Latino Cocktails with Specials on Tequila all night. Friday the 15th September – Located at Carefourre des Artes
 
Takamaka Cocktail and Grill Fridays
Enjoy drinks from the rum shack and grills from the food truck every Friday at La Plaine St. Andre – Home of Takamaka Rum. From 5 pm to 10 pm, Takamaka Rum Distillery transforms into a vibrant atmosphere where you can savour delicious cocktails, and mouthwatering delights and dance to the latest songs under the stars. Head over to Takamaka Rum Distillery's Cocktail and Grill on Fridays for a perfect start to the weekend.
CLICK HERE –  for more details on La Plane St Andre
Saturday 16th September 2023 – Events in Seychelles
Saturday Entertainment at Club Liberte
Head down south to Club Liberte for a fun night full of entertainment. Dave & Joel will be live from 8 pm – 12 am. You can enjoy the 5 Spices Restaurant, try your luck on the Slots or Table Games. Don't forget they have Happy Hours every day from 2-4pm for the best Cocktails down south! Anse Soleil, Baie Lazare, Mahé, Seychelles
Saturday Night at Boat House
Join Boat House for some Local Creole music and Dance this Saturday with Emmanuel Marie. Enjoy beach side views with ice cold drinks and amazing creole or international food options. Boat House in Beau Vallon – North Mahe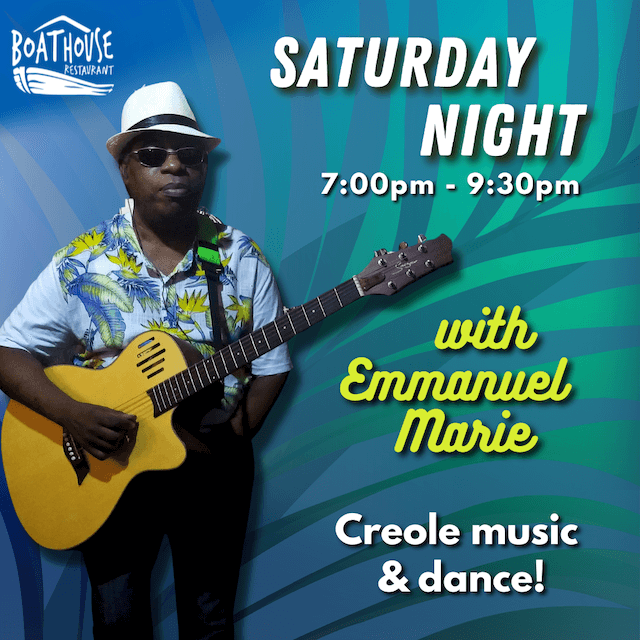 Click here for more information on Boat House
Craysey Golf Saturday
Mini Golf day at Grankaz Bel Ombre this Saturday from 4pm onwards – Open to all ages!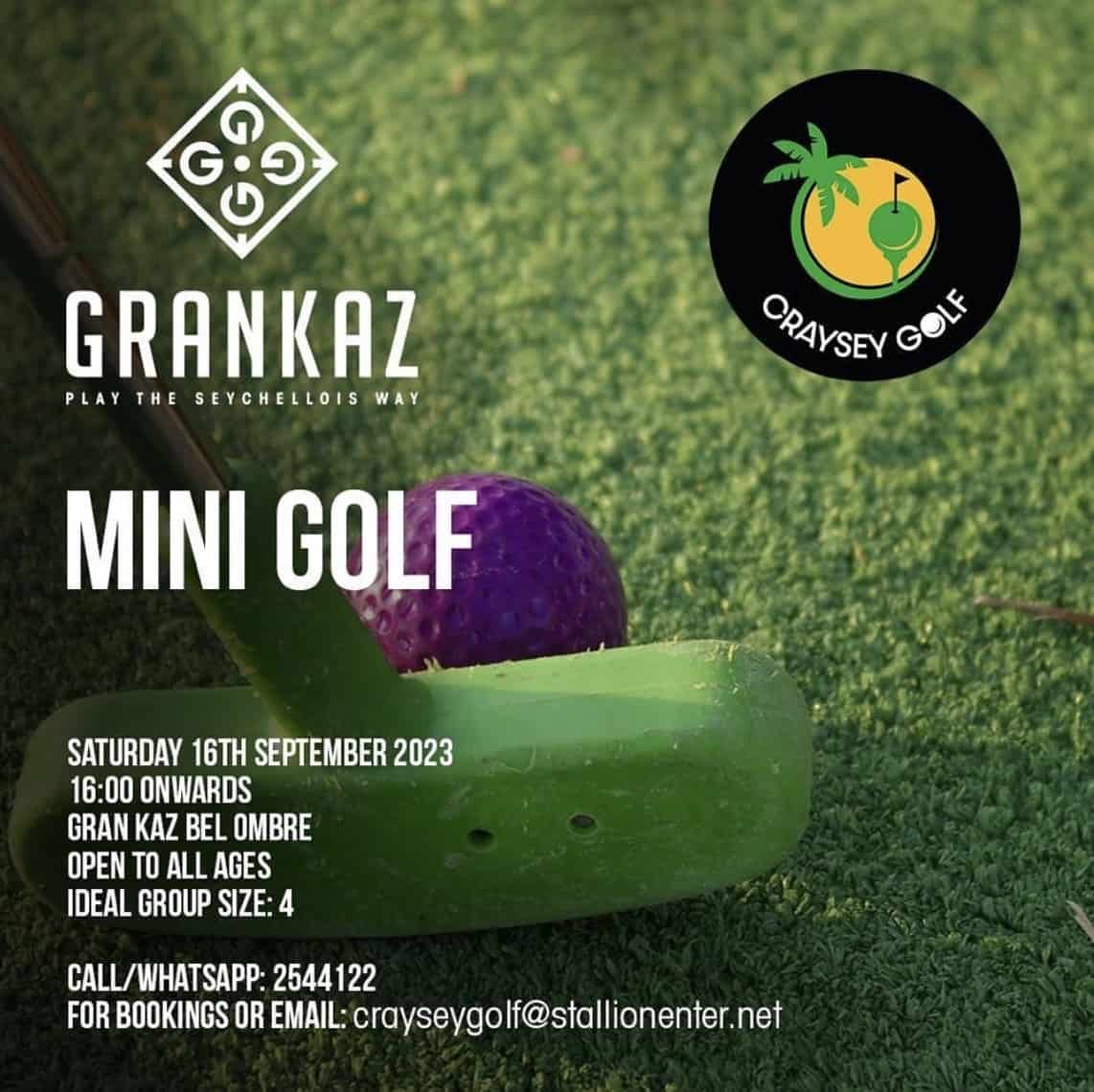 Barrel Saturday
Get your dancing shoes ready for Barrel this Saturday with Ziggy and music by DJ Madmike & DMC Xtreme – Barrel Bar & Nightclub in Victoria, Mahe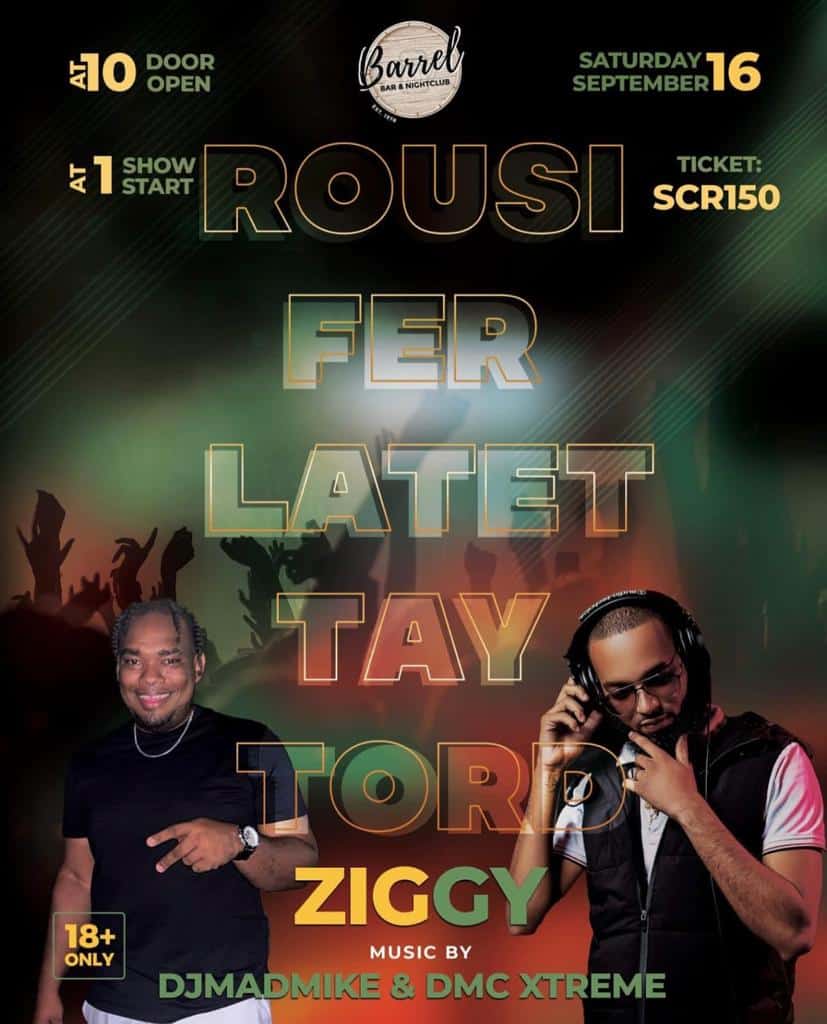 Be sure to visit regularly as we update our Events on a daily basis.
Sunday 17th September 2023 – Find out more of What's on this weekend in Seychelles
What's on this Sunday? – CLICK HERE to see things to do in Seychelles on Sundays
Sunday Creole Buffet & BBQ at Maison Marengo
Enjoy an authentic Creole BBQ Buffet this Sunday at Maison Marengo.  The irresistible taste of Creole cuisine, cocktails and a great atmosphere from 12:30 pm to 5 pm.  Savour the vibrant flavours and immerse yourself in the rhythmic beats of traditional live music.
SCR500 for Adults and SCR250 for children. Secure your authentic Creole dining experience by reserving a table.
Family Sunday at Cafe Eden
Ice Cream!!!   Enjoy a Sunday Special for Ice Cream lovers.  Who doesn't love Ice Cream???   15% discount at only SCR50 per scoop
Make the most of your family time on Sundays at Cafe Eden.  From a late breakfast/brunch to catching up with family and friends in the afternoon, this is the perfect venue with an extensive menu, there's something to suit everyone.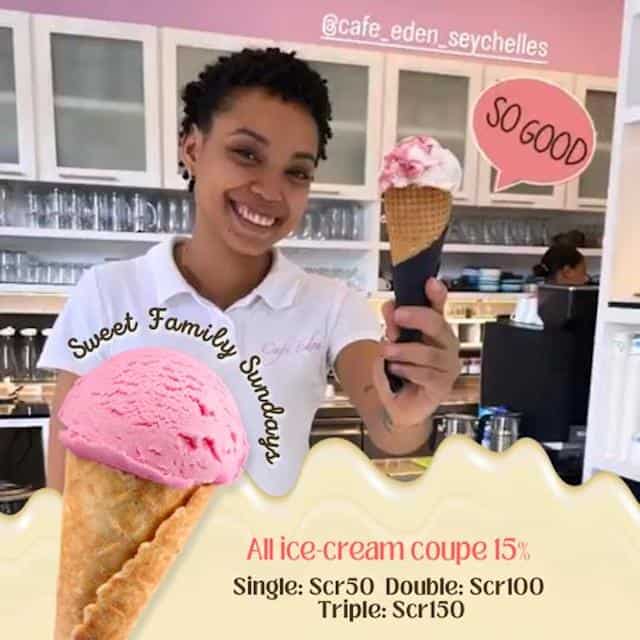 The ultimate guide to What's on this weekend in Seychelles
There are plenty of Happy Hours across Seychelles Bars and restaurants to take advantage of.  Check them out here
Be sure to visit regularly as we update our Events on a daily basis.
To view all future events please click here
Inside Seychelles is your guide to

what's

on in Seychelles, where to go in Seychelles, and what to do in Seychelles
---
Reader's opinions
---