HRH Queen Elizabeth II dies.  – April 21, 1926 – September  8, 2022
The sad news was announced from the Queen's Scottish residence, Balmoral in Aberdeenshire, that Queen Elizabeth II has died.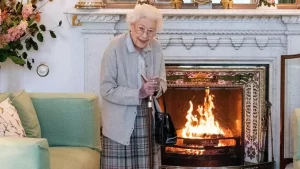 Queen Elizabeth II on 6th September 2022
The monarch came to the British throne in 1953, also ruling over Seychelles as it was British colony.  Seychelles gained its independence in June 1976 but the 115-island archipelago in the Indian Ocean is one of the 53 member nations of the Commonwealth, which brings together mostly former British colonies.
In September 2015 she became the longest reigning monarch breaking the record held by her great-great-grandmother Queen Victoria.
Queen Elizabeth II and the Duke of Edinburgh made one trip to Seychelles, arriving on Mahe, Seychelles, on June 4th 1972, to a musical welcome from church bells and a creole band.
They travelled to Seychelles aboard the royal yacht Britannia and the highlight of their visit was her inauguration of the Seychelles International Airport.
During their one day trip the royal couple toured the Mission Lodge at Sans Souci, had a walkabout at Port Glaud and Anse Boileau and a luncheon picnic at Port Launay.
They were accompanied at most sites by the then Chief Minister James Mancham.
The royal couple also visited the newly built Reef Hotel (now closed) and met local dignitaries of the time.
After their day on Mahe, the Britannia with the royal couple set sail into the sunset, escorted by the British warship HMS Arethusa.
Watch this great footage from British Pathe news on the Queen & Prince Philip's trip to Seychelles
The ties between Seychelles and the British monarchy have always been strong.
In 2010, the islands were honoured by the visit of Princess Anne who inaugurated the University of Seychelles.
Prince William and his wife, Kate Middleton,  have twice chosen Seychelles for holidays, including their honeymoon on North Island.
---
Reader's opinions
---