What To Do This Weekend In Seychelles
6th – 8th of October 2023
What's on this weekend in Seychelles??
October is here! a Month full of activities happening all round Seychelles. Here's the latest on what's happening this weekend.  Inside Seychelles is your guide to what's on, where to go, and what to do this weekend in Seychelles. Below are all the upcoming events and things to do this weekend, so take a look, and let's start planning!!!
We also have the Rugby World Cup 2023 going on – CLICK HERE to view where you can watch the game live with your friends.

Friday the 6th of October 2023 – The ultimate guide to What's on this weekend in Seychelles
Be sure to visit regularly as we update our Events on a daily basis.
Friday Promo at Semi-Sub Pub & Cafe
Friday – the perfect time to unwind and enjoy the great deals on selected cocktails the whole night. Semi-Sub Pub & Cafe at Eden Island 

Beach Shak Friday
Great way to start your weekend this Friday at Beach Shak Bar & Grill in Beau Vallon – North of Mahe. With cocktails or a ice cold beer in your hand, right next to the beach with the best Sunsets you can imagine!
Saturday the 7th Of October 2023 – Events in Seychelles
Be sure to visit regularly as we update our Events on a daily basis.
Sips – Strokes – Sunsets Paint & Sip at Boat House
Sips, Strokes and Sunsets! Unwind with a brush in one hand and a drink in the other at Boat House on 7 October from 5-7pm. Beau Vallon – North Mahe
a Weekend full of fun for the whole family – SEYCHELLES AUTO EXPO 2023
Fun filled weekend full of Auto-Entertainment at the Seychelles Mahe at NSC Hall, Roche Caiman. There will a exhibition of all new cars from all car dealers around Seychelles. There will be competitions for the modified cars that will give them the opportunity to show off their speed and sound. A very important point to note is that the event will be a non-alcohol event. There will be food stalls and live entertainment on site – a day of no matter the age there is something for everyone! Talks and demonstration by Fire Rescue Department regarding safety on the road and how to react in the event of an accident.
Saturday From 1pm to 8pm. (scr150)
Sunday From 10 am to 6pm. (scr150)
Up to 12 years old free entrance.
Or buy 2 days tickets for only scr 250 !!!
Tickets on sale at
Kayman Kafe, Paradise Des Enfants, Victoria
Boba Republic Cafe, first floor, Malow Complex, Quincy Street, Victoria.
Auto Parts, Providence
Audio Waves, (Robin) Car Audio Shop, Providence.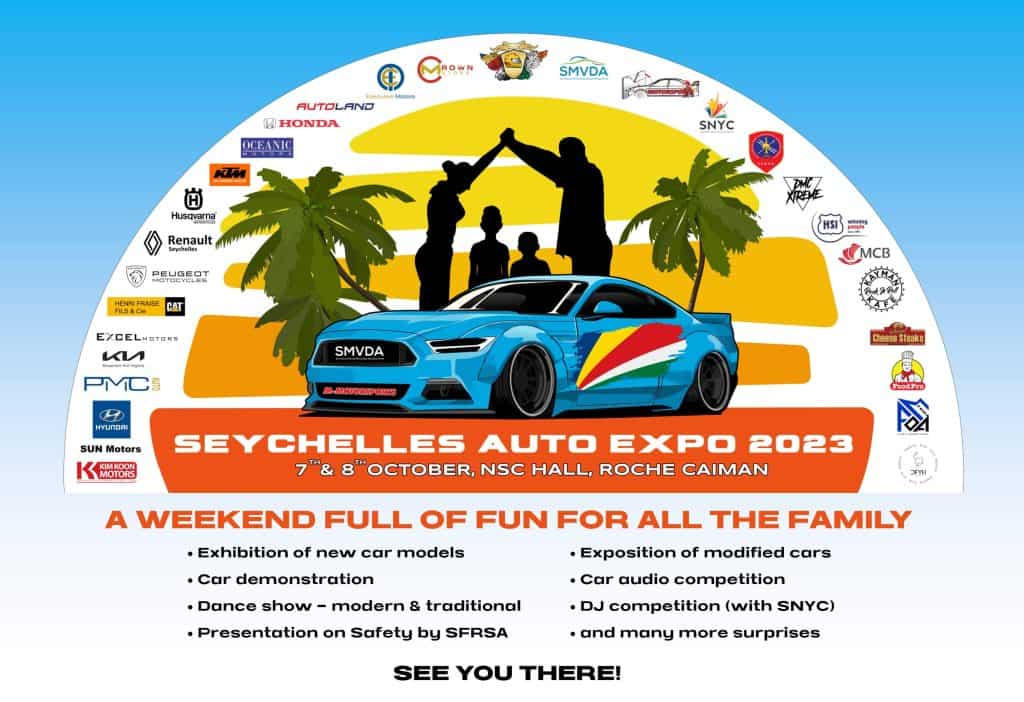 Public Fun Day
a Public fun day for all to learn more about the gentle giants of the Seychelles in Cap Lazare – Mahe South. Entry is free but one needs to register to attend – Scan the QR code or whatsapp +248 2507306

Beach Party on Praslin
Praslin Island get ready for the ultimate Beach Party with Seychelles top female artist Juliah. Event will take place at Le Duc de Praslin & Cafe des Arts Restaurant this Saturday the 7th of October from 5pm onwards.

Madd Fest Seychelles
Madd Fest Seychelles with Blaiz Fayah and Kalibwoy Live in Seychelles at the Seychelles Music Stadium in Victoria – Mahe on the 7th of October from 7pm Onwards.
Tickets Available online at www.seysells.com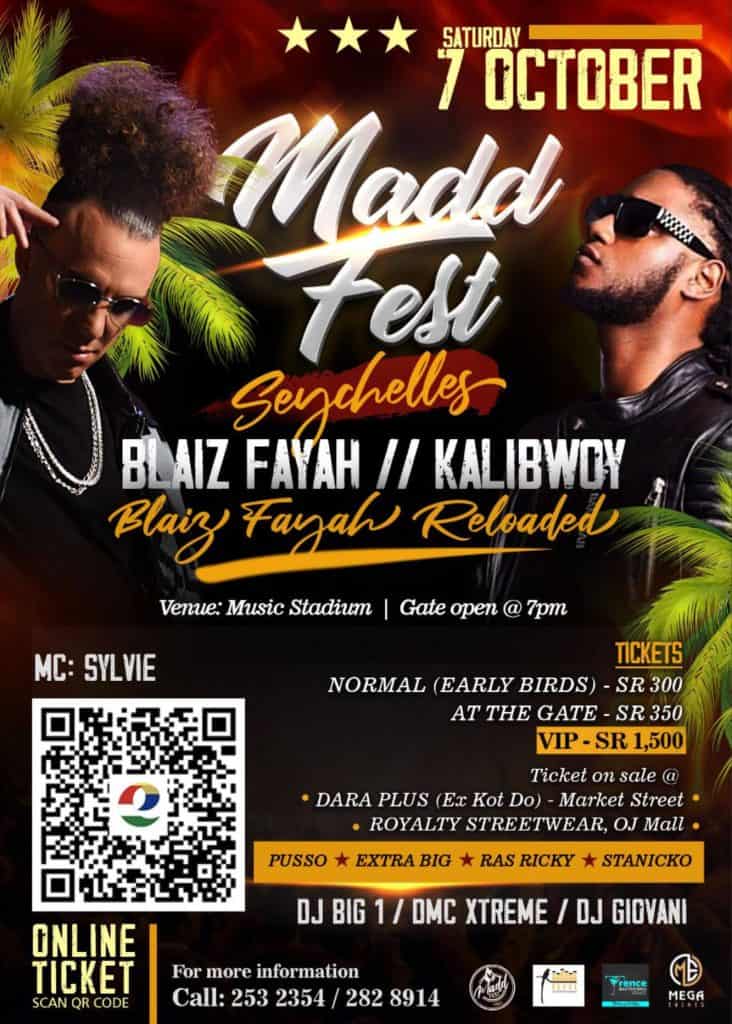 Sunday the 8st of October 2023 – What to do this Sunday in Seychelles?
Be sure to visit regularly as we update our Events on a daily basis.
Resilience Yoga & Mindfulness Workshop
Sign up for Paradise Chalets workshop and discover practical ways to enhance your resilience every day.
Location: Ocean View Yoga Deck  at Paradise Chalets Yoga and Wellness – Anse Parnel, Takamaka, Mahe
Time: 4:00 PM – 7:00 PM
Date: Sunday, October 8th, 2023
Fee: 500 SCR (VAT included)
Contact: (+248) 2640899 or mail yogaandwellness@paradisechalets.sc
Paradise Chalets offer weekly Yoga Sessions – for updated schedule – Click Here 
Sunday Creole Buffet & BBQ at Maison Marengo
If you are on the South Side of Mahe you can enjoy an authentic Creole BBQ Buffet this Sunday at Maison Marengo.  The irresistible taste of Creole cuisine, cocktails and a great atmosphere from 12:30 pm to 5 pm.  Savour the vibrant flavours and immerse yourself in the rhythmic beats of traditional live music. SCR500 for Adults and SCR250 for Children. Secure your authentic Creole dining experience by reserving a table.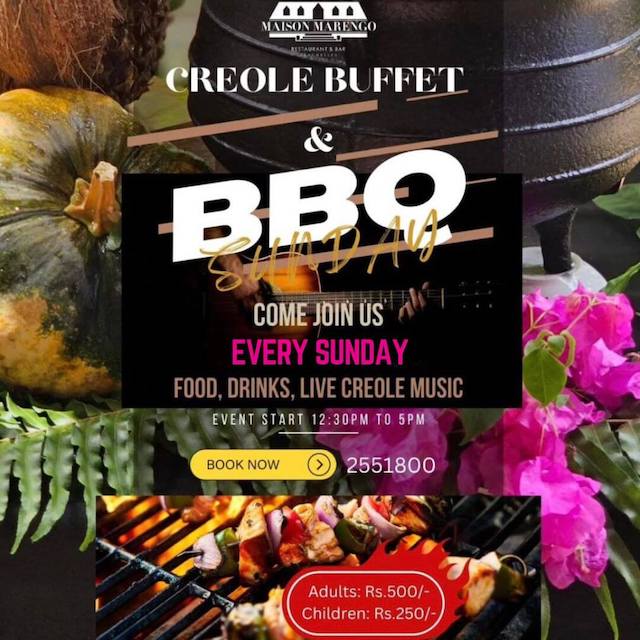 Traditional Sunday at Moloko
Enjoy Sunday Buffet with a Traditional Live Show this Sunday at Moloko Restaurant in Victoria Town – Mahe

What's on this Sunday? – CLICK HERE to see things to do in Seychelles on Sundays
Find out more of What's on this weekend in Seychelles – Whole Weekend Events
Creole Buffet at Boat House Whole Weekend
If you are in the North Side of Mahe you must try the famous Creole Buffet at Boat House Restaurant – For anyone wanting to have the ultimate Seychelles culinary experience. With the most idyllic beach backdrop, the vibey open-aired Boat House Restaurant located in Beau Vallon Bay is the ideal setting. From 7:00 pm – 9:00 pm, there is an all-you-can-eat Creole-style buffet boasting over twenty aromatic and flavourful traditional Creole dishes to choose from!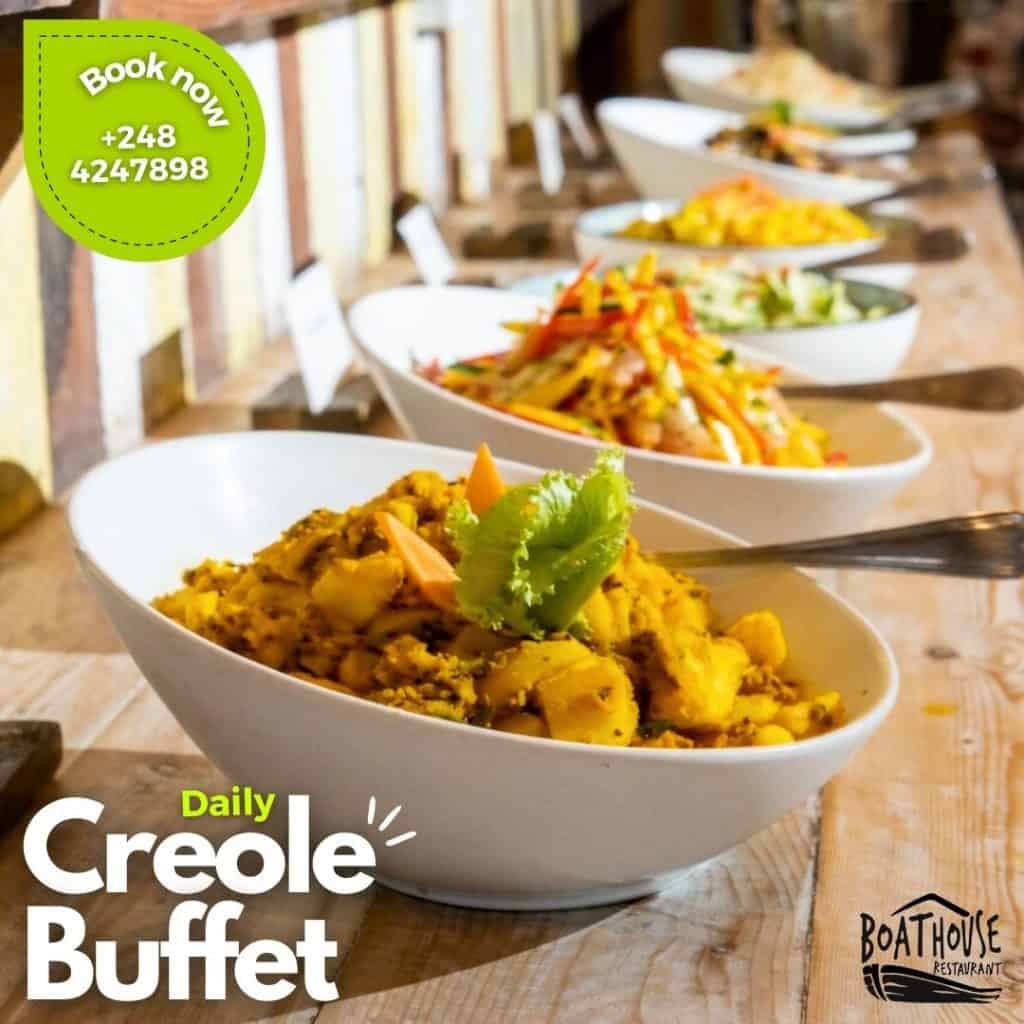 Water Fun Day and Foam Dance Party
At Baie Lazare Schools Football Field will be a weekend full of Fun in the Sun with some night entertainment to follow. There will be water slides with bouncing castle for tickets ranging SCR 25-50 per ticket for min depending on activities from 9 am – 6 pm. Foam Dance Party will happen afterwards from 6-10 pm with DJ Entertainment
There are plenty of Happy Hours across Seychelles Bars and restaurants to take advantage of.  Check them out here
To view all future events please click here
Inside Seychelles is your guide to

what's

on in Seychelles, where to go in Seychelles, and what to do in Seychelles
---
Reader's opinions
---