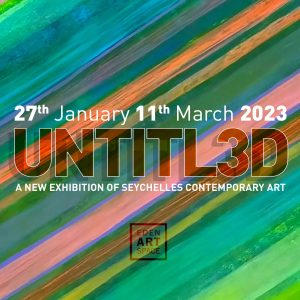 Untitled 3 Art Exhibition 27th January – 11th March 2023
The first art exhibition of the year for Arterial Network Seychelles is called "Untitled 3," which provides artists with the opportunity to exhibit and sell their work.
Over 40 works of art are currently on display at the exhibition, which features various mediums such as mixed media, acrylic on canvas, and sculpture. It runs until March 11.
Through the "Untitled" series, artists are able to bring their best works to the table without having to follow a specific theme. It allows them to showcase the work that has inspired them.
Several solo shows are also scheduled to take place at Arterial Network Seychelles. In addition, a group show will be held for a particular group of artists, which will be led by Colbert Nourrice.
The organization was established in November 2011 to support and develop art in Seychelles, which is an archipelago located in the Indian Ocean. It's part of the Arterial Network, which is a Pan-African organization that brings together various cultural and business figures.
G13 Eden Plaza, Eden Island, Mahe, Seychelles
+248 2 782 764
edenartspace@gmail.com
Here are some of the works on display at the Eden Art Space
UNTITLED 3 EXHIBITION
PAOLO KIPAO – 'ORANGE OUTSIDE'
120x100cm
Oil on canvas
UNTITLED 3
Idyllic Seychelles… a vision and a view captured perfectly.
SHEILA MARKHAM – 'WILDWOOD'
81X81cm
Acrylic on canvas
Art must be seen in the flesh to be felt by the heART…
EGBERT MARDAY – 'C'EST MOI"
227x102cm
Mixed media on canvas
When art reminds us of the magic of nature…
CHRISTI OLIVIER SAVY – 'ZEST'
152x122cm
Acrylic on canvas
INSIDE SEYCHELLES, YOU CAN ALWAYS GET THE LATEST INFORMATION ON WHAT'S ON AND WHERE TO GO IN SEYCHELLES.
---
Reader's opinions
---