The Magic of Café Eden
Written by Editor on 19th May 2023
In the heart of Eden Plaza is
Café

Eden

With tranquil panoramic views of the Eden Island Marina, discover the magic of Café Eden was opened with the hopes of creating a warm and welcoming place at which interesting individuals would meet in Eden Plaza on the main island of Mahe, Seychelles.

Café Eden is centred around quality and friendliness, which is one of the many factors contributing towards returning customers. The balance of openness and privacy adds a magical aspect to the café whereby guests can engage in cozy togetherness, business talks or cheerful exuberance.

In addition to the café offering a range of specialty coffees, a selection of teas and freshly baked goods, you are able to indulge in the best locally produced ice-cream on the island.

Customers can expect homely meals, which include many wholesome vegetarian and vegan options.  All dishes are freshly prepared in-house using a wide variety of local ingredients and lots of love.  

For all the late risers, you are in luck as breakfast options ranging from crepes and Belgium waffles to omelettes and fresh fruit juices, are available all day.  and if you are a foodie in smaller proportions, there are many suitable meals on offer such as mini pizzas and homemade lasagna.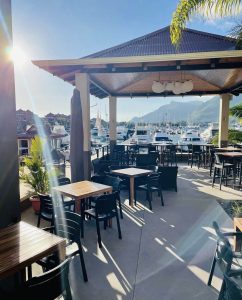 The local business owners, who adore their family business, have invested a lot of time and effort into creating this special café, which mirrors their healthy well-balanced lifestyle and home environment. They value good food, socialisation and meaningful conversations as well as rest and relaxation which is all present at Café Eden.
Furthermore, knowing what they are eating and how it is prepared is very important to them which leads to the large amount of care taken towards creating each meal served.  
Get to know a little bit more about the lovely owners Lucy and Adrian
Despite Lucy residing in Switzerland and Ireland for an extended period; she never lost touch with her homeland, Seychelles.
She successfully completed her culinary apprenticeship in Switzerland and possesses extensive expertise in the field of gastronomy, truly bringing the magic of Café Eden
As fate would have it, her mother is the creator of the locally famous ice cream brand Sharks Ice Cream on Mahé which led to the logical decision for Lucy to establish her own café and bistro, giving customers even more access to the delightful ice-cream.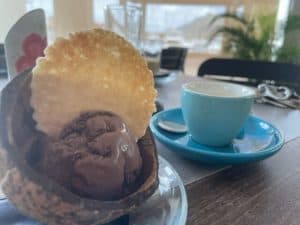 Her husband Adrian concluded his career as a film producer and agent in Germany and decided to return with Lucy to the beloved Seychelles.  This decision marked the completion of both a personal and shared journey for them.
In 2020, they acquired ownership of the café and proceeded to turn it into the positive and peaceful space that it is today.  Since 2021, the couple have been happily married and now reside together in Au Cap. 
Find out more about Café Eden – click here
Follow their instagram feed
---
Reader's opinions
---