Miss Regatta 2023 winner
Written by Editor on 3rd June 2023
Miss Regatta 2023 winner – Miss Emmaline Contoret
Congratulations to Contestant No.9 – Emmaline Contoret for winning the Miss Regatta 2023 Pageant!
The Miss Regatta 2023 pageant that was held on Saturday the 26th of August was a great success. The young women who competed in the pageant were all beautifully brilliant. We would like to congratulate all the contestants as they showcased a performance that exceeded all expectations from the people in the Regatta audience.
Miss Zelka Safya Bistoquet claimed the title of First Princess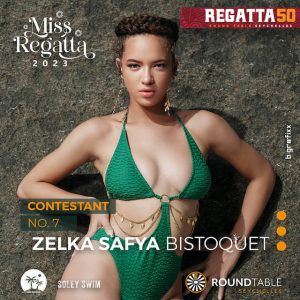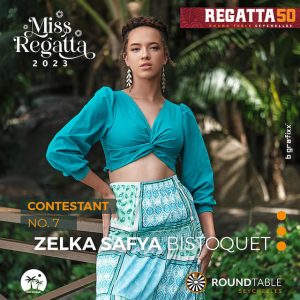 Miss Sylvie Rose claimed the title of Second Princess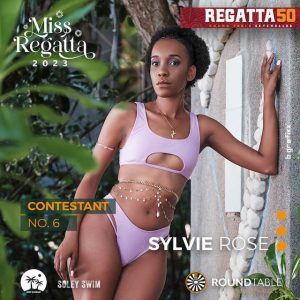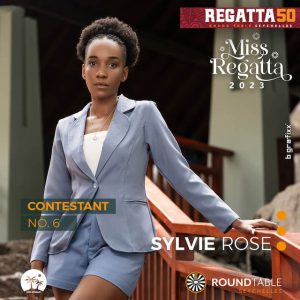 _______________
Vote and you could win scr500 Regatta Lottery Tickets.
The 10 contestants have been working hard in preparation for the upcoming Miss Regatta 2023 pageant and now you can Vote for Miss Regatta 2023.
Now you can vote for your choice in the Seychelles Miss Regatta Contest 2023.   You'll find the voting form below, simply add your details and YOUR choice for Miss Regatta 2023.
Everyone who votes, giving their full details, will go into the draw for the chance to win scr 500 of Regatta lottery tickets – that's 20 tickets…  20 chances to win!!!         Check out regatta prizes here
Your vote will count in the people's choice category.  Voting will close on 25th August 2023.
About The Pageant
Miss Regatta Seychelles is an annual beauty pageant held during the Seychelles Regatta Festival, welcoming young Seychellois women aged 18 to 35 to participate.
The event serves as a dual-purpose platform, both promoting Seychelles' vibrant tourism industry and highlighting the nation's rich cultural heritage.
For the contestants, Miss Regatta Seychelles offers a unique opportunity to represent their country on an international stage while advocating for the values cherished by Seychellois society.
This esteemed pageant holds significant importance in the Seychellois calendar, as it joyously celebrates the beauty, grace, and intelligence of Seychellois women, and simultaneously showcases the splendour of Seychelles to the rest of the world.
Meet This Year's Contestants
Contestant No1- Anisha Louys
My name is Anisha louys, I am 20 years old I live at Takamaka.
I'm currently working as a chef at Raffles Seychelles.  I like to dance and enjoy going to the beach.
I should be the next Miss Regatta because, as a youth and a young Seychellois woman I stand ready to serve my community and my country and be a good inspiration to the younger generations.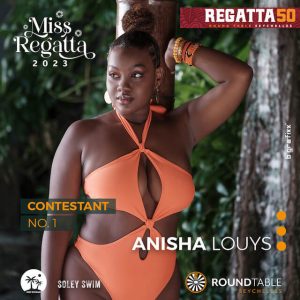 ***************
Contestant No2- Fatima Rose
Salut je suis Fatima Rose contestant num 2 
 J'ai 25 ans et je réside à Anse Gouvernment Praslin.  
Je suis une entrepreneuse dans l'industrie hôtelière.   J'adore les sports aquatique, la musique, la danse et faire du mannequinat.  
D'etre couronee Miss Regata sera une honneur en tant qu'artiste, et aussi Être une ambassadrice respectuese pour inspirer la prochaine génération à explorer l'industrie  d'art.
***************
Contestant no3 – Aniella Chetty
I am Aniella Chetty, contestant number 3, I am 20 years old, from Anse Royal. I live for fashion and design.  My business has been the focal point for my aspirations
The reason for joining Miss Regatta is to display my uniqueness and to inspire others to be creative.
To also be strong and to never give up on your dreams. I hope that this platform serves as a stepping stone for my future goals.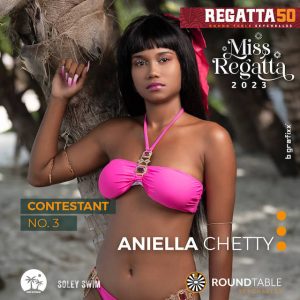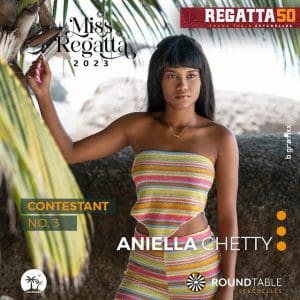 ***************
Contestant No4- Shannon Estro
I am Shannon Estro, aged 21 and I live at Plaisance.  I am currently studying Accounting and Finance at the Seychelles Business Studies Academy with hopes of starting my own business.
I'm passionate about cooking and I enjoy going on hikes.
I would like to be the next Miss Regatta to set an example for young women like me and also to be able to give back to the community along with a big support system by my side to accomplish great things and my personal ambitions.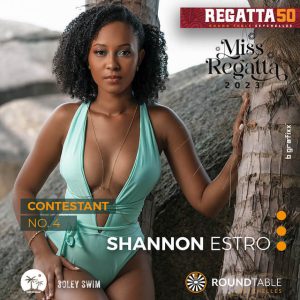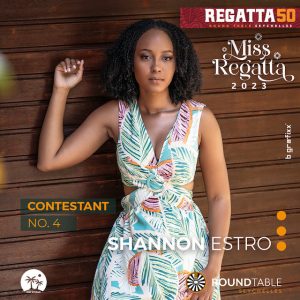 ***************
Contestant No5- Diane Ernesta
Hi, I am Diane Ernesta, contestant number 5 I am 24 I live at St. Louis. I am currently working as an office assistant.
I admire art, any forms of art and I joined Miss Regatta to help spread awareness on diversity and intelligence.
This shall be through a platform that will help any individual to develop and identify their talent at an early age, therefore enlighten their career paths and reach their future goals.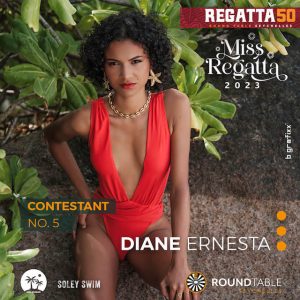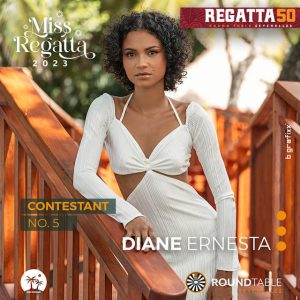 2023 Miss Regatta Contestants
Contestant No6- Sylvie Rose
Hello, I am Sylvie Rose,  contestant number 6, aged 23 and a resident of Bel Ombre. I have a passion for singing, music, reading and sports activities.
I dream of being a lawyer and having my own law firm.  Currently, I am in employment as a Court Interpreter at the Seychelles Supreme Court, which is where I got the inspiration to help eliminate the stereotypes surrounding juvenile offenders and to help them become better citizens in our society.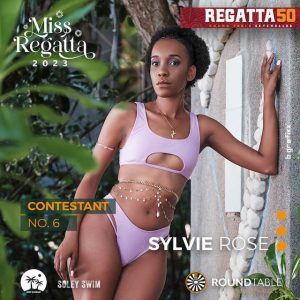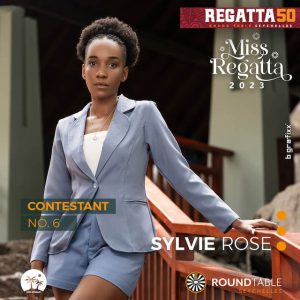 ***************
Contestant No7- Zelka Safya Bistoquet
Greeting judges & everyone
My name is Zelka Bistoquet, I'm 18 years old and currently finishing my diploma in Human Resource management.
I'm running to be this year's Miss Regatta to inspire and encourage the youth to follow their dreams and also help to increase their confidence.
I believe this opportunity will boost my confidence and as I love to navigate to the different views and perspectives about life.  I believe that this would be a great opportunity to make meaningful connections.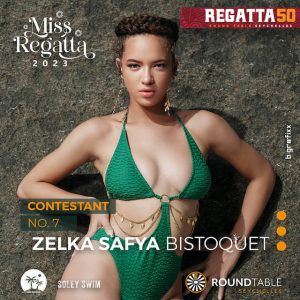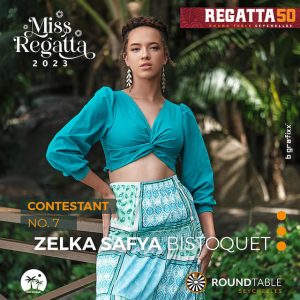 ***************
Contestant No8- Maresa Labonte
I'm contestant number 8 my name is Maresa Labonte I'm 26 years old, I reside at Beau-vallon I'm an assistant at elderly hospital.
I love to sing and watch movies.
My dream is to start a business accepting new challenges and opportunities.
If I were to be the next Miss Regatta,  I would promote women sense of self-worth their ability to determine their own choices and there rights to influence themselves and others.
***************
Contestant No9- Emmaline Contoret
My name is Emmaline Contoret, I'm 24 years old and I live at Beau-Vallon.
As a profession, I'm a yacht crew at Waterworld a luxury yacht company based in Seychelles.
I love dancing! and enjoy exploring nature and any sea activities. 
I joined this year's pageant as a women seafarer with the aim to inspire more women to join the industry and show that both men and women could be part of that world. Also, I want to give back to my community and gain new experience. 
***************
Contestant No10- Maitena Tirant
I'm Maitena Tirant, Contestant Number 10,  I'm 18 years old and a resident of  Bel-Ombre. I am currently working as a customer service agent at ZilAir.
I have decided to participate in this year's pageant to build up my self-confidence and should I make it through, my aim is to support not only the Young Mum's facing difficulties but all women in general.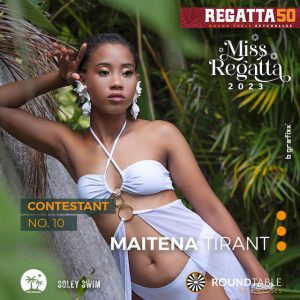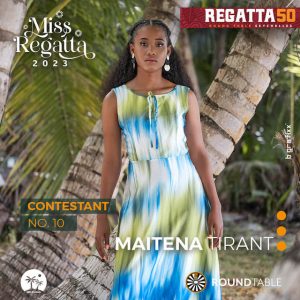 T&C – only votes with full name, email and telephone will be accepted.
The winner will be notified by email and Telephone on 26th
VOTE FOR YOUR MISS REGATTA 2023
Regatta 2023 takes place on 25-27th August 2023 in Beau Vallon Beach, for more information click here
Inside Seychelles powered by Airtel at Regatta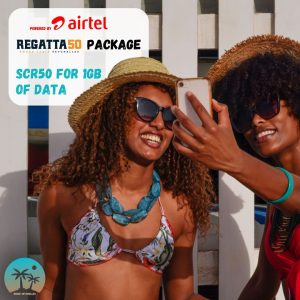 T&C APPLY
*OFFER FOR SAME-DAY USE ONLY
*NO REFUNDS
*UNUSED DATA WILL EXPIRE AT 10 PM EACH DAY
---
Reader's opinions
---