Inked – Gyotaku Art Exhibition- 14 April
Laurent Pool and Pollyanna Fisher-Pool from Drift Art Meditation are excited to introduce the Japanese art of Gyotaku to Seychelles. They will be hosting an Inked Art Exhibition this coming Friday. Gyotaku (directly translated as "fish impression/rubbing") came about in Japan in the mid-1800s to keep a record of the fish caught and also used as a way for fishmongers to advertise the catch of the day. Ink is applied to a fish and then the impression is transferred to a sheet of paper. That's the simple explanation!
As Marine Biologists, Polly and Laurent discovered Gyotaku during their 20 years of working and living in Hawai'i. Combining their understanding of the coastal environment with their love for clean and simple art, was a natural process.
Each fish was locally caught, impressed on paper, and turned into a delicious meal for their friends and family. Thus providing multiple levels of appreciation.
Catch it….. Ink it….. Eat it ..!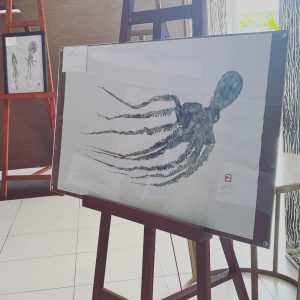 Our pieces symbolize more than just what you see. Each piece is original and tells a one-of-a-kind story.
The event Inked Exhibition at Dream Gallery is April 14, 5-8. Located at Dream Gallery on the 1st floor by Butcher's Grill and Chop Shop, Roche Caiman. Parking opposite the fruit and veg roadside stands
To view all future events please click here
---