Fundraising for SSPCA Seychelles
Why not brighten up your workspace and help support this incredible organisation by purchasing a desktop calendar for just SCR 300/-? This Fundraising is for SSPCA Seychelles. Each purchase will assist in them achieving their mission and ultimately improving the lives of many animals. Exciting news… every single furry friend featured in the calendar is eagerly waiting for someone to adopt them. Will you be getting a new lifelong best friend?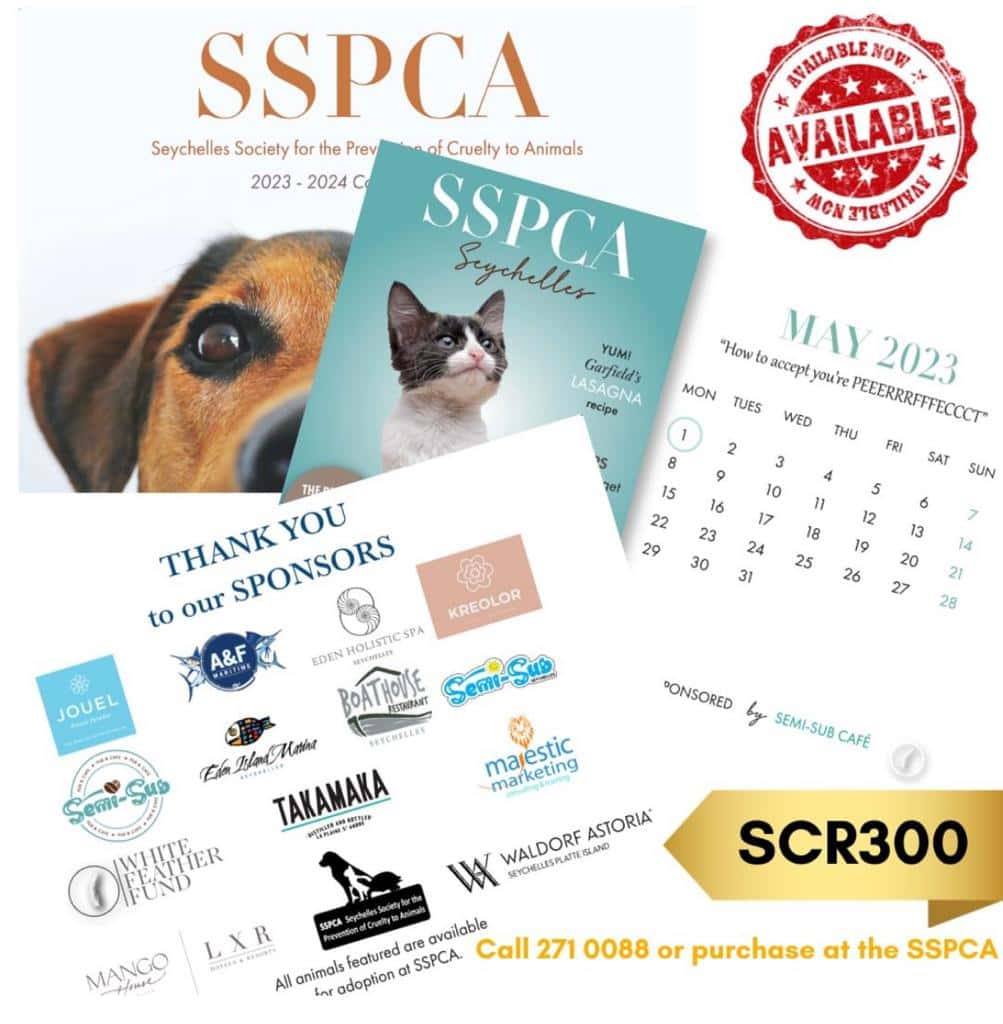 Adopt a best friend for life – SSPCA Seychelles
The Seychelles Society for the Prevention of Cruelty to Animals (SSPCA) is a non-governmental organization (NGO) that protects the welfare of and offers a safe haven for stray and abandoned animals. To fund their shelter and other projects, they depend heavily on donations, sponsorship, and grants from both local and international sources. Homeless animals face a multitude of challenges, including malnourishment, illnesses and abuse.
The SSPCA's mission is to increase these animals' chances of having a happy, healthy life by providing them with food, medical care, shelter and love. Despite their general capacity of 165, they often have over 200 in their care due to the high volume of stray and abandoned animals in Seychelles. The SSPCA are in need of consistent support from the community whether it be in the form of resources, finances and/or time. With regular fundraising events and projects, there are multiple ways in which you can get involved and help.   
Advocacy for pet sterilization and adoption is actively promoted by them at both local and international levels. In addition, to ensure that sterilization is accessible to the public, the shelter provides this service at their clinic three times per week, in different districts as well as on Praslin and La Digue. For those who are unable to adopt, there is now an option to financially adopt an animal at the shelter by making a monthly contribution, which will cover all their basic needs. You can also visit them regularly and take them out for walks. Other ways in which you can assist is through fostering and/or volunteering.  
Cell: +248 271 0088
Land Line: +248 430 3396
Website: http://www.seychellesspca.org/ 
Email: info@seychellesspca.org
Instagram – @seychellesspca
Facebook – https://www.facebook.com/sspcaseychelles/ 
Please feel free to donate to SSPCA as they can do with all the help they can get! Donate via PayPal
---
Reader's opinions
---