What's on this Weekend in Seychelles
26th – 28th May 2023
What is happening this weekend in Seychelles?  Inside Seychelles is your guide to what's on, where to go and what to do this weekend in Seychelles. Below are all the upcoming events and things to do this weekend in Seychelles.
HAVE YOU CLICKED ON THE WRONG DATE? – CLICK HERE FOR ALL UPDATED EVENTS.
BE SURE TO VISIT REGULARLY AS WE UPDATE OUR EVENTS ON A DAILY BASIS.
Friday the 26th May 2023 Events in Seychelles
What's on this Friday in Seychelles?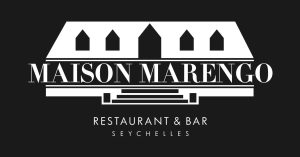 Eccentric Band Live Every Friday at Maison Marengo Bar & Restaurant on the South side of Mahe Island in Au Cap. Located in the heart of the rainforest on Mahe Island, Maison Marengo is one of the favourite tourist destinations, because the place is packed with locals who will get to know them and their culture.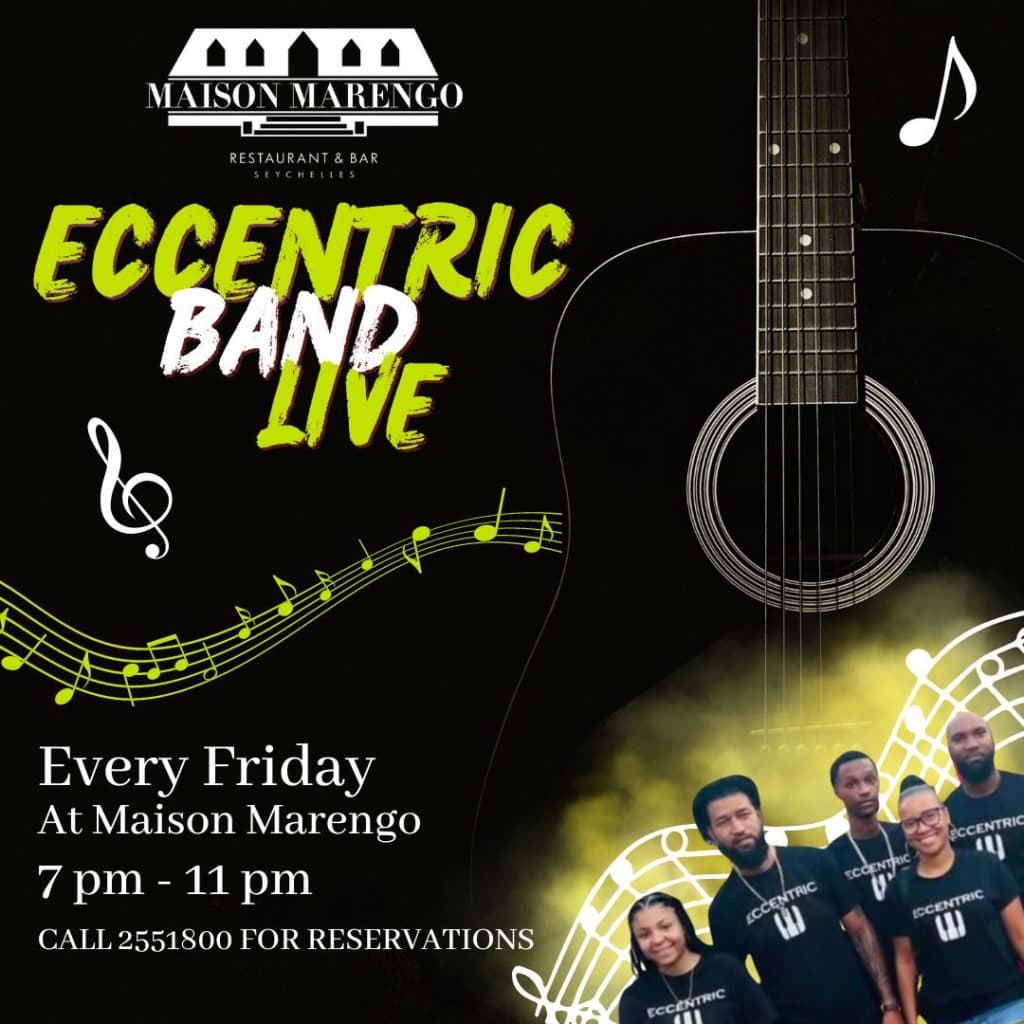 The weekend's here, so start with sundowner , maybe a cold beer or a cocktails and enjoy DJ Yves performing Live at Boathouse this Friday 26th May from 6pm onwards.  BoatHouse Restaurant, Beau Vallon.  dance the night away! 
More is happening this Friday in the slide below;
Be sure to visit regularly as we update our Events on a daily basis.
Saturday the 13th of May 2023 Events in Seychelles
What's on this Saturday in Seychelles?
Join in the celebrations for Africa Day at Maison Marengo Restaurant and Bar on Saturday 27 May from 12pm to 12am.
The bazar will be packed with entertainment from a fashion show featuring well-known designers  including Athalia & Fina.
Then there's Karaoke and an afrobeat event to end an unforgettable evening.
Learn about African attributes, try out tasty traditional food and take a seat at the new Tanqueray gin bar for the ultimate cocktails. 
SCR800 for dinner and the show and SCR500 for just the show.
For reservations, call 2510014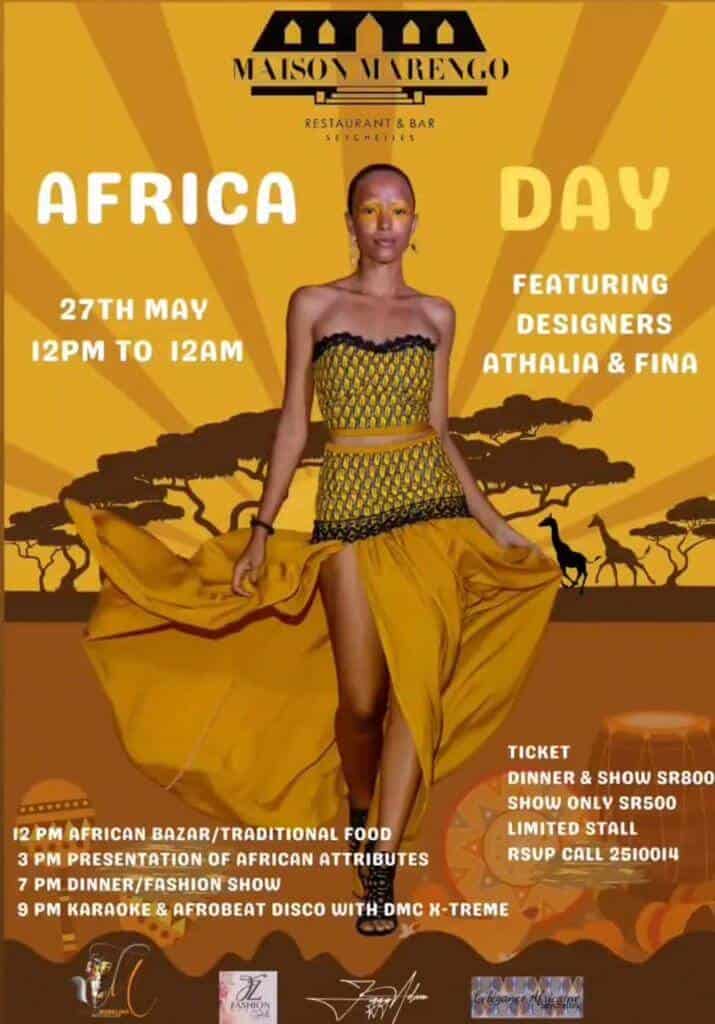 Do you love Afro beats and Afro house music?   
Then the evening at  Maison Marengo is the place you need to be this Saturday from 10pm to 12pm. With a special guest DJ playing the hottest Afro Beats guaranteed to boost your weekend. You can also indulge in the delicious a la carte dinner from 6pm to 10pm
So you can grab a bite before the party begins.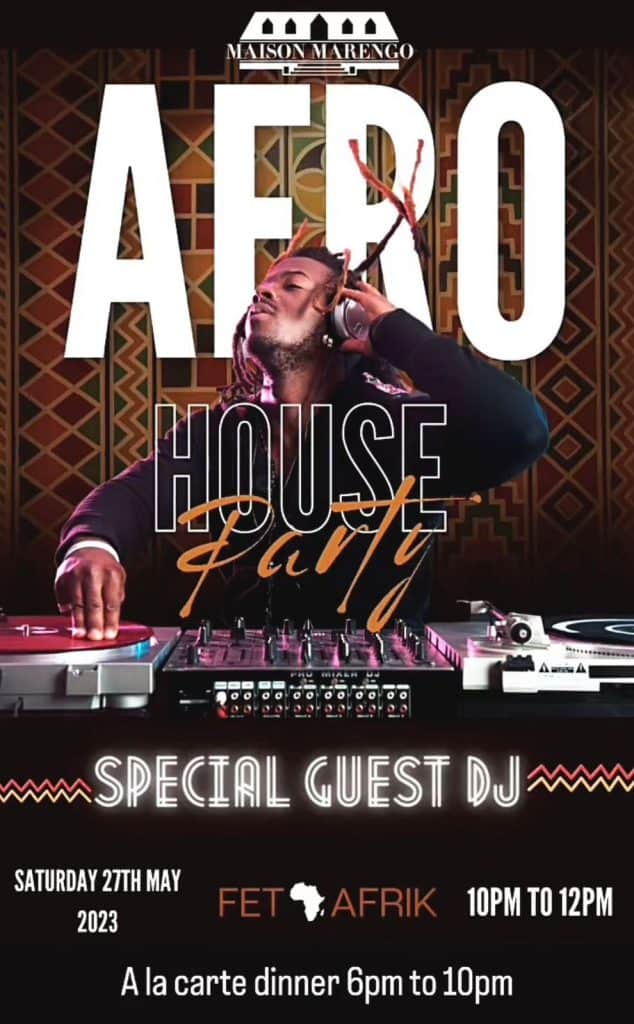 If live concerts are your thing, you won't want to miss out on Guyana singing sensation Jahyanai
 live in Seychelles!
This Saturday 27th May the New Music Stadium, Jahyanai takes to the stage,  along with some of Seychelles' favourite local artists, Mercenary, Juliah, Elijah and Taniah.
Doors open at 9pm and the show starts at 11:30pm 
For your tickets call 2516194 or 2500755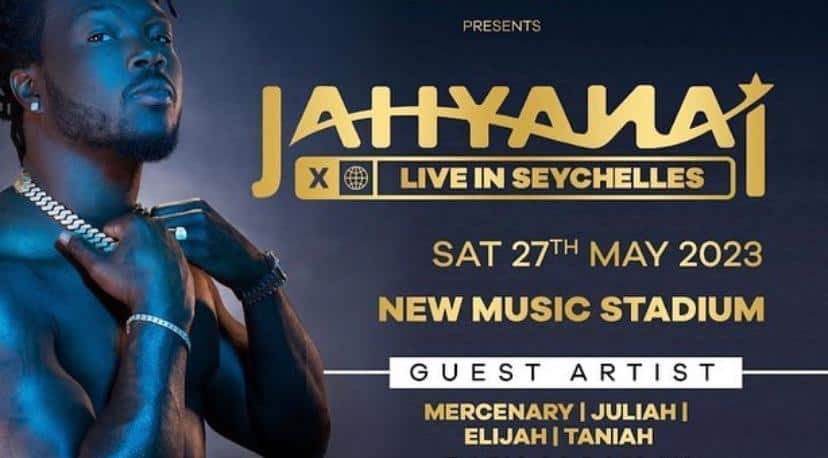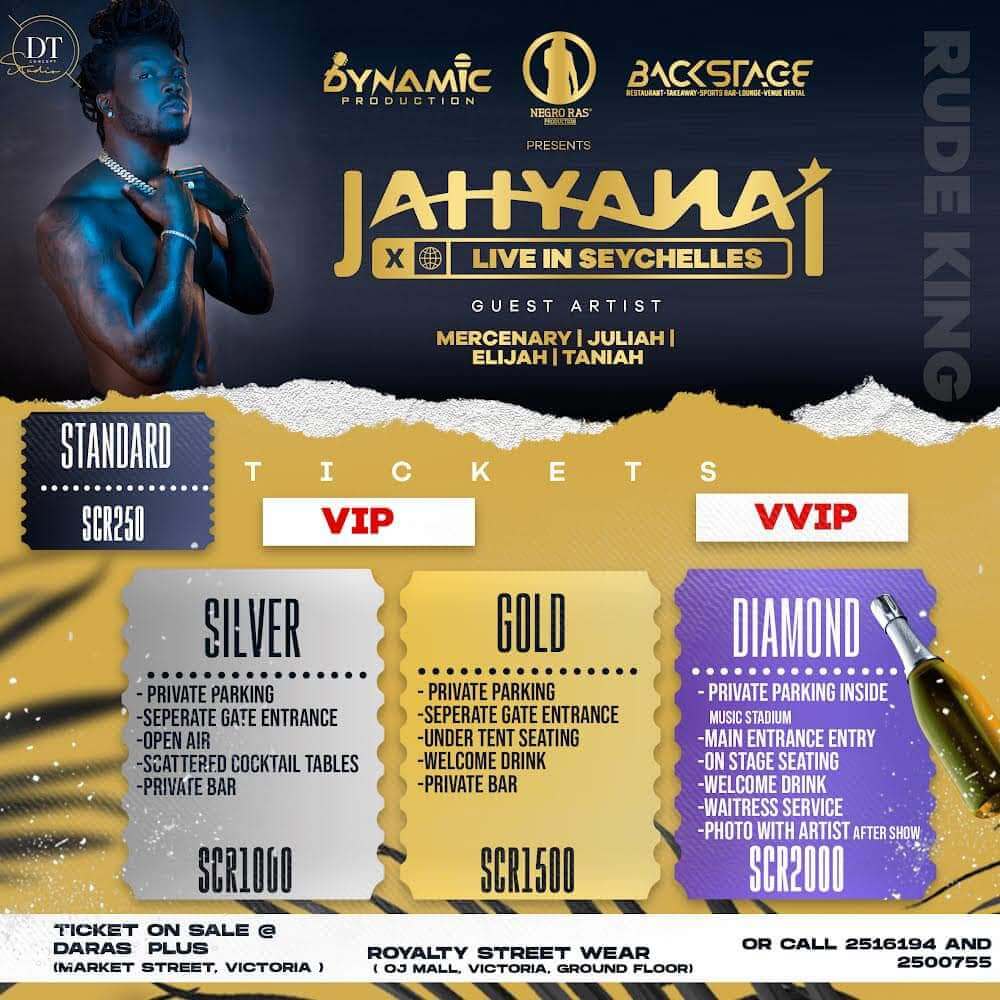 If you are in the Beau Vallon area this Saturday, why not head to Boat House, Beau Vallon.
With DJ Dynamo on the decks from sunset till late, grab your friends and a cold drink to make the most of the weekend!!! 
Don't forget to try some of the amazing cocktails and keep an eye out for regular drinks promotions and if you're feeling bit peckish, either grab something from the bar menu or even check out the daily buffet from 7pm, featuring amazing Creole and International food.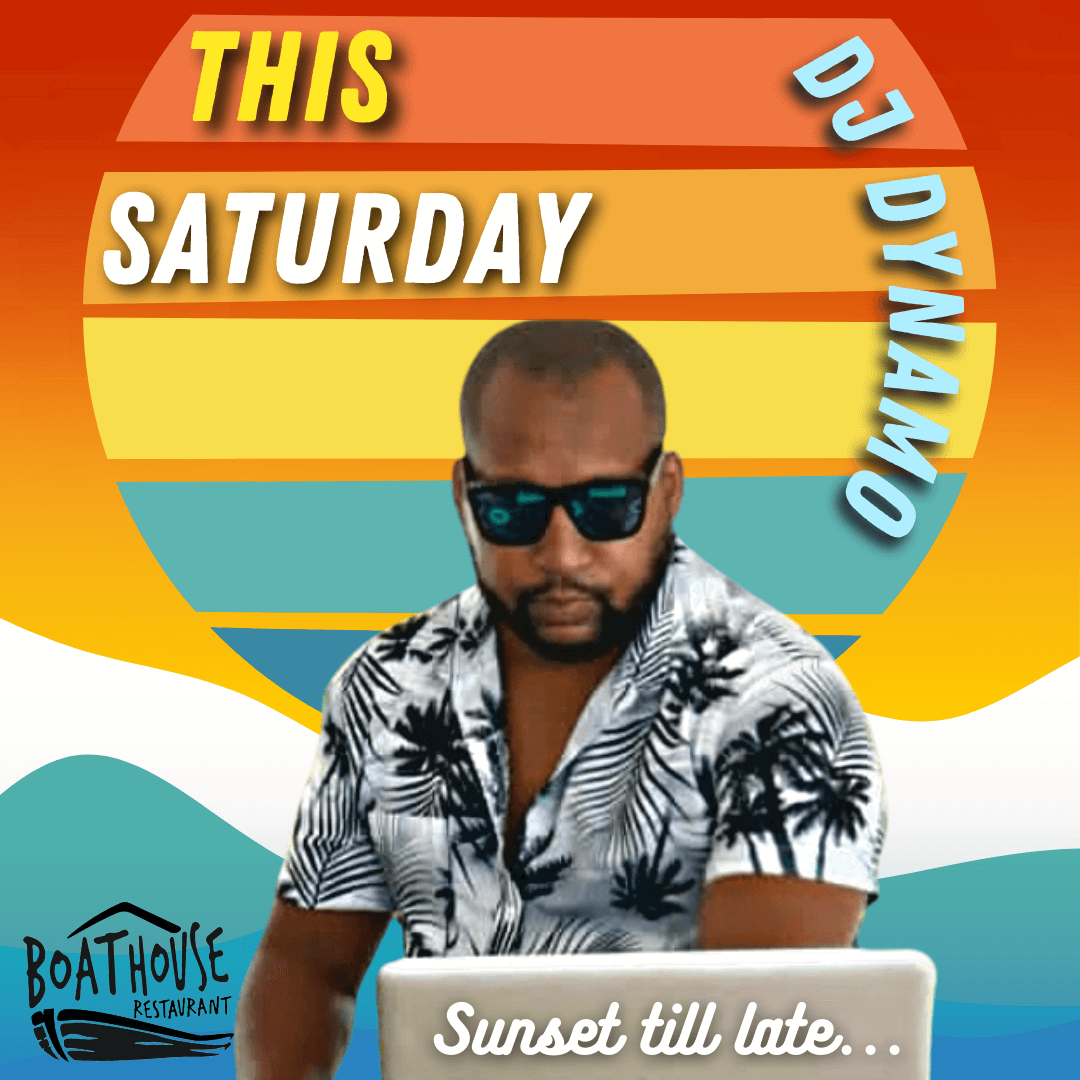 Those in Praslin this weekend are in for a treat as SMS head to Praslin for the latest edition of the traditional Seybrew Moutya Night at Garden Breeze, Praslin, 27th May from 8pm to 11pm
So grab your drum and get ready to dance the night away at Breeze Garden Grand Anse, Praslin with live music, Moutya dancers and Seybrew Bucket Deals available.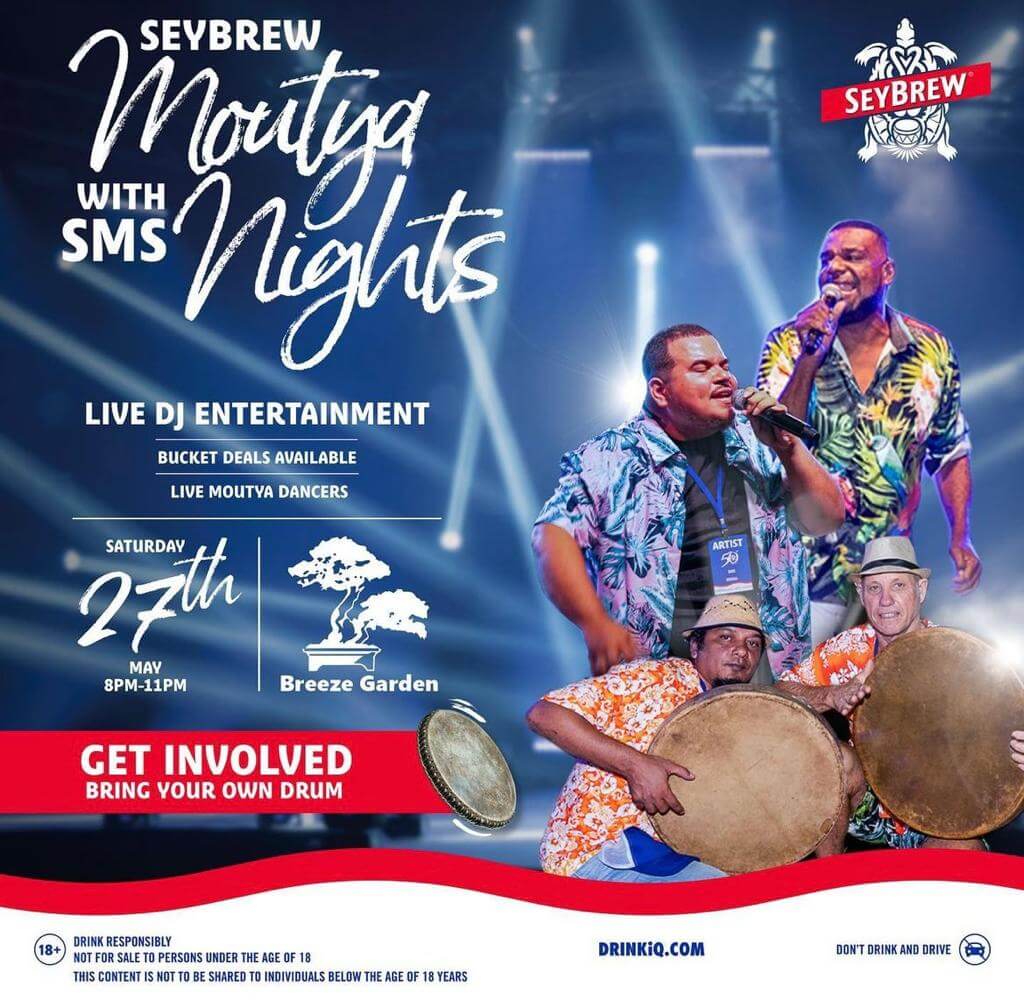 More is happening this Saturday in the slide below;
Be sure to visit regularly as we update our Events on a daily basis.
Sunday the 28th of May 2023 Events in Seychelles
What's on this Sunday?
Enjoy the Sunday Special at Bravo! Restaurant Eden Island.   With a succulent, quality 500g beef rump steak and a local Seychelles beer for only SCR 595. 
Gather all your friends and family and head to Bravo! from 12pm – 4pm for a steak and draught special and the kiddies eat half price too ! 
To reserve your table now, call 4346020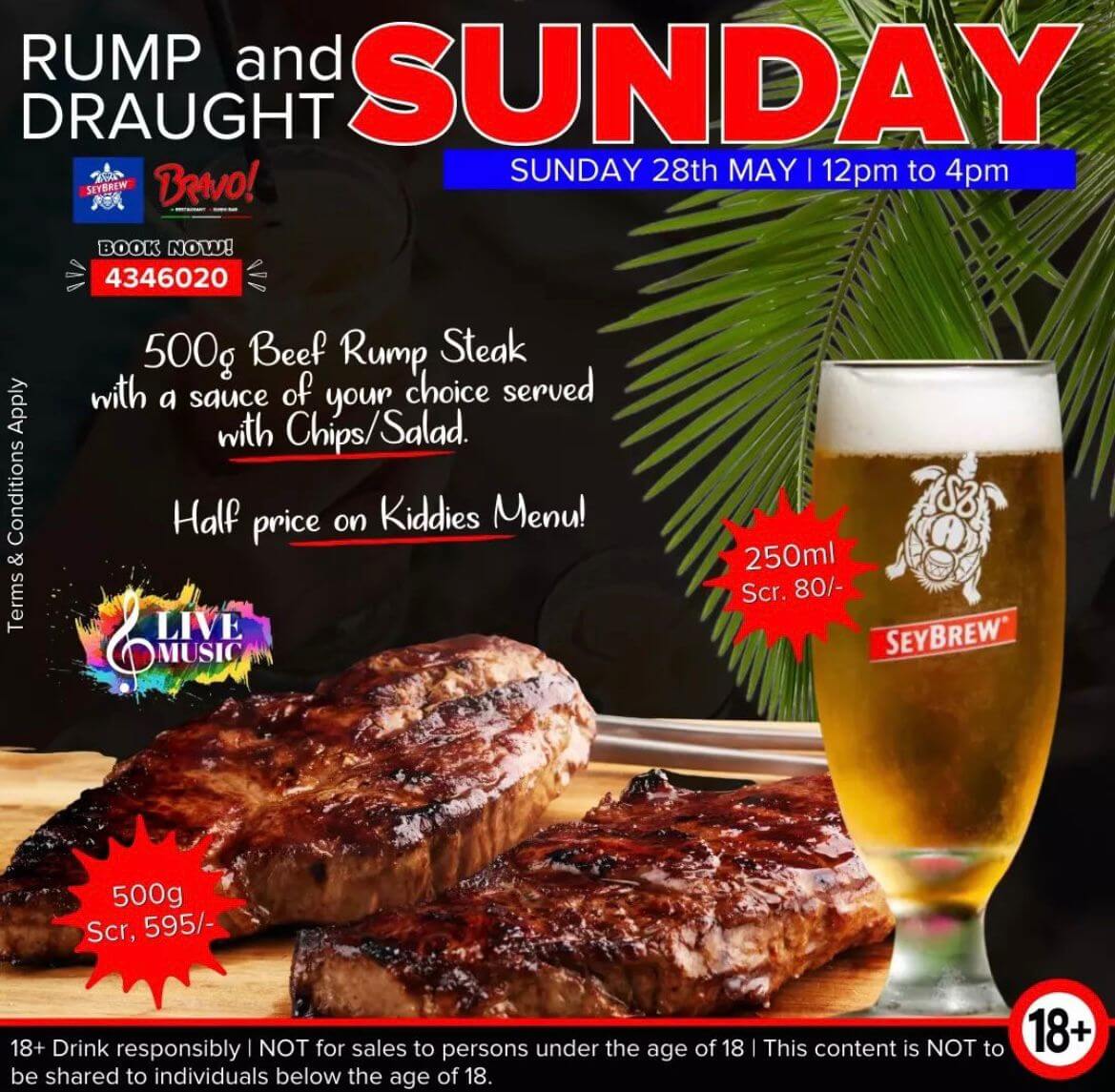 Looking for the perfect way to round off the weekend?  Why not grab a friend or two and head to The Boardwalk Restaurant, Bar & Club.  This Sunday from 7-10pm,  treat yourself to a delectable meal and sip on a refreshing cocktail while you listen to a captivating live performance from
Emmanuel Marie.
End of the weekend, time to immerse yourself in the vibrant world of the Creole culture with Felix & the Creole Dancers. On Sunday 28th May at Boat House Restaurant, Beau Vallon, from 6:30pm onwards, indulge in delicious cocktails and meals whilst you are entertained with traditional music and dancing and a delicious Creole Buffet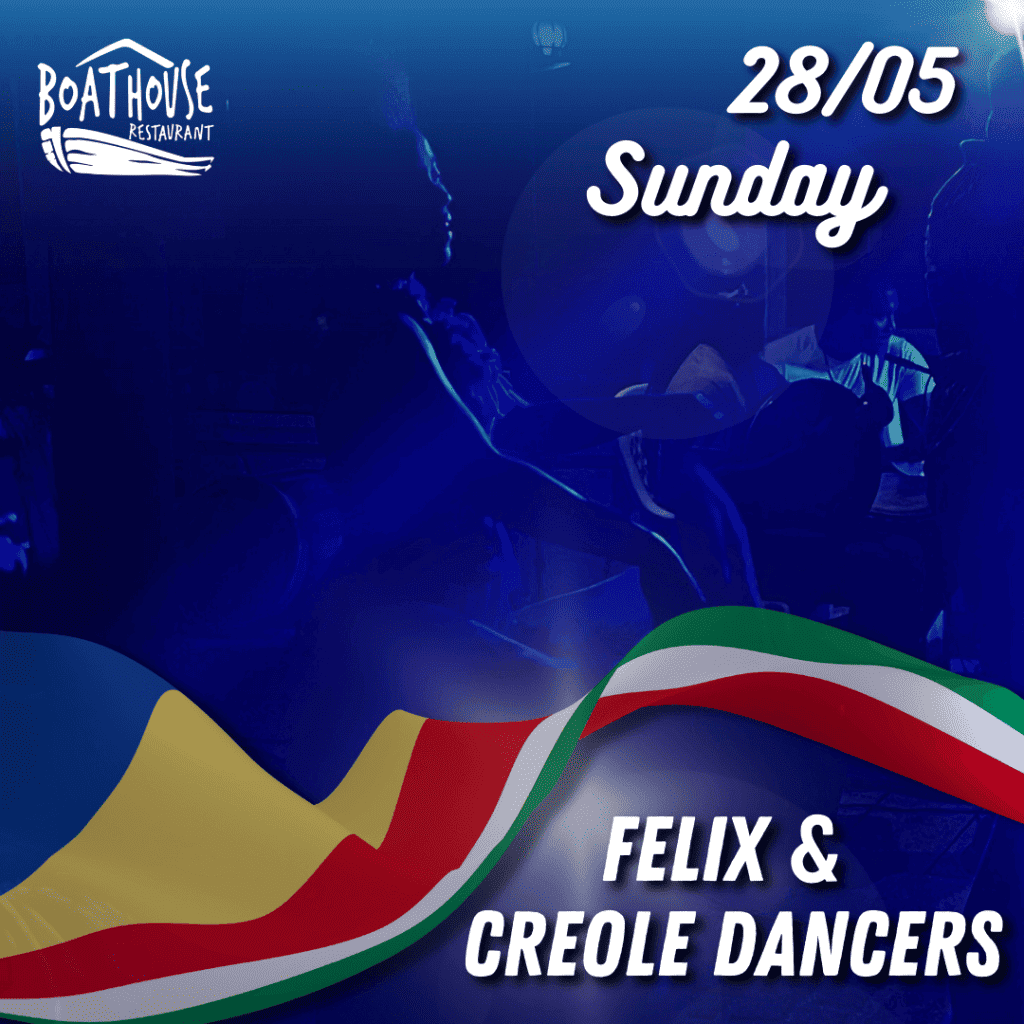 Be sure to visit regularly as we update our Events on a daily basis.
Events across the Weekend in Seychelles 26th – 28th May 2023
Seychelles is celebrating Afrika Day.
The Creative Seychelles Agency within Seychelles National Institute for Culture, Heritage and the Arts presents the Africa Day 2023 Program a weekend long schedule of activities.  Check out the exciting line-up of activities from the 26th – 28th of May.
Don't miss out and lets together celebrate the spirit of Africa.
Get the Party Started at Boardwalk this weekend
If you're in Eden Island this weekend and looking for a party,  The Boardwalk Restaurant, Bar & Club is where you want to be.  DJ sets on Friday and Saturday night will keep you partying into the early hours.  Head there with your friends and you're bound to have made some new friends too by the end of the night!
Weekends at Espace Bar & Cafe. Start off with a Happy Friday with fantastic deals on food and drinks with Live Entertainment. Fantastic Saturdays they have Live Entertainment by Acoustic Duo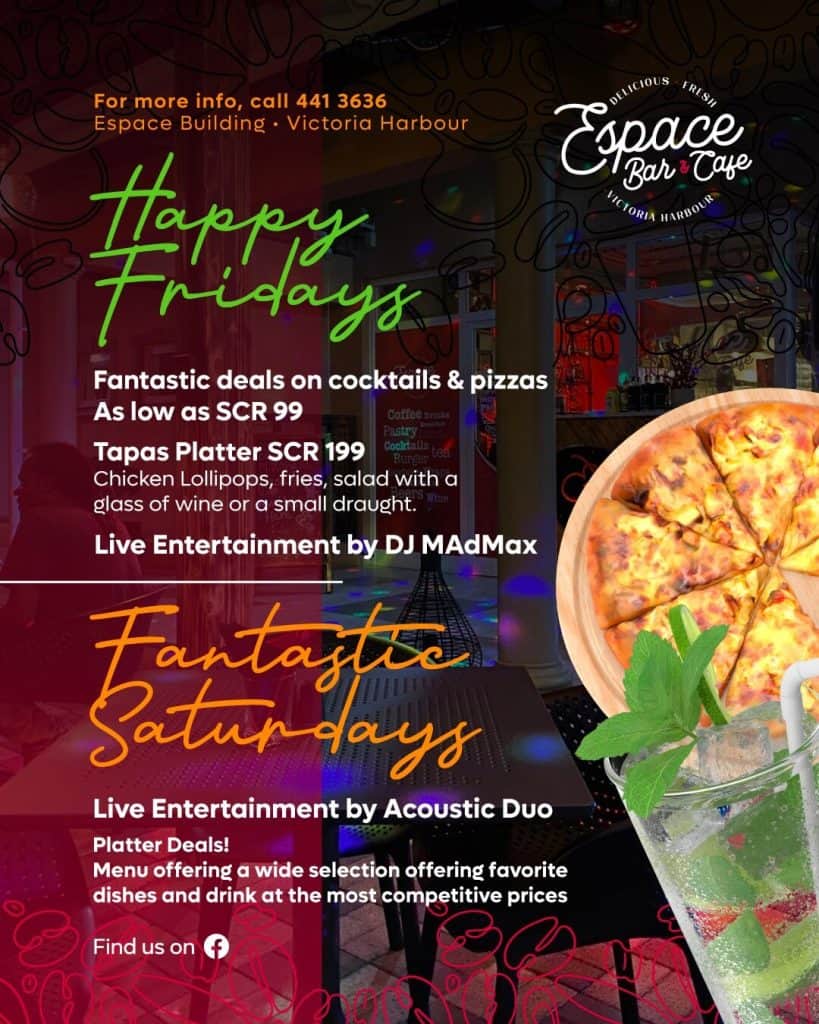 Get involved
To view all future events please click here
---
Reader's opinions
---