Description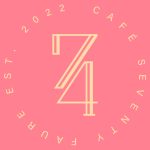 Café 74 Seventy Faure is more than just a café. They serve as a sanctuary for individuals who have a passion for reading and those with a deep appreciation for art! You can savour all of these pleasures while indulging in a delightful cup of coffee or tea and exploring a diverse menu of mouthwatering dishes.  
They hold sustainability and culture in high regard, making every effort to incorporate environmentally responsible products into their offerings. Café Seventy Faure's commitment extends to accommodating a wide range of dietary preferences, with a variety of Vegan-friendly and gluten-free options available to cater to diverse needs. 
Don't miss out on their Paninis and Crepes, as they are undoubtedly customer favourites! They offer takeaways for all their selections on the menu for your convenience. They are dedicated to providing competitive prices and maintaining transparency in everything they do.  
At Café Seventy Faure, they take pride in crafting everything in-house, from the crepe and waffle batters to the exquisite cakes and flavorful pesto. Their commitment to excellence drives them to source only the finest ingredients for their creations. 
Café 74 Seventy Faure is THE CAFE with a difference.
The famous book corner is a unique and defining feature of the café. It's a space curated by none other than Danny Faure, the former President of the Republic of Seychelles. This book corner is his personal collection, and he's eager to share his passion for reading with the café's members. Becoming a member is straightforward – just give them a call for more information. 
The café is an art gallery for local artists, providing them with a platform to exhibit and sell their artwork within the café's interior. 
Additionally, they offer private tea parties for special occasions like birthdays, baby showers, and even civil weddings upon request. 
Their dedicated staff comprises 100% Seychellois talent, ensuring a truly authentic and local experience. 
Stay updated on their upcoming special events!  
Click on the menu below to view
Café: +248 2 527 774 – available on WhatsApp
Manager: +248 2 515 874 – available on WhatsApp
Arc Royale Building
Mont Plaisir Road
Anse Royale
Mahe – Seychelles
Monday – Friday from 7.30 – 17:00
Saturdays from 8:30 – 15:30
Note* They are open every last Sunday of the month and closed the following Monday.
So if you are looking for the best place to have breakfast in Anse Royal – or great vegan options in Seychelles. The best Café in Anse Royal is Café Seventy Faure!
Inside Seychelles is your guide to what's on in Seychelles, what to do in Seychelles and where to go in Seychelles