Fundraising Sandman Building Competition
Written by Editor on 21st November 2023
Fundraising Sandman Building Competition – 16th December 2023
Don't Miss Out on This Exciting Competition! Get ready for Coco de Mer Collection's Fundraising Sandman Building Competition—it's bound to be a blast!
Join in for a festive family activity, and rest easy knowing that all proceeds will be dedicated to various charitable foundations!
-Bring along your favorite props to add a personal touch to your sandman.
-Rally your friends for a collaborative effort to construct the most impressive sandy character.
-FIRST & SECOND place prizes (some great items) will be announced for the best sandman at 5pm on the day.
Anticipate a day of sun and sand, and we're eagerly awaiting the creative results of your sandman building endeavors!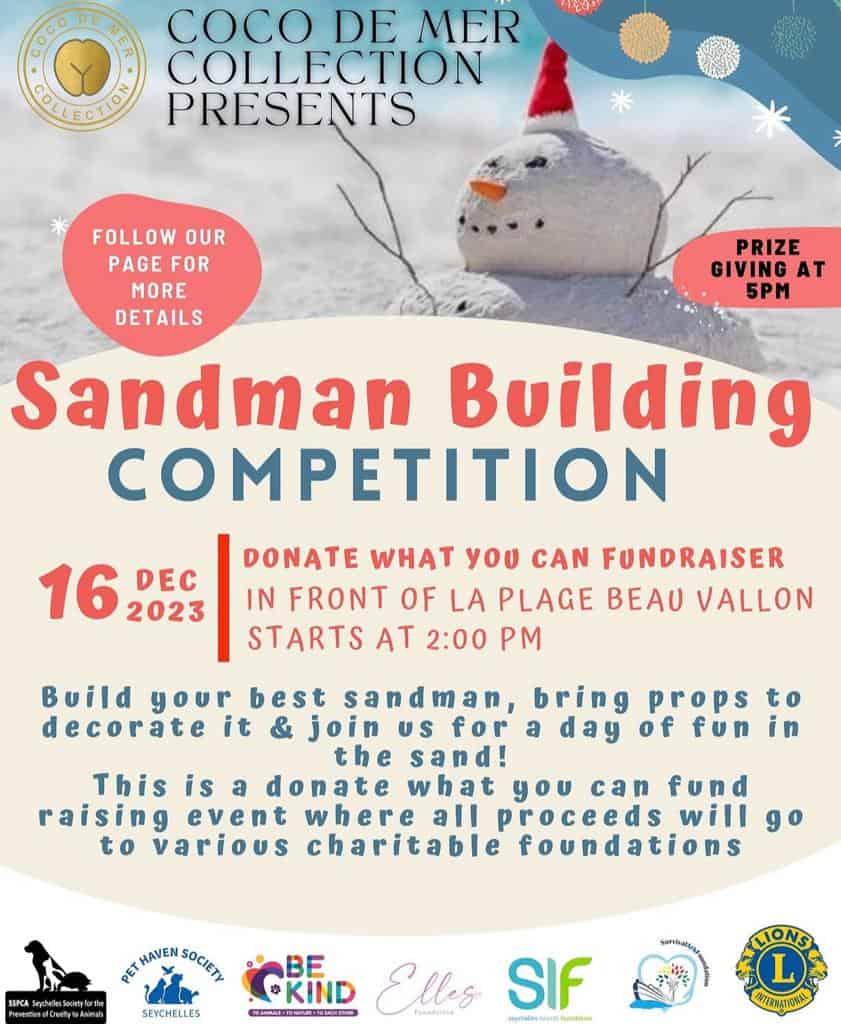 TIPS
Building a sandman is a delightful beach activity that combines creativity and a touch of whimsy.
If you want to build the perfect sandman, it all comes down to the water and sand ratio. You'll need enough water in your sand to hold it together, but not too much water or it will become runny. Add your water little by little until you've achieved a ratio that will allow you to mold the sand while it keeps its shape.
Once you've created the perfect ratio, mold your sand into three sections. Instead of creating three balls, it is recommend creating a large dome. Then, you can carve the dome into three sections, like a traditional snowman.
Add personality with beach treasures. Seashells make excellent eyes or buttons, and pieces of seaweed can be fashioned into scarves. Or whatever props you can bring from home.
If you'd like your sandman to have arms, insert sticks or twigs into the sides. Be gentle to maintain the structure.
Revel in the joy of your sandy creation, but be sure to clean up after yourself. Flatten the sand back to its natural state, leaving the beach as beautiful as you found it.
INSIDE SEYCHELLES IS YOUR GUIDE TO 

WHAT'S

 ON IN SEYCHELLES, WHERE TO GO IN SEYCHELLES, AND WHAT TO DO IN SEYCHELLES


---
Reader's opinions
---