What's on this Weekend in Seychelles
23rd – 25th June 2023
The last weekend of June and there's another public holiday on 29th for Independence day. Here's the latests on what is happening this weekend in Seychelles?  Inside Seychelles is your guide to what's on, where to go and what to do this weekend in Seychelles. Below are all the upcoming events and things to do this weekend in Seychelles.
HAVE YOU CLICKED ON THE WRONG DATE? – CLICK HERE FOR ALL UPDATED EVENTS.
BE SURE TO VISIT REGULARLY AS WE UPDATE OUR EVENTS ON A DAILY BASIS.
Friday the 23rd June 2023 Events in Seychelles
What's on this Friday in Seychelles?
Check out the Botanical Gardens in Victoria  – Click HERE for info and don't forget to say hi to the tortoises!
It's time to celebrate the Class of 2023 from the School of Advanced Level Studies, with a spectacular Graduation After Party presented by Katiolo Night Club on Friday, June 23rd. 
The night will be filled with excitement and live performances, from Jakim, Gunz, DJ Boss and DJ Danny.  As a special treat for the graduating Class of 2023 (18 year and above), admission to the party will be free before 12pm.  Secure your tickets in advance for just SCR100 with Keisha (+248 261 46 33).  
Entry at the door will be available for SCR150. 
Head to At Sea for a Great Night of Music
Star the weekend with live music @ At Sea Bar and Restaurant with a gorgeous ocean view, 3 happy hours of drink specials and lots of delicious dishes to choose from.  Enjoy a live performance by the incredible Kodnwar Band from 6-8pm and then dance your way to Saturday with DJ Nemesis from 8:30pm till midnight. 
More is happening this Friday in the slide below;
Be sure to visit regularly as we update our Events on a daily basis.
Saturday 24th June 2023 Events in Seychelles
What's on this Saturday in Seychelles?
THE SEYCHELLES REGATTA 50 LOTTERY 2023 IS BACK AND BETTER THAN EVER!
Regatta 50 is happening from 25-27th August 2023 and tickets for the lottery are now on sale.
This year's prizes are bigger than ever with a total of 25 prizes up for grabs include  Star Prize of a Toyota Urban Cruiser Hyryder SUV, from GTL Motors
Join the Round Table team between 7am – 9am at the Market Street and 9am-2pm at STC Hypermarket and buy your lucky tickets
For full prize list – Click HERE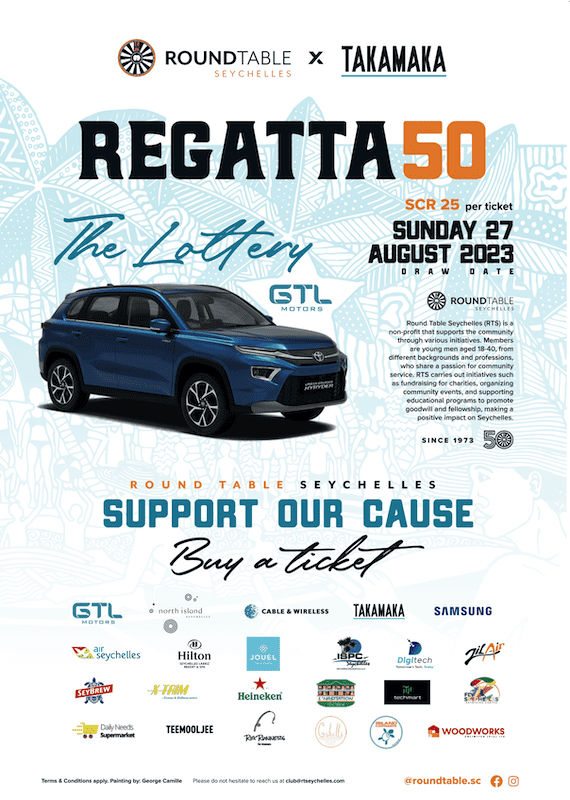 LIQUID BRUNCH AT LABRIZ GASTROLOUNGE
Get your heart racing and keep the drinks flowing at Labriz Gastrolounge this Saturday 24th June. 
Prepare yourself for the ultimate liquid brunch experience, complete with a delectable buffet, free flowing drinks, and music by their local DJ for Scr 1399 per person. 
But don't let the fun stop there, take part in their social paddle tournament for a thrilling after brunch activity.   
Labriz Padel & Brunch Schedule  
All-you-can -drink-Bruch: 1pm to 3pm 
Social Padel Tournament: 4-m to 7:30pm 
Happy Hour: 50% off drink: 3pm to 7pm  
If you are looking for an exciting Saturday at Labriz Gastrolounge Call +248 429 39 49 or What app +248 263 82 23 to reserve your spot 
JAMESON CONNECTS
Enjoy a day of fun brought to you by Jameson. There will be onsite Black Barrel tasting and cocktails, with DJ Dynamo on site and a full day with games and activities, enjoy t-shirt printing,  hair braiding, eyelashes and tattoos.
Tickets are SCR25 including 1 free drink
STC National Day Bazaar
The National Day Celebrations start this weekend at STC.  Get the family together for a National Day Bazaar at STC Hypermarket.
With bouncy castle for the kids, food and drinks, cultural activities and so much more, there's something for everyone.
From 9am till 5am, head to STC and enjoy the fun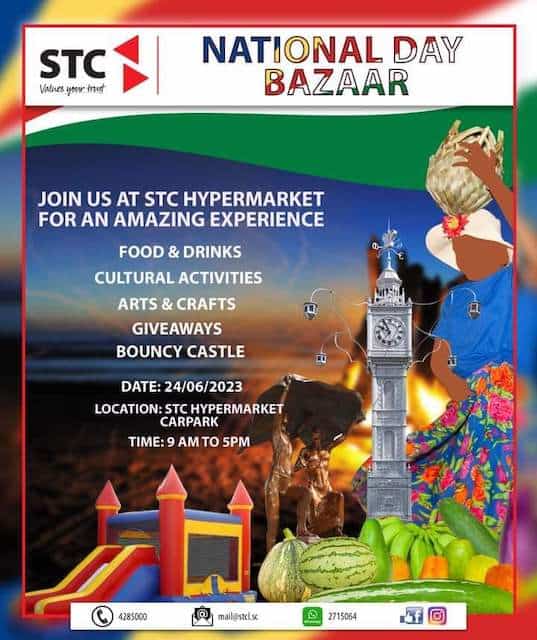 More is happening this Saturday in the slide below;
Be sure to visit regularly as we update our Events on a daily basis.
Sunday 25th June 2023 Events in Seychelles
What's on this Sunday?
Bravo! Zenn Sunday
Are you looking for the perfect way to spend your Sunday, look no further… 
Grab your friends and family and join Bravo Restaurant on Sunday 25th June for a Zenn Sunday, presented by Takamaka Rum Seychelles. 
Unwind listening to the live entertainment while indulging on their mouthwatering lunch special and delectable drinks, between 12pm-4pm. 
Have some fun by enter their draw and you can become a winner of a Takamaka Survivors kit.  
So, what are you waiting for? Call now (+248 434 6020) and book your table for an exciting Sunday at Bravo! 

This Sunday head to Eden Island and enjoy Emmanuel Marie  ' at The Boardwalk Restaurant, Bar & Club!!
Live music to end the weekend with local artist Emmanuel Marie between 7pm- 10pm.
Dinner, drinks and great sounds
At Sea Bar & Restaurant Sunday Funday
At Sea Bar and Restaurant has a funday of  entertainment packed together to end to your Sunday .
With happy hour from 4-7pm, a DJ from 3-5pm and a live performance by Chapter 3 Duo from 5-7pm.  
Enjoy cocktails, great music and food while soaking up the beautiful sea views!  
Call 2592999/ 2522556 to reserve a table.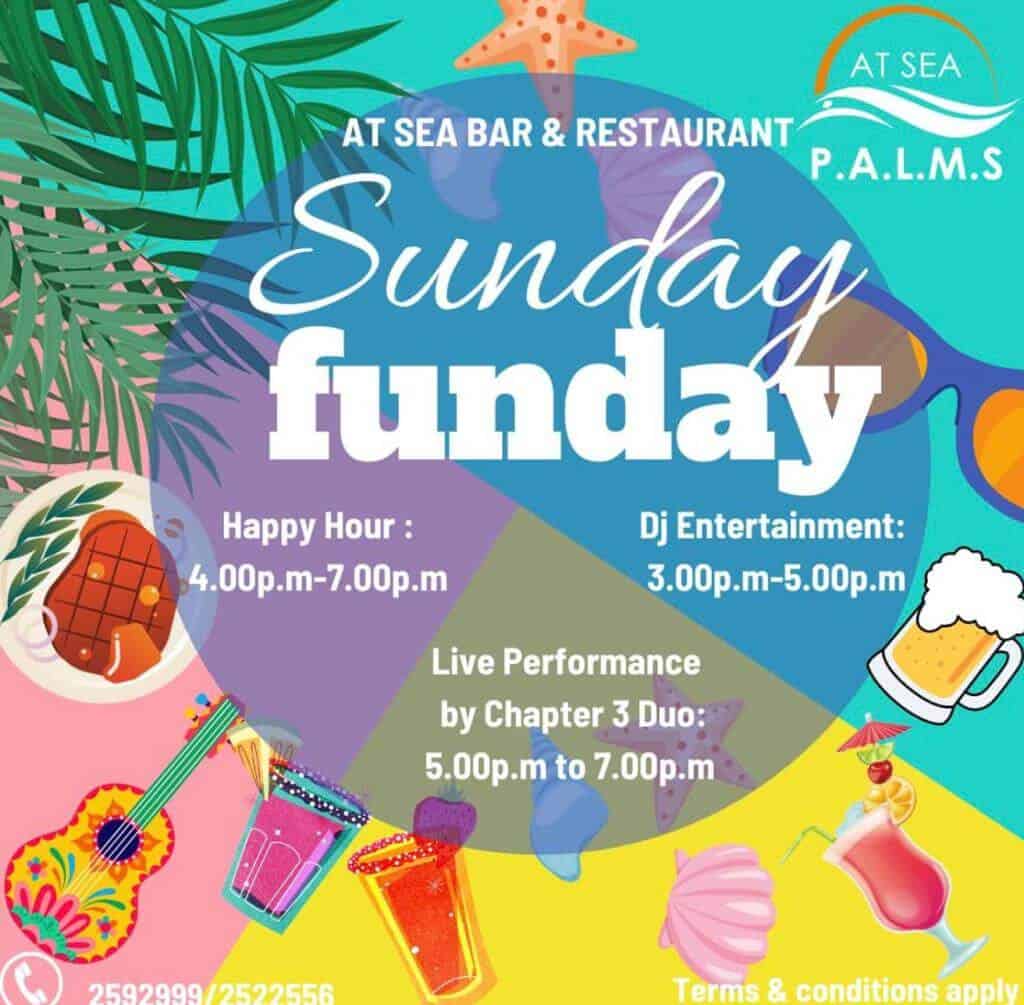 Be sure to visit regularly as we update our Events on a daily basis.
Events coming up next week in Seychelles
Tuesday Trivia Night
Get the old grey matter working for the chance to win prizes!
With teams of 4-6, find your clever friends and head to At Sea for Tuesday Trivia Night.
Great Prizes,  competitive atmosphere and this month is prizes by Round Table, with the chance to win big regatta prizes
Call to reserve your team's table now – What's App +248 282 8637 / +248 251 0568
Get there early to enjoy happy hour 4-7pm
Creole Night Extravaganza at Coral Strand.
On Wednesday night experience an evening of Creole Culture, with authentic creole cuisine and free flowing signature creole punch. Local arts and crafts and live cooking stations. Moutya dancing and 20% off all beverages
SCR900 per person.
To view all future events please click here
---
Reader's opinions
---