14th February – St Valentine's Day  is undoubtably the most romantic day of the year and when you are in beautiful Seychelles with romantic beaches, cocktails, and sunshine, it's easy to get into the mood for love.
Seychelles is well known as a romantic destination with many couples choosing to get married or spend their honeymoon here.
And it's also top choice with the rich and famous too, from British royalty to Hollywood superstars, so many have picked Seychelles for the honeymoon.
Prince William and Kate Middleton, The Duke and Duchess of Cambridge.  They chose Seychelles for a 10-day honeymoon on the tiny island of Desroches.   Just four miles long and 150 miles southwest of the main island Mahé, it has a handful of luxury villas and stunning views of the ocean
Desroches is now run by Four Seasons hotel.
https://www.fourseasons.com/seychellesdesroches/
Described as the most exclusive private island destination in the world, North Island is a favourite with celebrities.  This island with just 11 private villas, offers privacy and discretion that suits the rich and famous.
George Clooney and wife Amal honeymooned there, American actress and model Gabrielle Union and husband Dwayne Wade checked in for their honeymoon in 2014.
This luxury resort is only accessible by a 15min helicopter ride from the main island Mahé and guest enjoy 'barefoot luxury' with pristine beaches and environmental programme which protects the local flora and fauna and wildlife including hawksbill and green turtles.
With such a luxurious setting and world class hotel facilities, it's no wonder this is a favourite.
Nicky Hilton and husband James Rothschild and Actress Salma Hayek and Francois-Henri Pinault also stayed at North Island, where your own villa, a private chef can cost over $10,000 a night but with a net worth over $40billion, a few nights at North Island won't have killed Francois-Henri's bank balance.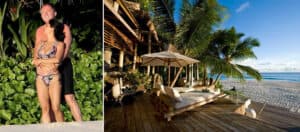 And if demand the ultimate in privacy, you could choose the path of Brad Pitt and Jennifer Aniston on their honeymoon.  The hired out the entire island
Fregate island was the location for Beatle Paul McCartney and then bride Heather Mills Honeymoon.
And singer Ronan Keating and wife Storm in 2015.
Privacy is key for this small island, with seven beaches and a freshwater pool and a maximum of 34 guests on the island at any time you can always find some private space.  The eco-conscious property has its own marina and airstrip and just 16 ultra luxurious villas.
Fourteen of the villas are on top of the cliffs with panoramic views of the stunning Indian Ocean.
The final two villas nestle away in the tropical gardens.  The villas are built in traditional materials like Mahogany and African teak, with four poster beds, huge private terraces with sunbeds and sunken Jacuzzis.  Perfect setting for romantic getaway
https://www.fregate.com/  (closed until 2024, at least that gives us time to save up the pennies)
It's not just honeymoons, David and Victoria Beckham celebrated their 10th Wedding Anniversary in Seychelles.   2009 they enjoyed a 10-day getaway staying at five-star resort on Mahé then helicoptering off to eco spa resort.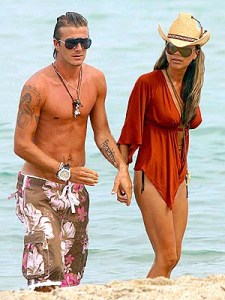 No matter who you are, Seychelles resorts are some of the finest in the world and make everyone feel like royalty.
---